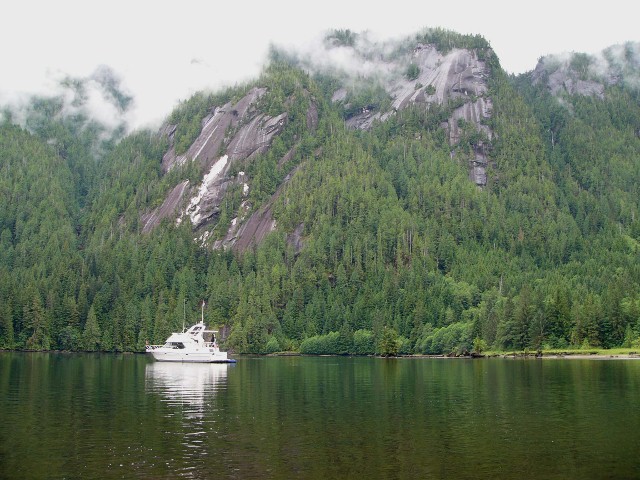 Anyone who's written about Seymour and Belize Inlets says that Alison Sound, off Belize Inlet, is the most beautiful spot here. We agree. Several waterfalls gush from the north shore en route, and the entrance to the sound itself is striking. A massive slide has scoured a huge section of shoreline. Kilometer-high mountains soar above a waterway that narrows to a channel less than 100 meters wide. Just before the narrows, a 150-meter sheer, black cliff rears along the north shore; scattered trees cling impossibly to fissures in the surface. Beyond the narrows, a 500-meter cone juts skyward.
Two impressive pictographs are painted on north shore bluffs here, one just outside the entrance, and the other in a crevice directly west of Summers Bay. Provincial archaeologists believe that both may commemorate an 1868 Native attack on the trading vessel Thornton and a retaliatory British gunboat shelling of the settlement at Village Cove in Mereworth Sound.
We anchored at Alison Sound's head, where the scenery rivaled Princess Louisa Inlet. Waterfalls spilled down 1000-meter slopes. The Waump Creek and another unnamed one empty into lush lowlands below towering black cliffs, with snow-capped peaks visible through the delta. The creeks were wonderful kayak territory. The flora and fauna were thick and healthy, and those big cliffs stood above us at every turn.
For more detail on Alison Sound, directions and anchoring advice, see Chapter Ten, Seymour Inlet, in Cruising the Secret Coast.
| | |
| --- | --- |
| | |