Early this morning the commercial ship Amazon River arrived in Seattle from China. Part of the Amazon River's cargo was a cross-section of the current Nordhavn line: a 43, a 52, and a 68. The 52 was the first Nordhavn 52 in what I fully expect will be a very successful new line of Nordhavns. It was fun to see it on its inaugural US sailing.
| | |
| --- | --- |
| | |
| | |
| --- | --- |
| | |
The Nordhavn 68 in no-load form displaces 156 thousand pounds so its considerably heavier than the standard container that these cranes normally host off deck or from below. What follows is the launching of the 68 but all three followed the same procedure. The crane lowered four chains that are attached to the cradle that mounts the boat to the deck. The entire boat and cradle assembly is then carefully raised, shifted out beyond the ship to the water, and then lowered to the water. As the boat lands in the water, a small craft drops off a couple of crew members. As they arrive on the boat, they first check to ensure the boat is watertight and safe, then inspect the mechanical systems before starting the boat. With the engine running and the boat safe to sail, the crane lowers it another few feet allowing the boat to float off the cradle. Then the boat is backed free of the cradle and sailed to the commissioning port. In this case, Elliott Bay Marina in Seattle.
| | |
| --- | --- |
| | |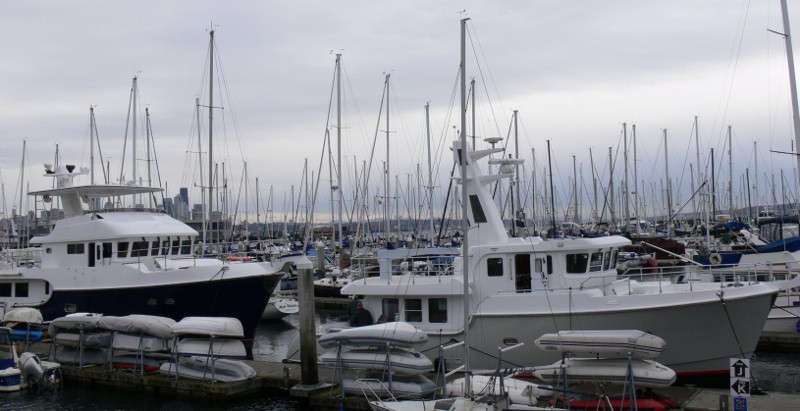 All three vessels will be commissioned by Emerald Harbor Marine under the supervision of PAE project managers. We have a slip in Elliott Bay so we'll be seeing lots of these three boats as we go back and forth.