On Monday we passed Anacortes and went through Swinomish Channel (area map) during a significant, and poorly forecast, wind event, with an amazing variety of weather. The barometer gained 10 mb in 4 hours and peak winds approached 60 knots.
We had just crossed Rosario Strait in 4-5 feet seas, with 40-knot winds from the southeast. Conditions weren't ideal, but the boat handled fine with the seas slightly on the bow quarter rather than the beam. The winds intensity picked up as we approached Fidalgo Bay, and 2- to 3-foot breakers were rolling north as we exited Guemes Channel. This was unusual, given the short fetch there. Visibility dropped soon after, and we were pelted with snow, followed by thunder and cracks of lightning. The conditions were degrading in a hurry.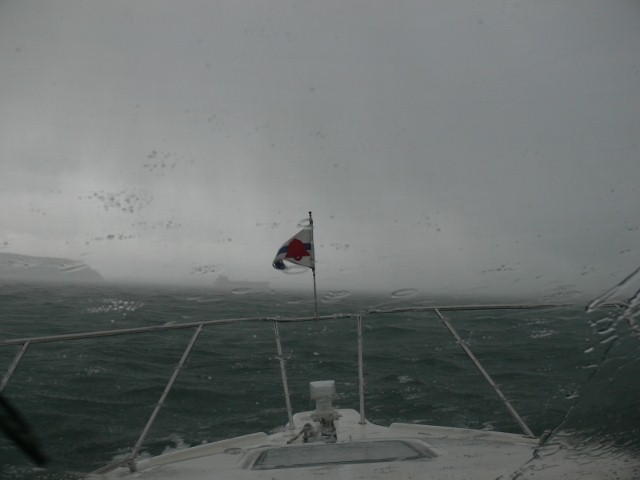 The Atlantic Aquarius, not far away but almost obscured in the limited visibility above, was pulling back on its anchor in Padilla Bay. It takes a fair amount of wind to push those big ships around.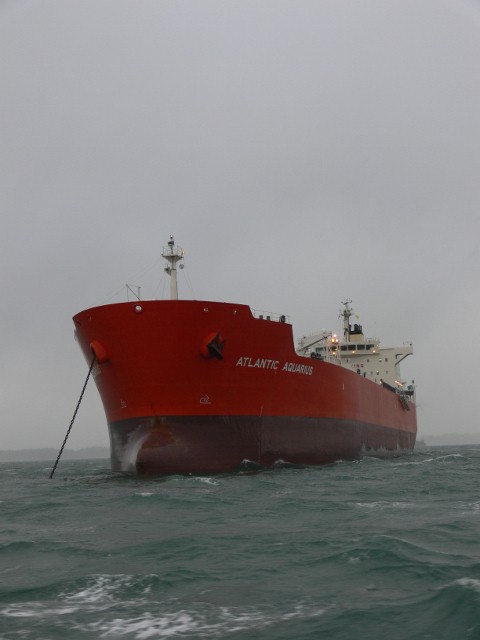 Visibility improved as we passed Fidalgo Bay, but the winds kept rising. We saw steady westerly winds in the 50-knot range, and gusts to 57 knots, the highest we've been out in. The boat, pushed by the wind, listed noticeably to port (the horizon is straight in the picture below—it's the boat that's on an angle).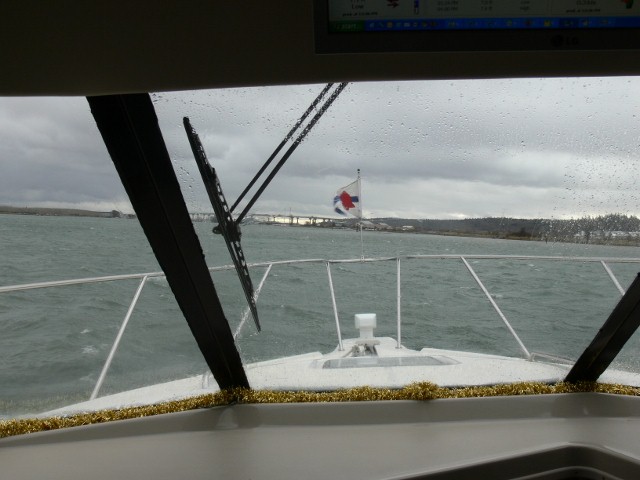 Across narrow Swinomish Channel, wind-generated waves splashed against the east shore.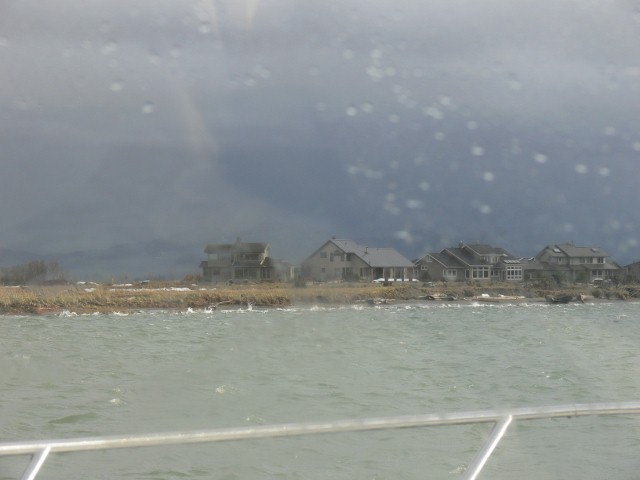 Breaking waves rolled through normally sheltered La Conner. We'd initially considered stopping there to wait out the storm, but docking would have been a challenge.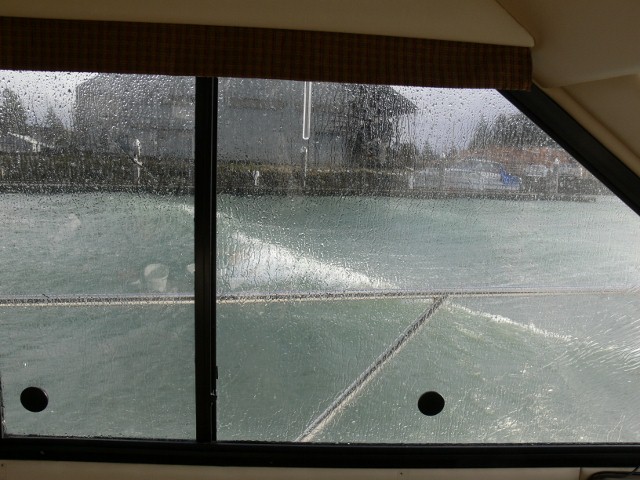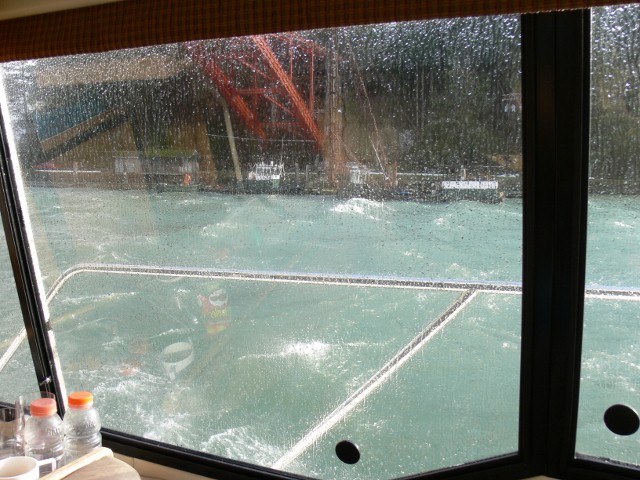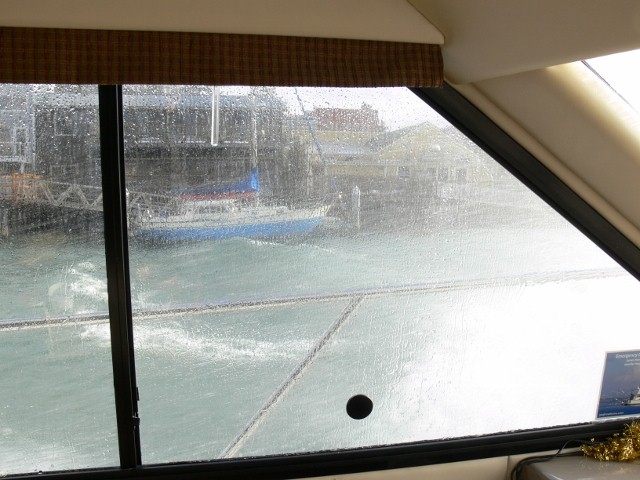 At the corner where Swinomish Channel turns towards Skagit Bay, wind-carried water swirled into the air.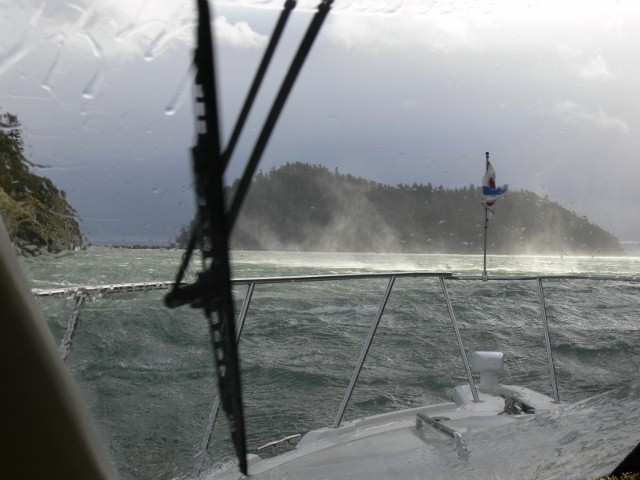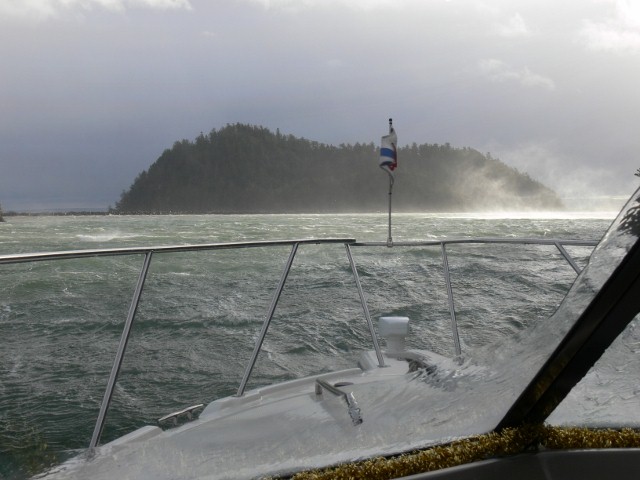 Whidbey Island is fairly low west of the southern arm of Swinomish Channel, and we were in the brunt of the westerly waves now. Notice in the second picture below that one big gust had pushed our bow flagstaff partly over.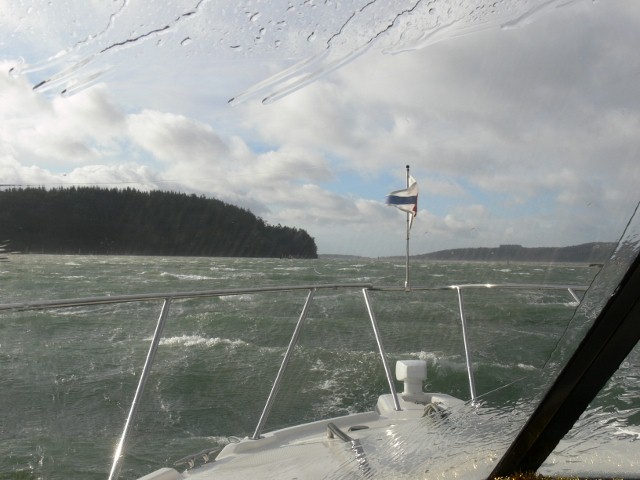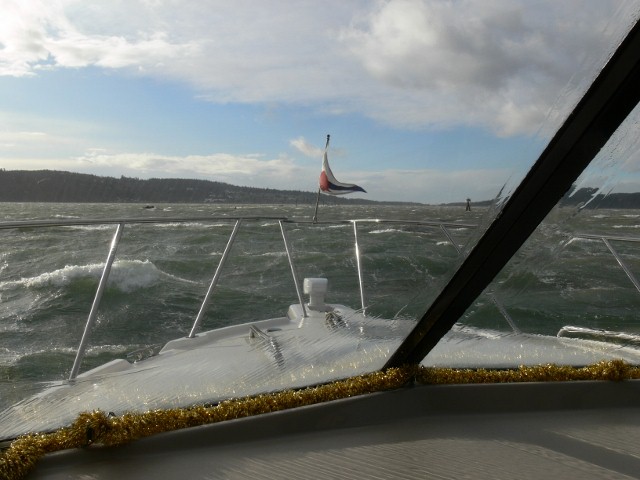 Conditions improved north of the channel exit once we got some protection from higher land along Whidbey Island. We'd planned to stop at the north side of Hope Island, but it was too exposed in those westerly winds. We instead found good shelter in Cornet Bay, put out 9:1 scope, and watched the wind whip up the water east of Deception Pass.