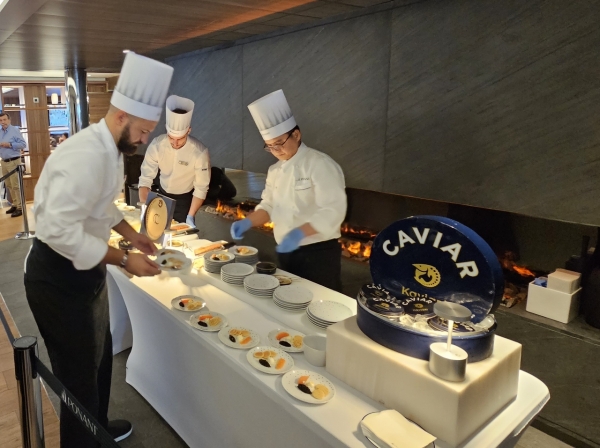 Ponant Cruise Lines strives to offer a premium service with formal dinners and an on-board dress-code. That's just not our style, but the once-in-a-lifetime experience of being able to stand at the North Pole, convinced us we could put up with the rest, and we were excited to book a trip on Le Commandant Charcot.
Another minor negative was that all discussions and presentations would be done sequentially in English and French, and we anticipated it would slow things down quite a bit. We also expected that we'd find travelling through the flat ice floes a little monotonous after a while, and had brought a supply of books and videos for entertainment. None of our concerns played out though, and we ended up enjoying the experience so much that we've booked another trip with Ponant to visit Greenland aboard Le Commandant Charcot early next summer.
Ponant brought a large and experienced group of experts to the North Pole to manage our shore excursions. In addition to orientation sessions for our outings, the expedition team also gave in-depth presentations on a broad selection of topics ranging from Arctic exploration and settlement to polar bears to sea ice categorizations. We attended one or more presentations every day. And on several afternoons, the ship played the seven-part BBC Earth documentary Frozen Planet, which we really enjoyed.
Le Commandant Charcot also had on staff Sue Flood and Ian Dawson as photography ambassadors. They held several detailed sessions on photography skills, from basic topics to more advanced ones such as understanding a histogram. Both are excellent photographers and teachers, and we learned a lot from them.
With so little deep Arctic vessel travel, the opportunity for scientific research are somewhat limited. Le Commandant Charcot contributes to science by making space for several scientists and their lab work on every trip. In addition to giving us a tour of the scientific labs, the scientists also gave presentations on the work they were doing. We were particularly interested in the work of a team from Norway on communications at sea and maritime cybersecurity.
We're very interested in engineering, and took every opportunity to learn more about the ship. Le Commandant Charcot has an open bridge, and we spent many hours there with the ship underway. Captain Marchesseau also gave a detailed talk on the design of Le Commandant Charcot that gave us a new appreciation for the technology behind this impressive ship. We also took a tour of the aft bridge, used when the ship can no longer make forward progress in the ice and needs back out.
We also participated in several wine-tastings. All were educational and entertaining, and we particularly enjoyed the dichotomy of being out in the winds and waves in the zodiac and twenty minutes later be enjoying a fine French wine.
Le Commandant Charcot has two main restaurants, the gastronomic restaurant NUNA on deck 5 where evening attire is recommended and the more casual buffet SILA on deck 9. The food was excellent in both, but we found NUNA a little rich for our taste, and preferred SILA. This was a bit of a surprise, as we generally would not favor a buffet, but the food there was delicious, with a wide variety of choices that changed each day. Adjacent to SILA is an outdoor restaurant open from lunch to late afternoon with an International Flavors Menu that we especially liked. We did eat outside a couple of times, but generally the weather wasn't ideal (unless you're a polar bear :-) ), so we usually took the food inside.
Throughout the cruise, the pastry chef created elaborate desserts for the daily afternoon tea, such as Ponant-Brest, a variation of the circular Paris-Brest, and the executive chef offered several before-dinner tastings of delectables such as caviar, Norwegian salmon and Spanish chorizo. And on the Sunday halfway through the cruise, the culinary team prepared a spectacular brunch.
Since this was a once-in-a-lifetime experience, we decided to go all out and get one of the nicer cabins on the ship, a Duplex Suite. This unique, two-level stateroom has a living and dining area on the main level that opens onto a balcony with a hot tub, and an upstairs loft-type bedroom with a view aft. We spent much time enjoying the view from inside and on the deck, and soaked daily in the hot tub. It was a spectacular cabin, and we absolutely loved it.
On board Le Commandant Charcot were an opera singer, two musician-singers, a violinist, a saxophonist, a classical pianist, a jazz pianist, and two dancers, who did evening performances in the theater. During the day, they entertained in the main lounge on Deck 5 and the Observatory Lounge on Deck 9. The dancers also provided several classes, such as Zumba, and a fitness coach offered courses, such as Pilates and Yoga. When not attending a lecture or enjoying a meal, most of our time outside our stateroom was spent in the Observatory Lounge with its sweeping view forward. We generally were able to find a seat, but sometimes the lounges were quite busy. The cruise wasn't fully-booked, so lounge space might be more difficult to obtain with a full complement of passengers.
On our trip, the majority of the passengers were actually from China, so three languages were spoken on board. To alleviate the translation overhead, Ponant frequently offered separation sessions so each group could have single-language discussions, or they used concurrent translation with earphones, so it really didn't slow things down at all.
Over the 15-night trip, the ship held two gala events and one Officer's evening. Before each event, a cocktail party was held in the theater and foyer, with entertainment from the ship's on-board opera singer. The attire for the Officer's evening is black and/or white, and passengers select an Officer's table to sit at. At the final gala, we were at the Captain's table for a delicious six-course meal served with a flourish.
Overall, we found ourselves so busy that we never considered watching a movie, and didn't do much reading either. The ship, and the trip, was fabulous, and we're very much looking forward to seeing more of Greenland next spring on our second cruise aboard Le Commandant Charcot.