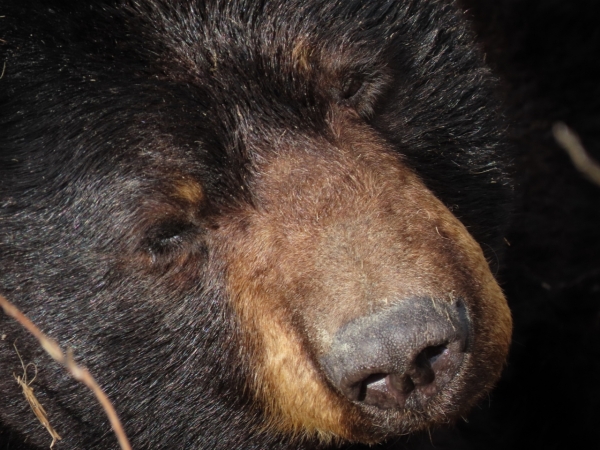 The 125-mile (201 km) Seward Highway, between Anchorage and Seward, is considered one of the most scenic routes in the state of Alaska. Named a National Forest Scenic Byway in 1989, the 2.5-hour journey from Seward passes through the Kenai Mountains and between Turnagain Arm and the Chugach Mountains, with numerous lakes and other attractions along the way.
An alternative to driving, that follows the same route, is the Coastal Classic tourist train. Making a few sightseeing stops along the way, the train is popular with cruise ship passengers transferring between the Anchorage airport and Seward.
The train had not yet begun running for the season when we'd be arriving into Seward aboard the Norwegian Jewel, so we opted for a sightseeing transfer with Aurora Limousines instead. This gave us an opportunity to make several stops along the way, particularly at the Alaska Wildlife Conservation Center, where orphaned or injured bears and other animals are cared for.
The Norwegian Jewel arrived into Seward early in the morning the day after viewing spectacular Hubbard Glacier. We smoothly disembarked with carry-on luggage only, past rows of checked bags ready for pickup, and into the waiting car.
Being early in the season, the scenery was especially impressive, with the mountains still snow-covered and the lakes just barely starting to thaw. En route, we passed through tiny Moose Pass, with it's century-old waterwheel and grindstone and stopped to take in the views at Canyon Creek, where a dumpster labelled "Do Not Occupy" gave us a chuckle.
We did miss a couple of attractions, notably Exit Glacier near Seward because the road was was still closed for the winter, and the cable car up from Girdwood up Mt Alyeska was also not operating. But the winter scenery more than made up for that.
Rain had been falling much of the morning, but stopped when we reached the Alaska Wildlife Conservation Center. Founded in 1993, the center provides a permanent home for injured or orphaned wild animals. We spent over an hour walking through the property and viewing the many animals there, including bears, wolves, moose, elk, deer, bison and caribou. We particularly enjoyed the "bear boardwalk," and spent ages watching a black bear curled up in the bushes.
Continuing on to Anchorage, we made a short walk to reach Bird Point, with sweeping views over Turnagain Arm before arriving at Ted Stevens Anchorage International Airport for our flight home to Seattle. We enjoyed some great views to Turnagain Arm and the Alaska coast as we flew south and also to several points along the Washington Coast that we'd recently visited, including Dungeness Spit and Point Ruston.