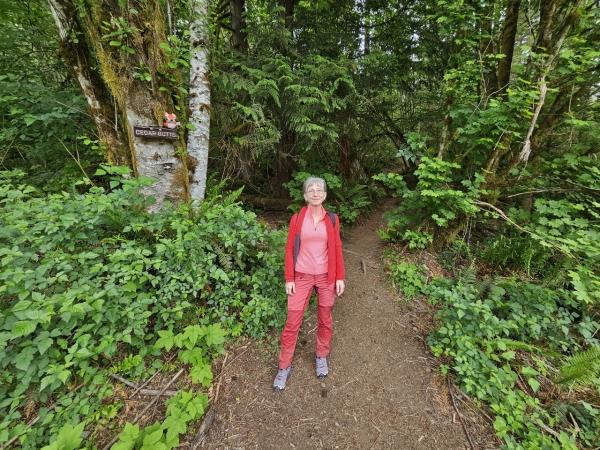 On most of our airplane trips, we prefer to pack light and bring carry-on luggage only. This saves us time at the airport and also avoids the risk of lost bags. For our upcoming trip to Barcelona, we had one hike planned, but not enough to warrant bringing our large hiking boots as we did for Switzerland. Instead, we bought some Salomon trail running shoes that have excellent tread, but on a lightweight packable shoe.
To give them a test prior to our trip the following week, we made a short hike on Cedar Butte Trail in Palouse to Cascades State Park. The trailhead, about a forty-minute drive east from our apartment, is just beyond the incredibly popular Rattlesnake Lake trailhead. Cars were jammed in everywhere there, but fortunately the Cedar Butte Trail wasn't nearly as busy.
The fog didn't lift as predicted, so we didn't get much of a view at the top, but we had an enjoyable hike through the healthy woods, and loved the new shoes. On our way back home, we stopped for a delicious lunch at Masa Cantina in Issaquah.