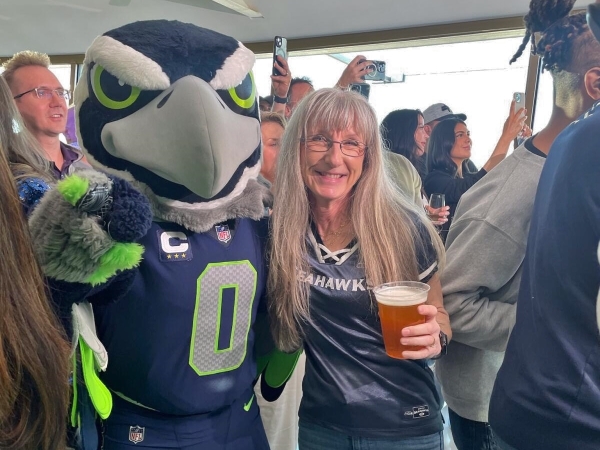 Jennifer loves to get pictures with team mascots and recently added another to the list with Blitz of the Seattle Seahawks at the team's 2023 NFL Draft Party. The event was held at the Space Needle with guest appearances from several players as the 2023 NFL draft was broadcast. The party was fantastic, made even better by the sweeping views from the Space Needle on the warm and sunny day.
Below are highlights from April 27th, 2023. Click any image for a larger view, or click the position to view the location on a map. And a map with our most recent log entries always is available at mvdirona.com/maps.
Blue Thunder

The Seahawks drumline, Blue Thunder, also was on hand at the 2023 Draft Party. The weather remains wonderfully warm for late April, with a high of 64°F (17.8°C).
Norwegian Jewel

The Norwegian Jewel moored at Pier 66, viewed from the Space Needle. We'll be taking that ship in four days on an Inside Passage cruise from Vancouver to Alaska.
Cabin 9004

The bridge of the Norwegian Jewel. Our cabin for next week, 9004, has the lower forward balcony on this side (starboard) of the ship and a second balcony along the side beneath the bridge wing.
Seattle Skyline

The Seattle skyline and Mt. Rainier, viewed from the top of the Space Needle.
Insignia

The north tower of our apartment complex, Insignia, viewed from the Space Needle. Our apartment is in the south tower, hidden behind the north tower.
Glass Floor

Looking down through the glass floor in the Space Needle. Jennifer is at bottom and our friend Kimanh Moreau is wearing the fabulous chartreuse boots.
Draft Selection

All eyes focused on the video display as the Seahawks announce their first draft pick.
Blitz

Jennifer has been trying for years to get a picture with Blitz, the Seahawks mascot, and finally got one tonight.
Evening View

Evening view to Seattle from the Space Needle.
Ice Sculpture

This ice sculpture was full of shrimp and other seafood at the start of the Seahawks Draft Party and is pretty much picked bare now.
| | |
| --- | --- |
| | Click the travel log icon on the left to see these locations on a map. And a map of our most recent log entries always is available at mvdirona.com/maps. |