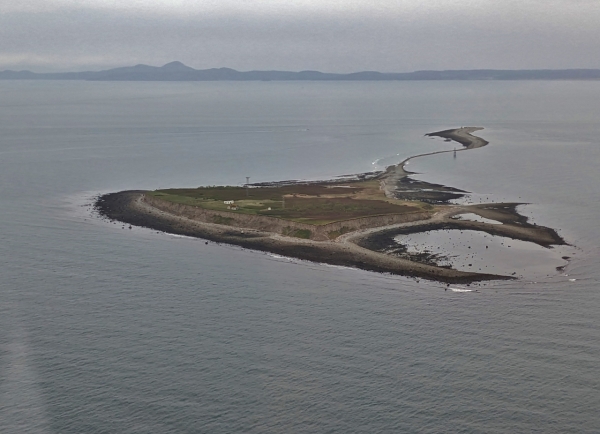 The one-hour seaplane flight from Seattle to Friday Harbor in the San Juan islands is scenic enough that Kenmore Air offers sightseeing-only flights over both areas. We enjoyed those wonderful views on a recent day trip to Friday Harbor via Kenmore Air. Being early in the season, the flights were lightly loaded and we had no trouble making a last-minute reservation. We'd planned to take these flights over a weekend trip last fall, but our flight was canceled due to weather and we ended up driving instead.
We had a fabulous time on the seaplanes, taking in Lake Union, Seattle, the Puget Sound, the Strait of Juan de Fuca and the San Juan Islands. It also was fun to see from the air many places we frequented by boat over the past two decades. After a walk through Friday Harbor and a delicious and lazy lunch at the San Juan Island Brewery, we returned back to Seattle in time for dinner in La Palmera Mexican restaurant near the South Lake Union Kenmore Air station.
Below are highlights from April 23rd, 2023. Click any image for a larger view, or click the position to view the location on a map. And a map with our most recent log entries always is available at mvdirona.com/maps.
Mirall

Jennifer standing inside one of the twin sculptures that make up Mirall (Catalan for mirror) by Spanish artist Jaume Plensa. We passed it walking to the South Lake Union Kenmore Air station.
Our Plane

Our plane to Friday Harbor, a De Havilland (Bombardier) DHC-2 Turbo Beaver.
Light Loaded

It's early in the season, and not many people are making the flight to Friday Harbor today. Only four are on board, plus the pilot, leaving three seats empty.
Traffic

Lots of boat traffic at the raised Fremont Bridge as our plane taxis to the north end of Lake Union for takeoff.
Gas Works Park

Gas Works Park, on the north end of Lake Union. The park sits on the former site of the Seattle Gas Light Company gasification plant.
West Lake Union

West Lake Union shortly after takeoff.
East Lake Union

East Lake Union, with I-5 beyond, viewed from our seaplane to Friday Harbor.
Seattle Center

Flying over Seattle Center, with the brightly-colored Museum of Pop Culture to the lower left of the Space Needle. Our apartment complex is the tall gray building at upper center, beyond the shorter blue, green and white building.
Elliott Bay Marina

Elliott Bay Marina, where we kept our

first boat

for a decade.
USNS Richard E. Byrd

This looks like the USNS Richard E. Byrd dry cargo ship, but we couldn't see a number or flag to confirm.
USGS Marrowstone

The USGS Marrowstone Marine Field Station at Marrowstone Point near Port Townsend is the exclusive marine/seawater-based research facility for the Northwest Region. We've passed there by boat many times over the years.
Smith Island

Smith Island at the eastern end of the Strait of Juan de Fuca, with Minor Island in the background. The spit between them is covered at high tide. We've anchored a couple of times off the north side of the island. The spot is quite lumpy and exposed, but really beautiful and wild.
Shaw Island

In the San Juan Islands off the sound end of Shaw Island, with Orcas Island and East Sound visible beyond.
Chelan

The Washington State Ferry Chelan arriving into Friday Harbor with our flight.
Docking

In what looks like a crazy maneuver, the pilot shuts off the engine and leaps out of the plane to the dock, then pulls the craft over. The process usually goes smoothly, but this time the plane couldn't be brought onto the dock due to a heavy cross wind and he had to try again, pictured.
We're Here

An hour after departing Seattle, we're here in Friday Harbor.
Departing

Our plane and pilot didn't stay long in Friday Harbor, and took off shortly after dropping of the passengers.
Scoot Coupes

Scoot Coupes

for rent at Susie's Mopeds in Friday Harbor. Powered by an Italian-made Piaggio 4 Valve 49cc engine, the vehicles have a maximum speed of 30 mph (108 kph) and are classified as mopeds in most states.
San Juan Island Brewery

A delicious pizza for lunch with local brews at the San Juan Island Brewery in Friday Harbor.
Matthews

As we were walking the dock for our flight home a US Customs agent called us out by name. That made us both a little nervous, but agent Matthews recognized us from our blog and just wanted to say hello and chat.
Cockpit

We returned to Seattle on a De Havilland (Bombardier) DHC-3 Turbo Otter aircraft.
Chetzemoka

The Washington State Ferry Chetzemoka, underway with tug assist just south of Port Townsend.
Portage Bay

Looking south across Portage Bay, between Lake Union and Lake Washington. At upper left is the marina and clubhouse of the Seattle Yacht Club. We've enjoyed many dinners there and presented there ourselves several times. In the distance is Highway 520 that crosses Lake Washington, while houseboats fill the western shore.
La Palmera

We stopped in for dinner for the first time at La Palmera Mexican restaurant on our way home from Kenmore Air. Their house margarita is huge!
| | |
| --- | --- |
| | Click the travel log icon on the left to see these locations on a map. And a map of our most recent log entries always is available at mvdirona.com/maps. |