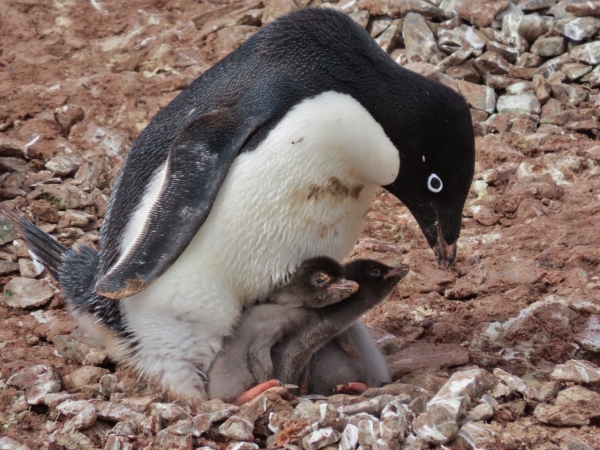 Pourquois Pas Island, at the north edge of Marguerite Bay, was discovered by Jean-Baptiste Charcot. He led the 1908-1910 French Antarctic Expedition, and named the island after his ship. Charcot in turn is the namesake for the French expedition ship Le Commandant Charcot, the highest rated ice class vessel in the world, that we'll be taking to the geographic North Pole next summer.
We began our second day in Antarctica at a bay along the southern tip of Pourquois Pas Island. The excursion started with a hike ashore on one side of the bay, and then we crossed over in the zodiacs to visit a large Adelie penguin colony on the other side. We really enjoyed a chance to make a longer walk ashore in Antarctica and take in the spectacular scenery, and we loved watching the penguins sliding on the snow, walking across the rocks and tending their chicks.
Below are highlights from the morning of December 24th, 2022. Click any image for a larger view.
Spectacular scenery en route to Pourquois Pas Island
The National Geographic Endurance at Pourquois Pas Island, underlined in red on the map at right.
Hiking along a rocky beach just below the snow line.
Antarctic skuas and crabeater seals were among the wildlife ashore. Skuas are the villain birds in the animated penguin movie Happy Feet.
We descended a small hill after taking in the view from above, with some of the younger hikers opting to roll down the hill.
The view north as we return back to the Zodiacs. The Antarctic scenery is really spectacular.
Tall, warm and waterproof boots are required on this journey to disembark from the zodiac. Boots are available for rent on board, but we bought our own, Muck Arctic Sports.
Thousans of Adelie penguins at the Pourquois Pas Island colony.
Animal carcasses and skeletons were not uncommon on our shore excursions. Antarctica is a harsh and unforgiving environment.
Green snow algae, right, often grows near penguin colonies and other bird nesting sites. It is most prevalent on the west coast, where the summer temperatures are slightly above.
The custom roof-mounted traveling cranes by Aukra Maritime of Norway allows rapid deployment and retrieval of the eight zodiacs stored near the waterline on the National Geographic Endurance. This crane design consumes little space, while still supporting efficient operations.
We had lunch on the deck again today, with a wonderful view to Pourquois Pas Island. With the overhead heaters on, we didn't even need to wear our heavier coats.