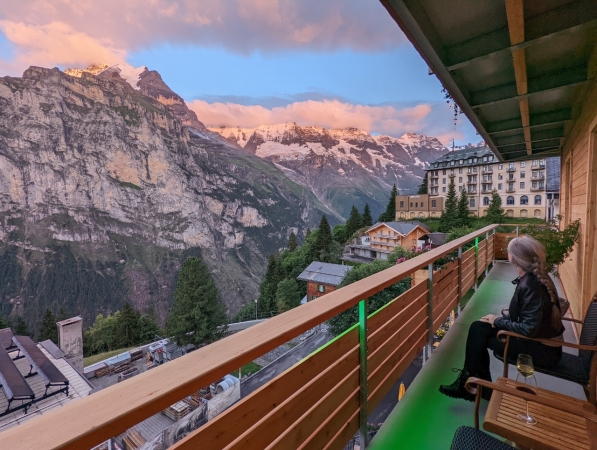 The Bernese Oberland (Bernese Highlands) region topped every list we found of best places to visit in Switzerland for spectacular mountain scenery. Here are some of the highest and well-known peaks in the Bernese Alps, including 14,022-ft (4,274 m) Finsteraarhorn, 13,642 ft (4,158 m) Jungfrau, 13,480-ft (4,110 m) Monch, and 13,015-ft (3,967 m) Eiger. Some are accessible nearly to the top via cableways and cog railways, while others can be viewed up close through the regions many hiking trails. Additional attractions are vast glaciers, deep valleys, beautiful waterfalls and quaint Swiss mountain villages.
We booked four nights in Murren, a small town high above the Lauterbrunnen valley with panoramic mountain views. The town cannot be reached by public road, only by cable car and train. From Lucerne, we traveled by train to Interlaken, the main transportation hub of the Bernese Oberland. We stopped there for a few hours to take the funicular up Harder Klum, where on a clear day a cantilevered viewing platform has sweeping views to the valley below. Unfortunately the summit was mostly in the clouds, but we got a few good glimpses on a short hike.
From Interlaken we took a train to Lauterbrunnen, then a cable car up from the valley to Grutschalp, and finally a train to Murren. The skies were overcast when we arrived, but cleared in the evening to reveal the astounding mountain views the town is famous for.
Below are highlights from June 28, 2022. Click any image for a larger view, or click the position to view the location on a map. And a map with our most recent log entries always is available at mvdirona.com/maps.
Giswil

The town of Giswil, viewed from our train to Interlaken from Lucerne. The parish Church of St. Laurentius, Rudenz, prominent in the background, was completed in 1635.
Lungerersee

Passing Lungerersee (German for Lake Lungern) by train. To increase cattle grazing land, the water level in this natural lake was lowered by 188 ft (36 m) starting in 1846 through an artificial 1,250-ft (380 m) drainage tunnel.
Incline

Our train is running at a steep incline of 9.3° as we ascend from Lungen at elevation 2,346 ft (715 m) to cross Brunig Pass at 3,307 ft (1,008 m) over a distance of only 2.8 miles (4.5 km).
Waterfalls

One of several waterfalls in the Meiringen area. The most famous is the Reichenbach Falls, the fictional deathplace of Sherlock Holmes.
Swiss Lunch

A Swiss lunch of cheese, sausage, olives and bread with wine on our train to Interlaken.
Brienze

The lake tour boat Brienze, moored in the town of the same name, at the north end of Brienzersee (Lake Brienz).
Brienzersee

Looking southwest across Brienzersee (Lake Brienz) to Interlaken (Between Lakes), with the Swiss Alps in the distance. Brienzersee is the northern of the two lakes that border Interlaken.
Locker

We stored our bags in a locker at Interlaken train station to spend the afternoon at Harder Kulm (Mount Harder) before continuing on to Murren.
Climbing

From an altitude of 1,804 ft (550 m) the funicular climbs 2,408 ft (734 m) to Harder Kulm over a distance of 4,708 ft (1,435 m), with a grade of 51%.
Harder Kulm

It's unfortunately very foggy at Harder Kulm today, so we aren't getting much of a view. We can hardly see the restaurant building beyond the entry sign.
Viewing Platform

On clear days, the cantilevered platform at Harder Kulm has a spectacular view over Brienzersee and Interlaken. But not today.
Brief Clearing

While we were out on a short hike around Harder Kulm, the skies cleared and we got a bit of the view the area is famous for. This is looking south across Interlaken towards the Swiss Alps Jungfrau-Aletsch, a UNESCO World Heritage property.
Snail

A snail near the upper station at Harder Kulm. We've seen lots of slugs, but rarely see a snail and shell except in or near the ocean.
White Lutschine

The White Lutschine, one of two tributaries of the Lutschine River, viewed from our train to Lauterbrunnen from Interlaken. The river is particularly swollen right now due to recent heavy rains.
Lauterbrunnen

At Lauterbrunnen, we transferred from the train to a cable car to continue on to Murren. It's late afternoon and dozens of people are heading up to Murren with us. Most don't have much luggage, so probably are returning from day trips.
Staubbach Falls

Looking south to the Lauterbrunnen Valley as we ascend in the cable car to Murren. At right the striking Staubbach Falls spill 974 ft (297 m) down the cliff-face.
Grutschalp

At Grutschalp we transferred from the cable car to a train that will take us to Murren. The town cannot be reached by public road, only by cable car and train.
Hotel Bellevue

An excellent meal at the Hotel Bellevue in Murren, with a view to the Swiss Alps. We had their amazingly good crisp fried half chicken paired with a delicious Swiss Sauvignon Blanc.
Patio View

In the overcast weather we hadn't seen much of the mountains around Murren since we arrived. But shortly after dinner, the skies cleared to reveal the spectacular view from the aptly-named Panorama Deck deck at the Hotel Bellevue.
Hotel Eiger

An evening drink enjoying the astounding view from the deck off our room at the Hotel Eiger in Murren. We chose this room specifically for the view, and it was even better than we were expecting.
| | |
| --- | --- |
| | Click the travel log icon on the left to see these locations on a map. And a map of our most recent log entries always is available at mvdirona.com/maps. |