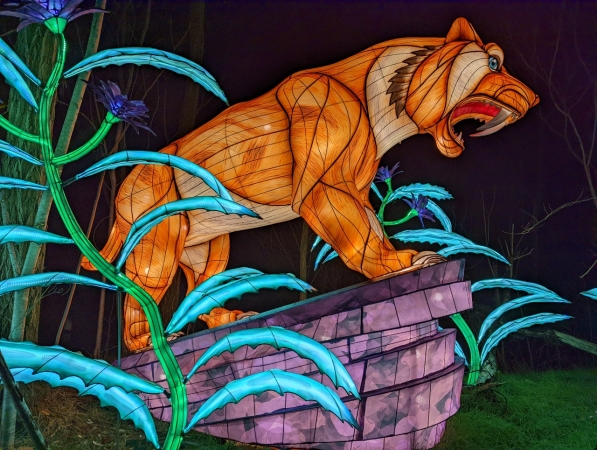 The WildLanterns winter light display at Woodlands Park Zoo just north of Seattle is simply amazing. We'd seen several pictures and were expecting an entertaining show, but the experience far exceeded that in scale, quality and interest. The show is spread throughout the zoo's 70 developed acres (28 hectares) and visitors take in the exhibits walking along the main circular path through the property. At every corner, we were surprised and impressed with the next display.
The exhibits feature large-scale animals and nature from around the world and throughout history, with a few cultural displays included in the mix. Most of the exhibits were mechanized, with wagging tails, hatching eggs, roaring lions and nodding heads. In addition to the light display, we took in the Tianyu Art Performances of traditional Chinese folk dances, Kung Fu, lion dances and a foot juggler.
Dinosaurs
Displays along the walkway between the main exhibits
The hatching dinosaur eggs were very popular with the children in attendance.
Sabre-tooth tiger and Sumatran Rhinos
Dinornis and woolly mammoths.
Tigers and fairy forest.
Jaguars and kangaroos.
Chameleon and tarantula.
We really enjoyed the Tianyu Art Performances. The masks on the dancer at left changed color throughout the performance with a flick of their fan. The foot juggler at right eventually built up to juggling an entire medium-sized table.
Terracotta army.
Chinese dragon and waddling penguins.
The final part of the display was packed with bees, butterflies, wasps and flowers.
Shark corridor at the exit.