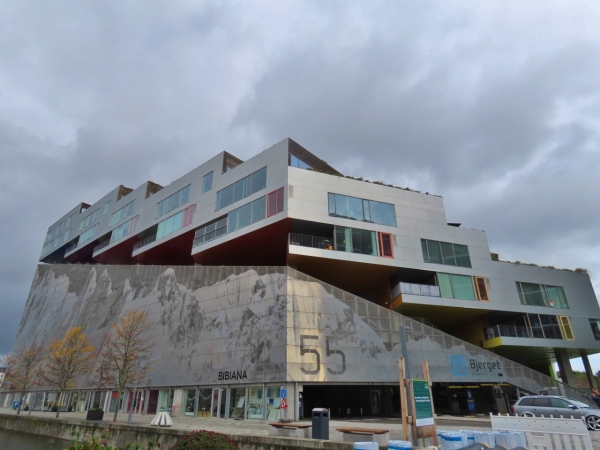 Copenhagen's Orestad neighbourhood, southeast of the city center, is known for its spectacular modern architecture, so much so that companies run architectural tours of the area. On our final day in Copenhagen, we made our own architectural tour of Orestad by bicycle. We were really impressed with the modern and innovative architecture, including several by BIG, who also designed the Maritime Musuem of Denmark and Amager Bakke.
Below are trip highlights from October 12th, 2019 in Copenhagen, Denmark. Click any image for a larger view, or click the position to view the location on a map. And a live map of our current route and most recent log entries always is available at mvdirona.com/maps.
Fisketorvet

At Fisketorvet Shopping Mall for a quick lunch before our bicycle tour of Orestad.
Shoal No.8

The sculpture Shoal No.8 consists of 8,500 stainless steel fish suspended from an atrium at Fisketorvet Shopping Mall.
Cykelslangen

Riding across the Cykelslangen (Cycling Snake), a dedicated raised cycling path between Fisketorvet Shopping Center and Brygge Bridge.
Boligslangen

The Boligslangen (the "Housing Snake") is so named because the group of apartment buildings wind through the landscape.
Tietgen Residence Hall

The Tietgen Residence Hall in the University of Copenhagen's South Campus was inspired by traditional Tulou houses in Southeastern China that combine individual dwellings and communal spaces. The interior of the building is an open-air circular park.
Bicycle Parking

From a distance we could see these small raised hills and were curious what they were. They turned out to be covered bicycle parking.
IT University of Copenhagen

The University of Copenhagen South Campus (left) along Emil Holms Kanal.
DR Koncerthuset

DR Koncerthuset by French architect Jean Nouvel consists of four separate concert halls, each with a different architecture and expression.
Bella Sky

The striking Marriott AC Hotel Bella Sky Copenhagen consists of two leaning, curved towers with a sky bridge between them at the top.
VM Mountain Terraces

Each of the 80 units in VM Mountain have terrace decks and roof gardens with views of Orestad and East Amager.
Ericsson

The Ericsson Denmark building, designed with a slight curve in the face.
Royal Arena

The Royal Arena, completed in 2017, is designed to be a public space and to present a more transparent and welcoming presence than typical stadiums with the slatted timber sheathing allowing views inwards and outwards. In this case, "Royal" is the beer, rather than the monarchy.
Bicycle Paths

Copenhagen is very bicycle-friendly—even the most remote roads have dedicated bicycle paths.
Maritime Youth House

The Maritime Youth House was built on the site of polluted soil. Rather than spending money to remove the soil, the architects instead covered it with an undulating deck that forms part of the structure's roof, leaving more money for the building.
Circle Bridge

Crossing the Circle Bridge pedestrian bridge. It is made with intersecting circles and poles that resemble ship's masts, a nod to the city's maritime past. We earlier passed under the

Circle Bridge in our tender

.
Nyhavn

Dirona, aglow in blue just left of center, moored at Nyhavn in downtown Copenhagen.
Click the travel log icon on the left to see these locations on a map, with the complete log of our cruise.

On the map page, clicking on a camera or text icon will display a picture and/or log entry for that location, and clicking on the smaller icons along the route will display latitude, longitude and other navigation data for that location. And a live map of our current route and most recent log entries always is available at mvdirona.com/maps.