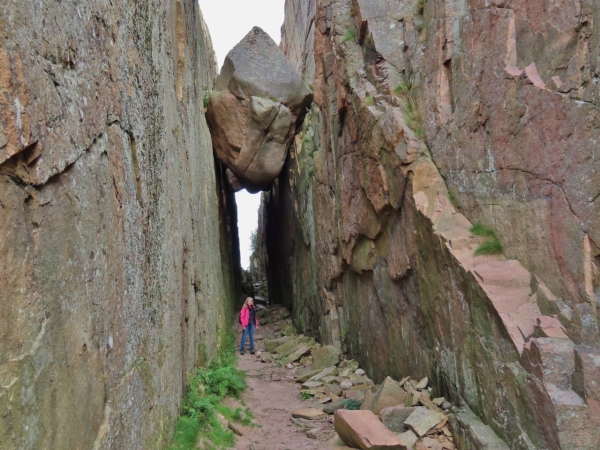 The picturesque town of Fjallbacka is a popular and crowded summer destination. It is famous as being the summer home for Swedish film star Ingrid Bergman and also the setting for Swedish crime writer Camilla Lackberg's "Fjallbackamorden" series of murder-mysteries.
Strung along the water below steep cliffs, Fjallbacka is also known for its natural beauty, with a fabulous view hike through a cleft in the cliff overhung with wedged boulders, and seaside Veddo Nature Reserve nearby. And about nine miles away are the Bronze Age rock carvings at Tanum, named a UNESCO World Heritage site in 1994 for their extensive, rich and varied depictions that are remarkably well-preserved.
From the anchorage at Gluppo, we travelled a paltry three miles to spend two nights at Fjallbacka. On our first day we took in the local highlights, including walking up to the top of Vetteberget for the wonderful view and cycling to Veddo Nature Reserve. On our second day, we rode the bikes out to take in the impressive rock carvings at Tanum and made a stop at the coastal town of Grebbestad on the return trip to Fjallbacka.
Below are trip highlights from September 19th and 20th, 2019. Click any image for a larger view, or click the position to view the location on a map. And a live map of our current route and most recent log entries always is available at mvdirona.com/maps.
9/19/2019
Gluppo

Gluppo is a popular anchorage and we had it all to ourselves our first night there, but three other boats arrived. Two tied to the rocks and a third took a

Swedish Cruising Association

(SXK) buoy. The club has an extensive network of buoys on the Swedish coast—we've seen SXK buoys frequently on our travels here.
Sunrise

7am sunrise over the island of Valon as we are underway for Fjallbacka. The days are getting shorter. It will soon be time to head south with winter coming.
Fjallbacka Gasthamn

Moored for a couple at Fjallbacka Gasthamn.
Grey Water Sensor

On our grey and black water tanks, we really like reliable knowledge on the fill levels. So we have both mechanical sensors and redundant electronic sensors with alarms. Here you can see a common failure mode of the mechanical sensor, a Dometic TankWatch 4. About every six months, one of the TankWatch 4 systems will have a float jam up. Nine time out of ten it's what you see above, where hair or other debris has jammed up the lower sensor.
Fjallbacka

The picturesque town of Fjallbacka, strung along the water below steep cliffs, is a popular and crowded summer destination but is pretty chill this time of year.
Kungsklyftan

A trail leads from the Fjallbacka waterfront up to a viewpoint on the hill Vetteberget. We couldn't see the trail from the water because it runs through this wild cleft in the rock, where several large rocks are wedged above.
Vetteberget

The fabulous view to Fjallbacka and beyond from the top of Vetteberget. Dirona is visible moored at Fjallbacka Gasthamn right of center (click image for a larger view).
Vaderoarna

The ferry service to

Vaderoarna

leaves from Fjallbacka and their advertising has a great aerial shot of the islands.
Ingrid Bergman

Statue of Swedish film star Ingrid Bergman, who spent most of her summers in Fjallbacka in the last 25 years of her life.
Kroken

A great lunch on the terrace at Kroken restaurant with a view to the Fjallbacka Gasthamn. Dirona is at the center of the picture in the distance.
Traps

Lobster season starts in the area in a few days and we're seeing traps ready to go everywhere.
Veddo Nature Reserve

After lunch we made a 20-minute bike ride out to Veddo Nature Reserve to walk the trail around the peninsula.
Tiggarhallan

Looking west from the Tiggarhallan view point at Veddo Nature Reserve. The scenery reminded us very much of the Scottish west coast.
Cliffs At Night

The cliffs of Fjallbacka lit up at night, viewed from our berth at Fjallbacka Gasthamn.
9/20/2019
Tanum Rock Carvings

The Bronze Age rock carvings at Tanum were named a UNESCO World Heritage site in 1994 for their extensive, rich and varied depictions that are remarkably well-preserved. The 17-sq-mile (45 km sq) area contains over 600 different carving sites that are the highest density of such panels in all of Europe.

The site is about 9 miles (14.5 km) from Fjallbacka and took us about an hour to reach by bike. Pictured are one of the panels at Aspeberget, the largest collection of carvings in Tanum and possibly in the world.
Satellite Dishes

From Aspeberget, we could see two very large satellite dishes that piqued our interest.
Picnic

After viewing the Aspeberget carvings, we had a picnic lunch outside the Vitlycke Museum before going inside to learn more about the Tanum rock carvings. They do have a cafe, but it is already closed for the season.
Vitlycke Panel

The Vitlycke Panel near the museum is another notable set of carvings at Tanum, including images of ships, humans, animals, the Weather God and a bride and groom.
Tanum Teleport

After visiting the Rock Carvings at Tanum, we rode our bikes over to check out the satellite dishes we could

see from Aspeberget

. It was a longer ride than we expected—these dishes are really big. That's a large fuel truck in the picture. The defunct facility, Tanum Teleport, was a ground station for satellite communications that opened between 1971 and 2002.
Tanum's Parish

Looking across the graveyard to the parish church in Tanum, dating from 1876.
Riding

Riding along side roads from the Rock Carving at Tanum back to Fjallbacka via Grebbestad. We were following a bicycle trail that was a mix of paved paths, but the majority was dirt roads like this one. It was a fun ride.
Grebbestad

View north across the town of Grebbestad from the Stoberget lookout.
Q Skar

We joined several other patrons for a drink on the sunny deck of Restaurang Q skar in Grebbestad before continuing our bike ride.
Kroken

Dinner overlooking the harbour in Fjallbacka at Kroken. It was still warm enough, even without heaters on, to eat outside.
Sunset

Spectacular pink sunset at Fjallbacka.
Click the travel log icon on the left to see these locations on a map, with the complete log of our cruise.

On the map page, clicking on a camera or text icon will display a picture and/or log entry for that location, and clicking on the smaller icons along the route will display latitude, longitude and other navigation data for that location. And a live map of our current route and most recent log entries always is available at mvdirona.com/maps.