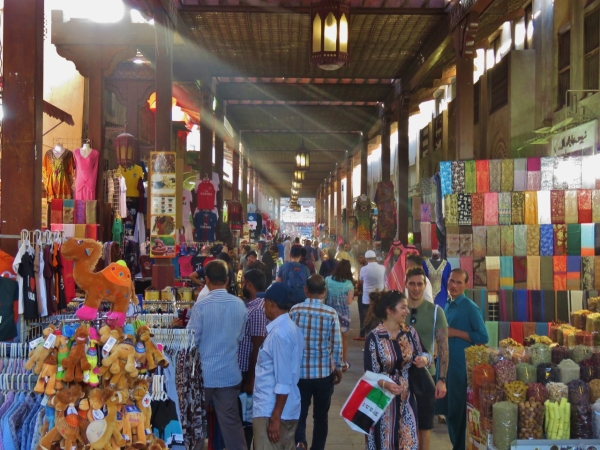 Dubai evolved in the 19th and 20th centuries on either side of Dubai Creek, north of the modern Downtown Dubai development. The buildings and traditional marketplaces there today, while oriented towards tourism, still give a flavour of what the city was like prior to its oil-driven economic boom. We spent a few hours exploring the historic district west of the creek, Bur Dubai, before making a one-hour road trip south to Abu Dhabi.
Below are trip highlights from Nov. 19, 2018 in United Arab Emirates. Click any image for a larger view, or click the position to view the location on a map. And a live map of our current route and most recent log entries always is available at mvdirona.com/maps
Construction

Construction workers on somewhat precarious-looking scaffolding opposite our Dubai hotel balcony. We often get a wave from them while we're having breakfast outside.
Dubai Frame

The 492 ft (150m) by 344 ft (105m) Dubai Frame, the largest frame in the world, viewed en route to the Dubai Creek area by taxi. It is positioned so that looking south through the frame gives a view to modern Dubai and historic Dubai is visible when looking north.
Al Fahidi

Traditional wind-tower architecture at Al Fahidi historic district along the south side of Dubai Creek. The wind towers provide natural air-conditioning by pulling air down a central shaft into the room below, cooling it via convection. The Al Fahidi district is a restored heritage area originally formed in the early 1900s to house pearl and textile merchants. It felt a bit touristy, but we enjoyed the architecture and walking through the narrow, winding lanes within.
Wall of Old Dubai

A restored portion of the Wall of Old Dubai, originally built around 1800 AD, and Al Fahidi Fort. The fort, built in 1799, is the oldest surviving structure in town.
MAKE Art Cafe

Lunch at MAKE Art Cafe in the Al Fahidi historic district with freshly-made mint lemonade. A beer would have been very nice on this hot day, but Dubai is alcohol-free with exceptions of hotels and a few other private venues.
Dubai Museum

After lunch we visited the Dubai Museum, housed in and underneath Al Fahidi Fort. We were particularly interested in seeing the multimedia presentation showing Dubai's rise from desert village to world-class city, but it wasn't operating that day. The entry charge was a surprisingly low 6 Dirham (about USD $1.60), cash only.
Skeleton

The Dubai Museum had a wide range of displays, including several from nearby archaeological digs. This skeleton is from a burial site dating from the 1st millennium BC.
Bur Dubai Souq

After visiting the museum we walked through historic Bur Dubai Souq, housed under an ornate carved wooden canopy. We enjoyed the market scene, but the vendors were so pushy we couldn't linger long.
Fish Boat

An long disused three-outboard boat on Dubai Creek. The vessel was thick with sand and even the dock it was moored to was peeling apart.
Dubai Creek

Modern catamaran ferry and wooden abras on busy Dubai Creek, with the Deira district in the background. Abras are the traditional water taxi used to cross the creek.
Shift Change

Dozens of buses carry construction workers to and from the work site at shift change time near our Dubai hotel. In Dubai there usually many buildings under construction at the same time, and they run 3 massive shifts of construction crew 24 hours a day.
Downtown Dubai

A last look at the Downtown Dubai skyline as we depart Dubai for Abu Dhabi. The Burj Khalifa is visible at the right of the picture.
Power Lines

High voltage lines leading from the Jebel Ali Power Plant and Desalination Complex, the largest in the UAE, with a current total capacity of 2,185MW of electricity and 140 million imperial gallons of desalinated water per day.
Sunset

Sunset en route by road from Dubai to Abu Dhabi. The drive is just over an hour, so is cheaper and faster by taxi than by plane.
Click the travel log icon on the left to see these locations on a map, with the complete log of our cruise.

On the map page, clicking on a camera or text icon will display a picture and/or log entry for that location, and clicking on the smaller icons along the route will display latitude, longitude and other navigation data for that location. And a live map of our current route and most recent log entries always is available at mvdirona.com/maps.