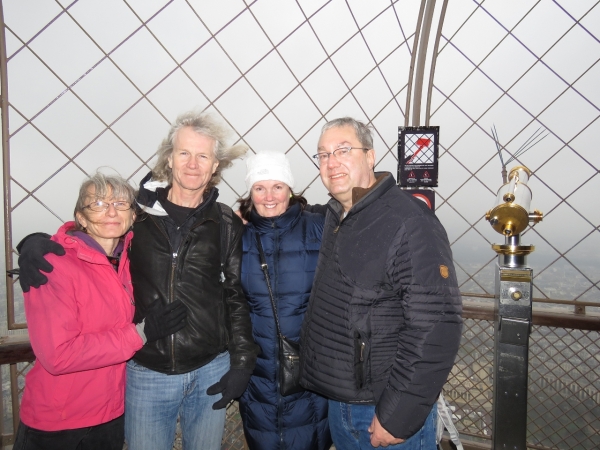 With London being both a popular travel destination and a hub for Europe, we did a lot more socializing than usual. This gave us an opportunity to catch up with some old friends, finally meet in person some that we'd corresponded with years, and make new acquaintances with locals or those travelling to the area.
2/13/2018
Andrea Molinaroli




London resident and blog reader Andrea Molinaroli dropped by for a visit with a delicious bottle of Fuligni Rosso di Montalcino 'Ginestreto'.
2/16/2018
Dave & Kaye Poulsen




Dave and Kaye Poulsen of Nordhavn 4749

Segue II

were in London and stopped by for a visit. They have extensively cruised Europe, but now keep their boat in Sidney, B.C., Canada near to where our

previous boat

now is moored.
2/18/2018
Scott Bailey




London resident Scott Bailey stopped by for a visit and a tour of Dirona. We had a great evening with Scott, who has been giving us loads of excellent advice on things to do in London and how to get around.
2/19/2018
Kathy Hearn & Dave Gillies




With our friends Kathy Hearn and Dave Gillies at the top of the Eiffel Tower. We've known Kathy and Dave since the late 1980s when we all worked together at the IBM Toronto Lab. They were planning a trip to Paris when we would be in London, so we arranged to meet up there. We've not seen them since we left Seattle—it was wonderful to get together and catch up. And Paris is such an awesome place to meet.

Read more about our Paris trip

.
2/28/2018
Andrew Bate




Naples, Florida resident Andrew Bate was in London on business and dropped by for a visit and a tour of Dirona. Andrew has spent a ton of time around high-end yachts and boats in general—we had a great time sharing stories and experiences.
3/2/2018
Bob and Kathy Valleau




An excellent evening with Bob and Kathy Valleau of Nordhavn 68

Vesper

over a delicious meal at Giorgios Italian Restaurant in Leadenhall Market. We'd not seen Bob and Kathy since departing

Stornoway in the Outer Hebrides

last September. It was great to spend time together and catch up on our various travels.
Leadenhall Market




Kathy Valleau

of

Vesper

snapped this picture as we left Giorgios Italian Restaurant through Leadenhall Market.
3/17/2018
Aaron & Jacob Kagon




Aaron Kagon (left) and his brother Jacob were in London and came by to tour Dirona. Aaron is studying naval architecture in Southampton—we met briefly when he was visiting Nordhavn Europe. He's spent a lot of time around Nordhavns and knows the boats well.
3/20/2018
Michael Crofts




Michael Crofts, of Nordhavn 40 Coracle, dropped by for a visit. We've corresponded a lot over the years, so it was great to finally meet in person.
3/21/2018
Richard Murray




Inside the Lloyd's of London building with Richard Murray, aka "Muzz", who invited us for a tour of the striking building. Muzz is a Lloyd's Insurance Broker with Bannerman Rendell and a friend of

Andrew Bate

, who introduced us.

Read more about our tour

.
David Cox




Muzz

not only showed us through the Lloyd's building but also took us to lunch at the historic

George and Vulture

, a

Leadenhall

pub dating to 1748, and for wine and cheese with some of his friends at

Cheese at Leadenhall

. At the end of the work day, we stopped at the private bar inside

Cox Claims Group

. Chairman David Cox, pictured with us, races cars all over the world and has participated in such major events as the

Bathurst 1000

in Australia. We had an absolutely fabulous time meeting David and some of the Cox Claims Group team.
3/22/2018
Laust Sondergaard




Laust Sondergaard, owner of Nordhavn 75

l'Adagio

, was in town on business and stopped by for a visit. Laust lived aboard a previous boat at St. Katharine Docks for a decade when he worked in London.

l'Adagio

is currently for sale and the sales team has put together an astounding

3D model

of the boat.
3/29/2018
Neil Russell




Neil Russell of Nordhavn Europe was in London and stopped by Dirona to say hi.
4/1/2018
Dave and Debbie Campbell




UK residents Dave and Debbie Campbell stopped by for a visit and a tour of Dirona. Dave is in the backup generator business, so we had a great discussion on backup power as well as boats.
4/11/2018
Dave Smith




Dave Smith, owner of Nordhavn 43#43, was in London and stopped by for a visit. It's been fun having more visitors than usual, with London being both a popular travel destination and a hub for Europe.
4/12/2018
Philip Ljubic




Blog reader Philip Ljubic stopped by to say hello and came aboard for a tour of Dirona. He's originally from Australia, but lives in London now.
Helen and Gus Wilson




Former Texas residents Helen and Gus Wilson have been wintering at St. Katharine Docks for a decade, have vast experience cruising in this area, and have been giving us great advice on visiting London and the surrounding area. They stopped by for a visit, and some more helpful advice, before we left for Norway.
4/13/2018
Steven Gee




We had a great evening at

L'escale Wine Bar

and later on

Dirona

with Nordhavn 55

Shogun

owner Steven Gee, who keeps his boat at St. Katharine Docks. He's also in the techonolgoy industry so we have a lot in common beside boating.
Click the travel log icon on the left to see these locations on a map, with the complete log of our cruise.

On the map page, clicking on a camera or text icon will display a picture and/or log entry for that location, and clicking on the smaller icons along the route will display latitude, longitude and other navigation data for that location. And a live map of our current route and most recent log entries always is available at mvdirona.com/maps.