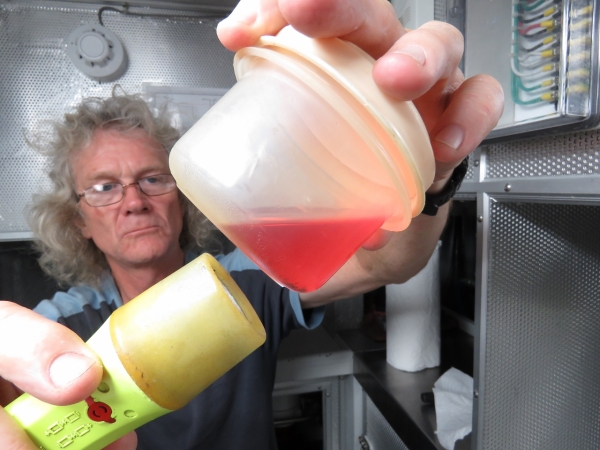 When we left Seattle on our trip around the world, we were expecting fuel quality issues to be common and carried 48 Racor 900 fuel filters. Surprisingly, we used less than ten on the entire trip. Most of the fuel we got world-wide was surprisingly good. We did encounter some minor fuel quality issues, but each incident never consumed more than two or three fuel filters. Regardless of the fuel quality at the source, how do you ensure that only great-quality fuel reaches the engine?
One tactic is to filter the fuel on the way into the tanks using a Baja Filter. This is a common tactic with world-cruising boats. The downside is that pre-filtering slows fueling dramatically. It takes 1.5 to 3 hours to fuel us as it is and might take more than a day with an external filter. It just doesn't feel practical when taking on more than 1,500 gallons.
| | |
| --- | --- |
| | |
The second approach is avoidance: only go to locations that sell in large volumes to commercial boats so you know the fuel is good. This is a good tactic, doesn't take any longer, and sometimes results in better pricing. However in some locations, such as pictured below in Port Vila, Vanuatu, we only found a single place to fuel. And that single fueling option didn't normally stock as much fuel as we needed. To deliver the fuel we required, they needed to make special arrangements to get our fuel delivered by truck. Unfortunately, the truck would deliver only to the bulk tanks in the fueling station, who would then deliver it to us. The consequence was that the fuel station's mostly-empty tanks got a large delivery of fuel, stirring up water and sediment, right before we fueled. This was pretty much the worst possible option, but since it was the only one, we took it. So, as much as we like the second approach of being selective about where we get our fuel, it also isn't a general solution for Dirona.
| | |
| --- | --- |
| | |
Since we don't pre-filter and we can't always be selective, that leaves us with the third tactic: expect some poor quality fuel and manage it. On this model, we worry less because instead of worry that we might get bad fuel, we more or less expect we'll get some bad fuel once in a while and design the system to deal with it.
Here's what we do. All fuel being delivered to Dirona goes into the two bulk side tanks of 835 gallons each, or into the on-deck fuel bladders when we are using them. Any fuel leaving our side tanks destined for the wing day tank or the supply tanks (where all engines but the wing get their fuel) is explicitly pumped through a 25-micron fuel-transfer filter. (We don't "gravity-feed" from the side tanks into the supply tank). And fuel transfered below decks from the bladders first passes through the 25-micron fuel transfer filter before entering a side tank. (See Fuel for the Crossing and Managing Fuel Economy for details on our fuel bladder design.)
The transfer filter is a large Racor FBO-10, pictured below, with a truly massive filter area. The FBO-10 commonly is used in bulk-transfer, commercial fuel-management applications. It has the advantage of supporting large transfer rates, but it also has a large filtration area so fewer filter changes are needed. It takes a lot of block that filter. In fact, we've never blocked it, although we have purchased large amounts of rust, small amounts of water, and even some large cockroach-like bugs. The FBO-10 just catches it all.
In the picture at the top of this post, James has drained off the bottom of the FBO-10 and is checking to see if there's a water problem. We only do this once every six months. In this particular case there is no water and only a little bit of sediment.
By the time the fuel gets to the supply tank, it has passed through the FBO-10 25-micron bulk filter. From there the fuel passes through a Racor 900 2-micron filter, then a 10-micron on-engine filter, followed by a 2-micron on-engine filter. So all the fuel gets filtered at least four times on the way to the Deere injectors.
Our fuel filtration model is a little different than most and, like so many things in boating, this is an area of hot debate. Generally, the industry recommendation is to have stepped filtration on the way to the injectors, where each level of filtration is finer than the last. This distributes the filtration job over all filters and allows early filters to last well and do bulk filtration of the big stuff. Putting very fine filtration on the primary filter is loved by many, but frowned upon by most of the professionals. The concerns are legitimate and focus around two issues: 1) fine first-level filters won't last long (they plug up fast), and 2) if not watched incredibly carefully, this can lead to fuel pressure problems on-engine due to unnoticed blockage.
Our original design followed the industry-recommended stepped-filtration approach. Between the supply tank and the engine we had a 30-micron filter and, on-engine, we had a 10-micron filter followed by a 2-micron filter. Because our engine is a high-pressure common rail system with fuel pressures frequently near 20,000 PSI, fuel quality is very important. That is why the manufacturer installs a 10-micron followed by a 2-micron filter pair on the main engine. The downside of this approach is that 2-micron filters can plug up quickly and might need replacing frequently. That on-engine filter pair, pictured below, costs US$140 and, more of a concern, can only be changed with the engine shut down.
Since most fuel delivered at the dock has never been filtered at anywhere close to 2 microns, the fuel often carries a lot of small particles. This isn't an issue in that these particles will be filtered out, but it means 2-micron filters need frequent changing, often in the 200-500-hour range. The cost is a minor concern, but we really, really don't like to have to shut down the main engine when at sea.
| | |
| --- | --- |
| | |
With all these factors in mind, we instead went to a 2-micron primary off-engine filter instead of the original 30-micron. This filter costs US$13 rather than US$140 and, more importantly, can be changed without stopping the engine. Pictured below are twin Racor 900 filter housings, where one filter is in use and the other side is ready to go. When the reading on the pressure gauge between them approaches 7 in Hg (inches of mercury) of vacuum, we switch over to the backup filter using the lever James is holding. With all the systems still running, we can then change the old filter at our leisure.
We have fuel pressure readings on the dash, and we check the fuel pressure gauges in the engine room on each shift change when underway. That generally mitigates the risk of not noticing the filters are plugged, the reason manufacturers dislike this non-progressively-stepped filtration design.
The final concern is that you can go through a lot of those 2-micron filters if you take on bad fuel. We solve that problem in two ways: 1) the very large 25-micron Racor FBO-10 in front of everything to catch the big stuff, and 2) we have more than 40 of the 2-micron primary filters on the boat, so we can afford to go through multiple a day and still not run out.
The end design has four levels of filtration: 1) Racor FB0-10 with a 25-micron element, 2) Racor 900 with a 2-micron element, 3) John Deere on-engine first-level filter at 10 microns, and 4) a John Deere second-level on-engine filter at 2 microns. We mitigate the faults with this non-stepped design by having many filters and lots of monitoring and alarms. Dirona Fuel Manifold has more detail on other aspects of the fuel system design.
If, while operating, we learn that we have a bad load of fuel, we can configure our fuel system to be able to run the engine off the supply tank while at the same time "polishing the fuel" by running all the fuel from each side tank through the transfer filter and back to the same side tank. This should allow us to recover fairly quickly if we do have a problem. Thus far we've never had enough of a fuel quality issue to require this. The worse we've seen is needing to change fuel filters in 180 hours, which actually is pretty good.