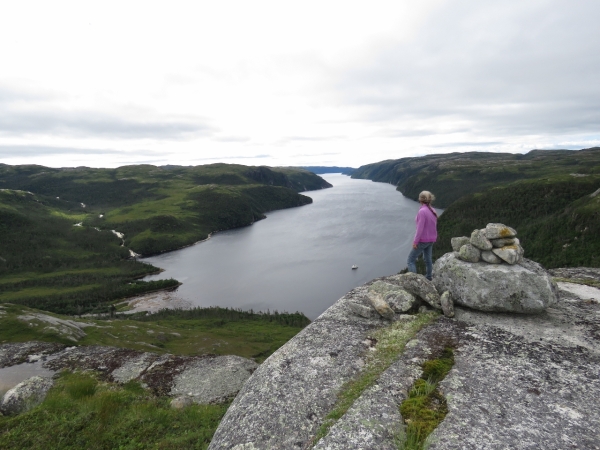 Bay de Vieux was a microcosm of our Newfoundland trip and a fitting final anchorage. There we enjoyed fabulous scenery, dramatic waterfalls, an excellent view hike and chatted with some friendly locals from nearby Ramea.
Trip highlights from August 27th follow. Click any image for a larger view, or click the position to view the location on a map. And a live map of our current route and most recent log entries always is available at http://mvdirona.com/maps
Bay de Vieux




Approaching the head of Bay de Vieux, another beautiful Newfoundland fjord.
Waterfall




Bay de Vieux was full of impressive waterfalls. We anchored off this one at the head and could see at least two other major falls from the anchorage.
Cairn




We landed the tender east of the falls at the head and climbed up to the open fields and rocks above. This is looking back down from a cairn about 450ft up.
Bugs




Newfoundland is famous for fierce biting bugs. So far we've only had to douse ourselves with bug spray on about a third of our hikes, and today was one of them. We're using

3M Ultrathon

for the first time on this trip and much prefer it to Deep Woods Off that we normally use. Ultrathon seems just as effective, isn't as sticky or smelly, and can sprays upside-down so you can easily spray legs etc.
Ravine




After scouting several places for a way up, we eventually settled on a steep ravine that brought us up to 600ft up. On the return we came down close to the falls. The return route was shorter, not much easier, but probably a bit safer.
Second Cairn




The fabulous view from another cairn after we'd worked back to the cliff edge. Later that day we met the man who'd built the cairn.
Lunch




Perched on the edge for lunch with a view to the anchorage and Bay de Vieux. At the top left of the photo is another gushing waterfall that also is visible from our anchorage.
Waterfall Tour




After returning back down, we did a relaxing tour of Bay de Vieux by tender to check out the many waterfalls. This one is near the head on the west side.
Gusher




This gusher plummets a couple of hundred feet down the cliff. We didn't notice it on the way in as it's tucked into a corner.
The Nook




Looking to the head of The Nook, a small bay halfway along the east shore of Bay de Vieux. Even thought its smaller and appears more sheltered on the chart than the head, the northerly winds really gusted through here. And it's much more open to southerly wind and swell as well.
Kristen & Shauna




Early that evening a group of residents from Ramea, just south of Bay de Vieux, arrived in their boat Kristen & Shauna and took the mooring off a cabin at the head. They came over to chat later—one of them had built the cairn we saw at the very top of the mountain. They said there was a faint trail up along the left side of the falls, and possibly a climbing rope.
Click the travel log icon on the left to see these locations on a map, with the complete log of our cruise.

On the map page, clicking on a camera or text icon will display a picture and/or log entry for that location, and clicking on the smaller icons along the route will display latitude, longitude and other navigation data for that location. And a live map of our current route and most recent log entries always is available at http://mvdirona.com/maps.