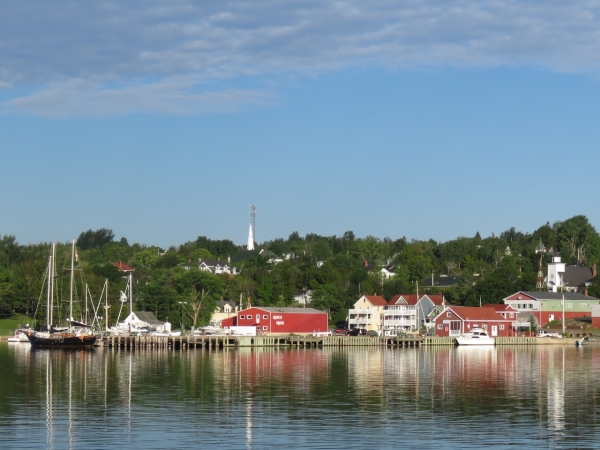 Baddeck is the largest town on the Bras d'Or Lakes and is famous for once being home to inventor Alexander Graham Bell. We very much enjoyed this traditional maritime town with its strong Scottish heritage and the excellent Alexander Graham Bell museum.
Trip highlights from August 30th and 31st follow. Click any image for a larger view, or click the position to view the location on a map. And a live map of our current route and most recent log entries always is available at http://mvdirona.com/maps
8/30/2016
Herring Cove




The pastoral setting and low rolling hills off Herring Cove in the Bras d'Or Lakes are a big change from Newfoundland's steeply-sloped fjords.
Connectivity




This is the first time we've changed countries and not had to buy a new SIM card to get cellular connectivity in a long time. Our AT&T prepaid plan was supposed to extend to Canada, but we didn't believe it until we actually saw it working. We've been using our

KVH Mini VSAT

satellite system since leaving Boston, which has worked flawlessly. But the data costs are about 20x that of cellular, so it's nice to get back onto cheaper connectivity.
Baddeck




We moved the boat all of two miles this morning and anchored off the town of Baddeck. Our tender is the farthest one away, just right of the boat with the blue awning, at the Baddeck Marine dock.
Bells at Baddeck




Baddeck was the summer retreat for inventor Alexander Graham Bell and his wife Mabel for the last 30 years of their lives, and both are buried here. The statue "Bells at Baddeck" commemorates their close relationship with and contributions to the community of Baddeck.
Boardwalk




Taking in the harbour view from Baddeck's beautiful waterfront boardwalk. Dirona is just beyond the sailboat that is directly above Jennifer's head.
Tom's Pizza




We had such an good pizza lunch at Tom's Pizza, with local craft beers (Propeller IPA & Breton Brewing Irish Red), that we returned the following day for lunch as well. Same pizza, two different local craft beers (Boxing Rock Hunky Dory IPA & Garrison Irish Red).
Courthouse




The historic Victoria County Courthouse was constructed after Victoria County split off from Cape Breton County in 1851. The building, constructed in 1889, is listed under the Nova Scotia Heritage Property Act.
Museum




Alexander Graham Bell is most known as the inventor of the telephone, but he continued inventing for the remainder of his life across a broad spectrum from kites, powered flight and high-speed boats to the transmission of of speech and sound by wire and light. Much of this work took place in Baddeck and the museum here is the only one in the world to feature actual artifacts and documents from his Baddeck experiments. Bell's descendants donated them in 1955 with the agreement that they be displayed in Baddeck.
White Glove Tour




We took the White Glove Tour, where you are taken to the archives and have an opportunity to hold and examine artifacts that aren't on display to the general public. Here Jennifer is holding one of Bell's many original notebooks. Bell took copious notes of everything he did and always had a small notebook on hand.
HD-4




Jennifer is standing next to a full-sized replica of the HD-4, a hydrofoil boat powered by two Liberty L-12 engines. Bell and his assistant Frederick W. "Casey" Baldwin began experimenting with hydrofoils in 1908 and in 1919 in Baddeck the HD-4 set the world speed record at 70.86 miles per hour (114.04 km/h), a record that stood for two decades. The original HD-4 that set the speed record is in the background on the right.
Kidston Island Lighthouse




The view to Dirona moored off the Kidston Island Lighthouse. The lighthouse is the Baddeck emblem and is featured throughout the town.
Beinn Bhreagh




Looking up to Beinn Bhreagh, the Bell family summer estate on a peninsula opposite Baddeck. Descendants of Alexander and Mabel Bell still come to stay in the summer. The Bells visited Baddeck during a cruise of the east coast of North America. The landscape, climate and Scottish traditions there reminded Bell of his birthplace in Edinburgh, Scotland and they decided to build a summer home there. Bell lived there initially in the summer, but increasingly year-round to conduct his experiments. Both Alexander and Mabel are buried on the grounds.
Nat Geo




Alexander Graham Bell's father-in-law, Gardiner Greene Hubbard, was the first president of the National Geographic Society, Bell was the second and Bell's son-in-law Gilbert Hovey Grosvenor, succeeded him and became the first full-time editor of National Geographic magazine. Bell's grandson, Melville Bell Grosvenor, and great-grandson Gilbert Melville Grosvenor also were editors of the National Geographic Magazine and Presidents of the Society. In honor of Bell's contribution to the society and to the world in general, National Geographic world and area maps feature Baddeck on par with larger centers such as nearby Sydney.
Thistledown




We'd walked over to the Thistledown pub for lunch, but found they were open only for dinner. We also learned a dock was nearby, so we brought the tender over for a great meal with craft beer from local brewery Big Spruce.
8/31/2016
Baddeck




The morning sun lighting up the Baddeck waterfront on a calm morning. The double-masted sailboat on the left is the

Amoeba

, that does tours of the Baddeck waterfront and area, including a pass by

Beinn Bhreagh

.
Swimmer




Splashing in the water turned out to be a swimmer who swam toward the Kidston Island Light and around the corner, presumably round the island and return to Baddeck. With the reasonably shallow depths and minimal ocean exchange, the water temperature is 71F.
Piper




Alexander Graham Bell was attracted to Baddeck's Scottish heritage that is still going strong. This piper walked past

Tom's Pizza

while we were having lunch and we could hear his pipes all afternoon.
Farmer's Co-Op




Baddeck is the largest town on the Bras d'Or Lakes, so we took the opportunity to stock up on fresh fruit and vegetables at the convenient Farmer's Co-Op. We'd not bought anything since Boston and were low, but not quite yet out of anything.
Lobster




We picked up a couple of lobsters while grocery shopping earlier today and had a great meal on the back deck.
Click the travel log icon on the left to see these locations on a map, with the complete log of our cruise.

On the map page, clicking on a camera or text icon will display a picture and/or log entry for that location, and clicking on the smaller icons along the route will display latitude, longitude and other navigation data for that location. And a live map of our current route and most recent log entries always is available at http://mvdirona.com/maps.