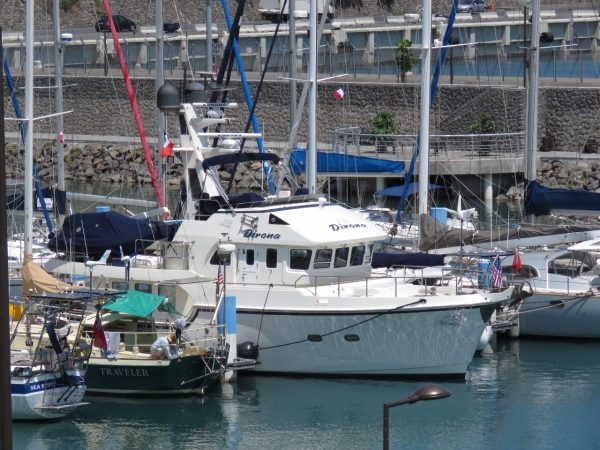 After 10 days in Rodrigues, we made a 3-night, 467-nm trip to Reunion. Port Louis, Mauritius is the typical next port for most pleasure craft–we don't know of a single other pleasure craft that's gone to Reunion directly from Rodrigues. If we didn't have to clear out and clear back in again at Port Louis, we might have gone there first. But we didn't see enough appeal to warrant the clearance overhead and opted to stay longer in Rodrigues and then head straight for Reunion and spend more time there enjoying the scenery Reunion is famous for.
Trip highlights from Sept 22nd through 25th follow. Click any image for a larger view, or click the position to view the location on a map. And a live map of our current route and most recent log entries always is available at http://mvdirona.com/maps
9/22/2015
Certificate of Clearance




We cleared out of Rodrigues this morning on a 467nm run to Reunion. Port Louis, Mauritius is the typical next port for most pleasure craft leaving Rodrigues and the paperwork customs brought reflected that. They corrected it by hand to read Reunion Island.
Traffic




As when we neared Rodrigues, we're seeing a lot of shipping traffic west of the island as well. The ships are all passing between South Africa and the Strait of Malacca. Conditions have been a little rough, with 10ft seas on the beam. 10 feet actually is not a problem at all, it's the 7-second wave frequency. Long-duration waves just slowly lift the boat up and lower it back down again and you hardly notice it. Short duration waves are steep and cause the boat to roll much more.
9/23/2015
Current




We left Rodrigues with 2,013 gallons of diesel and South Africa is about 1,835 miles from Rodrigues via Reunion. So we have far more fuel than we will need for this run. We could easily be running 8 or 9 knots, but are running at 6.5-6.8 in order to arrive into Reunion at first light rather than the middle of the night. We're in one of the strongest positive currents we've ever been in and are getting a fuel economy of 2.91 nm/gallon. You can see from the roll guage directly right of the 2.91 nm/g fuel economy reading that sea conditions have improved as expected. The waves are now 8-9ft on 8-9 seconds and have shifted more to the stern. These conditions aren't bad-we'll cook and do everything as usual–but the boat is moving enough you still have to keep an eye on things as you move around.
Ship




Most of the shipping traffic we've encountered has been at night, but we actually did see one in daylight too. It looks huge.
9/24/2015
Fuel economy




We're still running in a strong positive current as we near Mauritius, with excellent fuel economy. Conditions have continued to settle, and we're rolling much less than 24 hours earlier.
Halfway around




As we pass south of Mauritius, we're exactly halfway around the world from Seattle.
Boat wash




The boat was pretty dirty from being moored off the commercial port at Rodrigues, and we got quite salty on the first day of our run to Reunion. We haven't had much rain to rinse us off, so James gave it a quick power wash.