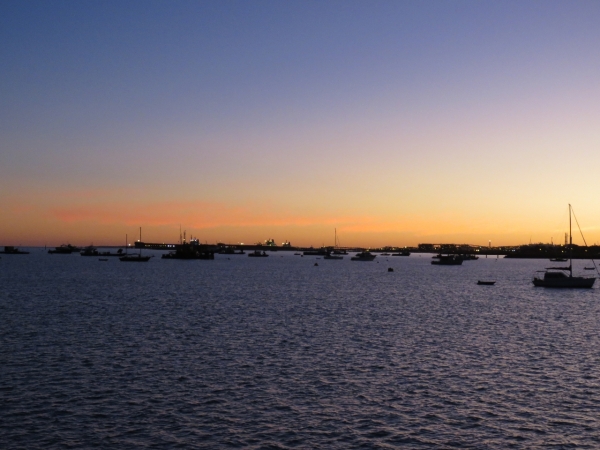 After leaving Darwin, we ran 1,000nm south to Dampier, where we planned to exit Australia for the 3,000-mile Indian Ocean crossing to Rodrigues, Mauritius. En route to Dampier, we stopped off for a few days in the southernmost portion of the Kimberley coast that we'd missed on our previous trip. We chose Dampier because it was a convenient place to fuel and exit from, and the second closest customs exit point to Rodrigues. Carnarvon is actually the closest point of exit to Rodrigues, at 2,800 miles away. But the entry is excessively shallow with no reasonable anchorage nearby, and it is another 350 miles further south.
The standard route for crossing the Indian Ocean from Darwin is via Cocos Keeling, either by running the 2,000 miles directly from Darwin, or by running 500 miles south to Broome and then 1,500 miles to Cocos Keeling. Rodrigues is then 2,000 miles from Cocos Keeling. We're covering basically the same distance, but in 1,000 and 3,000-mile legs. The reason we are doing this is partly for experience in covering longer distances, but also because fueling in Cocos Keeling would be incredibly expensive. Diesel is $2/liter there, with no GST rebate. And we couldn't reach the fuel dock due to shallow water, so we'd need to be supplied via barge. The cost of hiring the barge would make the effective price about $5/L or nearly $20 per gallon. When you're taking on many thousands of liters, that can really add up. :)
Trip highlights from Aug 14th through 23rd follow. Click any image for a larger view, or click the position to view the location on a map. And a live map of our current route and most recent log entries always is available at http://mvdirona.com/maps
Whipped cream

Spitfire getting a bit of whipped cream from our breakfast of strawberries and whipped cream over waffles. We're now underway on a 1,000-mile run to Dampier, about halfway down the western Australia coast. When we leave Dampier, it will be on a straight-shot 3,000 mile run across the Indian Ocean to Rodrigues, Mauritius. This is the longest passage we've done, so on the runto Dampier we'll probably take it easy and make a few stops.
8/15/2015
Conditions

We had a nice run most of the way across the Joseph Bonaparte Gulf, with winds below 10 knots and calm seas. As we neared the western side of the gulf, the winds picked up to a steady 25-30 against the current, producing tightly-packed 8 ft seas on the beam. In the center row of the screen shot, you can see the wind increase on the far right and the corresponding roll increase in the center of the row. Conditions have been improving as we round the Cape Londonerry and exit the gulf.
Sunset

Conditions have been wonderfully calm since exiting the Joseph Bonaparte Gulf, sometimes referred to locally as "Blown-Apart" Gulf.
8/16/2015
Berries

Fresh fruit in the morning. The raspberries we got in Darwin were particularly fresh and are lasting well.
Whales

Several humpback whales were putting on quite the show as we passed north of Augustus Island. We're not sure the last time we saw whales, it might have been in Alaska or British Columbia.
8/15/2015
Claret Islands

We tried to find an anchorage along the south side of Hall Point, but the water was 70ft until quite close to shore and then a cliff to drying shoals. So we anchored just north of the Claret Island instead. The anchorage is exposed to the west, but conditions are extremely calm right now.
8/16/2015
Koolan Island

A major iron ore mine once operated on Koolan Island. This is part of the massive pit, visible in the satellite imagry, that takes up most of the island. Sixty-eight million tons of ore were extracted from the site during the half century of mining operations.
Cockatoo Island

Cockatoo Island still is actively mined for iron. Just below the buildling in the photot are a row of eight of those huge mining trucks that have multi-floor staircases up to the cab. (Click image to enlarge). The biggest mining truck is now the Cat 797F, powered by a 4,000HP V20 diesel engine. That's just over 6,400 cubic inches. And fully loaded it weights 1.37 million pounds.
8/17/2015
Coppermine Creek

Anchored for the night off the south tip of Conilurus Island at the mouth of Coppermine Creek.
Cattletest

Cattlest

, that we last saw at Tipperary Waters Marina, is one of four other pleasure craft in the anchorage with us. Except for Darwin, we've not shared an anchorage with that many pleasure craft since

Lizard Island

.
Shed

On a dinghy tour of Coppermine Creek we saw this shed ashore with what looked like a fence around it. We're not sure its original purpose.
Cliffs

Coppermine Creek had some excellent scenery along the various small creeks that fed into the main waterway.
Kurrajong Tree

Along one of the creeks were several Kurrajong trees, their red flower clusters quite prominent against the bare brancehs. We've not noticed these trees anywhere else in the Kimberley–they're quite striking.
Sunset

Beautiful sunset over the anchorage.
8/18/2015
Dawn

Dawn looking east through the drying channel south of Conilurus Island. We're on a low spring tide now, and could see lots of land where we'd toured through by dinghy yesterday.
Anda

The 42m (137ft) superyacht

Anda

was heading across Yampi Sound as we exited the anchorage, towing a tender nearly as big as

Dirona

.
Goose Channel

Dramatic rocky islets along the south side of Goose Channel.
Dickenson Ridge

The area of Dickenson Ridge that we passed over is charted at 29ft, but with 25ft of tide, we saw a minimum depth of 35ft. So depths here appear to be closer to 10ft at zero tide. You can see from our track the impact of current. Normally

Nav Mode

keeps us right on our intended course (the red-dashed line). But the several-knot current from a 27ft exchange is really pushing the boat sideways off course.
Silica Bay

The white sand beach at Silica Bay on the northern tip of Hidden Island.
Cape Leveque

We anchored for the night off Hunter Creek at Cape Leveque, in front of striking red sand dunes. The anchorage is exposed to the north and west, but conditions are very calm right now, with swell less than a meter and little wind.
Sunset

An amazing sunset over Cape Leveque.
8/19/2015
Dawn

Conditions are expected to remain calm for the next few days, so we'll likely stay another night.
Dolphins

A pair of dolphins cruised by, showing a little tail.
Bottom

The waters are so clear here we can see our chain snaking away on the bottom 25ft down. We haven't seen water this clear for a while.
Pressure washer

We tried using the pressure washer to clean the decks and it did a great job in a just over a half-hour.
Turtle

A turtle coming up for air near the boat. We haven't seen a turtle for a while–feels like we're getting in a part of the country similar to the Queensland north coast.
8/20/2015
Coral

We left before sunrise this morning. On lifting anchor we found the chain had lassoed a heavy piece of coral, more than likely the product of the reversing strong currents. The coral was surprisingly difficult to release. We tried lifting the chain off with the snubber and also pulling the chain away using the trip hook. Eventually we got the coral off off by lowering it into the water and backing the boat down to put tension on the anchor chain.
Nap

James having a nap in the offwatch berth while Spitfire looks for attention.
8/21/2015
Port Hedland

Port Hedland is a major iron ore loading port. Several large ships were anchored off the port, with more underway, as we passed.
Dinner

Chicken schnitzel with fresh corn for dinner underway. Spitfire just gets kibbles.
8/22/2015
Alternator regulator

The start alternator regulator went to 29.6V in absorption mode. James checked the programming and the absorption was set to 35.5V but all else was fine. When he tried to change the absorption level the system locked up. We think memory corruption led to an illegal value and the regulator is not capable of editing this illegal value. James installed the spare and is programming it in this picture.
Pitching

This screenshot shows our roll gauge for the past 48 hours (center row of squares, third from right). The winds picked up to a steady 20 knots in the past 24 hours or so and we've been running into tight head seas and pitching a fair bit. We're also now coated in saltwater.
LPG bulker

An LPG bulker just off Dampier. We're starting to see a lot of large ships as we near the port.
Cape Legendre

The light on Cape Legendre shortly before we enter Dampier Port limits. We checked in with Dampier Vessel Traffic Service, who advised us to keep out of the shipping lanes, but otherwise didn't require any further contact from us.
Karratha Gas Plant

Dampier is the major port for the city of Karratha whose export industries include iron ore, sea-salt mining, ammonia, and natural gas. It's a busy port with large numbers of ships in motion. Pictured is the Karratha Gas Plant to our east.
Far Shogun

A half-dozen offshore supply and anchor-handling vessels such as Far Shogun were moored in the port as we passed.
8/23/2015
Hampton Harbour

Hampton Harbour, off the town of Dampier, is the small craft mooring for the Port of Dampier. We spent two peaceful nights anchored there amongst pleasure craft and small commercial vessels while we made final preparations for the Indian Ocean crossing.
Click the travel log icon on the left to see these locations on a map, with the complete log of our cruise.

On the map page, clicking on a camera or text icon will display a picture and/or log entry for that location, and clicking on the smaller icons along the route will display latitude, longitude and other navigation data for that location. And a live map of our current route and most recent log entries always is available at http://mvdirona.com/maps.