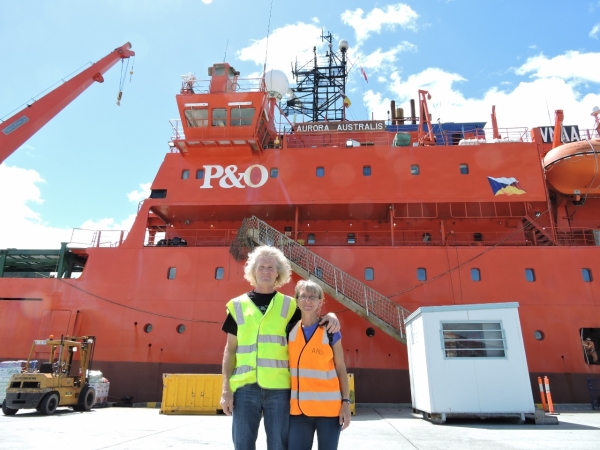 Earlier this week, we took a Tassielink bus into Hobart for the day to tour the Australian icebreaker and supply ship Aurora Australis. The ship was in town briefly to take on cargo for a resupply run to Australia's Antarctic stations Mawson and Davis. Mawson is 67° 36′ south, at the edge of the Antarctic plateau, and Davis is Australia's most southern Antarctic station at 68° 34′ south.
The Aurora Australis was much bigger than we were expecting at 311 ft (94.8 m) long, with a beam of 67 ft (20.3m) and a draft of 25.8 ft (7.9 m). It can carry over 264,000 gallons (1 million liters) of supply fuel and 60,000 cu ft (1,700 m3) of cargo. The ship was taking on cargo and fuel when we arrived. Once loaded, the empty hold in the second picture will be filled with cargo, then a lid placed over that. A large front-end loader is scheduled to be loaded on top under a second cargo lid, with more cargo above on deck.
| | |
| --- | --- |
| | |
The first picture below is of the hangar and helideck at the upper aft part of the ship. The Aurora Australis can carry up to four helicopters, used for a variety of purposes, including transport of people and cargo and also for ice reconnaissance when in ice-breaking mode. The second picture is of the trawl deck, directly below the hanger, designed for marine science and oceanographic work. Even though the trawl deck is a long way above the water, it is often awash when underway. The Aurora Australis travels in some nasty weather: Southern Ocean storms can generate 65-80kt winds with 30′ seas and the ship's inclinometer has registered 45 degrees at times.
The Aurora Australis carries a crew of 24 and up to 116 passengers. The ship has multiple labs for scientific research, a well-equipped hospital and a movie theater. The galley is massive, and the pantry could keep the two of us fed for life.
The workshop was pretty decent too.
The ship has two Wartsila diesel engines, a 16-cylinder producing 5,500 kW and a 12-cylinder producing 4,500 kW, but only one propeller and shaft. The engines can be run individually, or together when breaking ice or at other times when high power is needed. In the second picture, Jennifer is standing next to the rudder shaft. Amazingly, the ship can be hand-steered from there if necessary.
Chief engineer, Evan Peters, in his engine and generator control room.
The bridge is huge and impressively well-equipped.
On either side of Jennifer below is Simon Cash, the Logistics Officer for the Aurora Australis, and his friend Teresa. Kathy Clark of Nordhavn 72 Shear Madness introduced us to Simon, who invited us to the tour the vessel. We had a great time aboard and learned a lot.