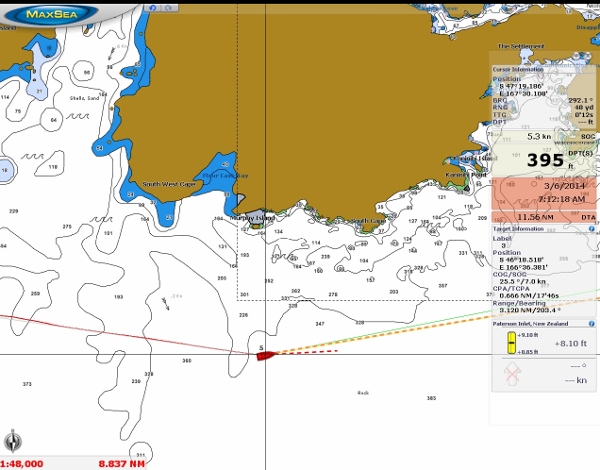 When we traveled from Fiordland to Stewart Island earlier this month, we rounded Southwest Cape, our first of the five great capes. The other four are Southwest Cape, Tasmania; Cape Leeuwin, southwest Australia; Cape of Good Hope, Africa and Cape Horn, Chile. We also reached 47 degrees 2 minutes, the farthest south we will be in Dirona for a very long time. Of the five great capes, only Cape Horn is farther south at nearly 56 degrees latitude. For those of you familiar with the Seattle area, 47 degrees south is as far south as Olympia is north. From Harvard Glacier in Prince William Sound, at 62 degrees 16 minutes north, Dirona has now traveled across 109 degrees of latitude. That's getting to be a good slice of the globe.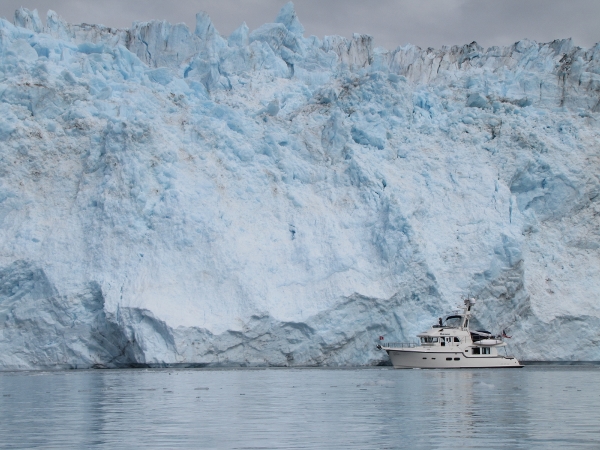 Dirona at Harvard Glacier, Prince William Sound
We also recently reached our most westerly location so far: 166 degrees 24 minutes East, between Dusky Sound and Chalky Inlet in Fiordland. Our most easterly position so far has been 117 minutes, 1 degree West, at the Port of Lewiston in Idaho. This also has been our highest location in Dirona as well, at 738 feet above sea level, after passing through the eight navigable dams on the Columbia and Snake Rivers.

Entering the Lower Granite Lock and Dam, the final navigable dam on the Snake River, to reach 738 feet above sea level.
Shortly before arriving at Stewart Island, we crossed 4096 hours on the main engine. In four years, that's the number we had put on the previous boat in nearly eleven years. Almost half of those hours were put on in the past 18 months. Since leaving Seattle on September 7th, 2012, our main engine has run for 1960 hours without a hiccup, and consumed 13,455 gallons of diesel at an average speed of 6.9kts. We've traveled 13,987 nautical miles with an average fuel economy of 1.04nm/gallon. We need to, and do get, much higher fuel economy at sea, but we tend to sacrifice fuel for speed when operating in coastal cruising mode.

As we prepare to leave Stewart Island for "New Zealand" (as the Stewart Island locals refer to the rest of the country), we're in the rare situation of having more water on board than fuel: we're down to 353 gallons of diesel. Since our last fuel stop in Wellington, we've traveled 1,265 miles and the main engine has consumed 1,154 gallons. At an average speed of 6.4 knots, our fuel economy was 1.1nm/gallon. Because we've been so far long out of port at over eight weeks, the generator will have consumed a fair amount of that fuel. During this period, it's run 294 hours. And because we've dropped and raised anchor as many as three times in a single day, exploring Fiordland and Stewart Island, the wing engine that runs our hydraulics has run for 46 hours. We expect to arrive in Dunedin, where we will refuel, with only 150-200 gallons remaining–the tanks haven't been that low for several years. It's been a great experience to be out using the heck out of our boat for eight weeks and be pulling into port with everything in perfect operating condition.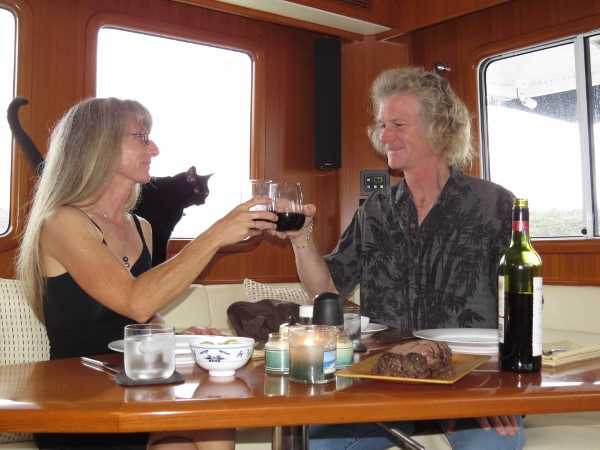 A special dinner of Peppercorn-Crusted Beef Tenderloin to celebrate rounding Southwest Cape and reaching 47 degrees, 2 minutes south.