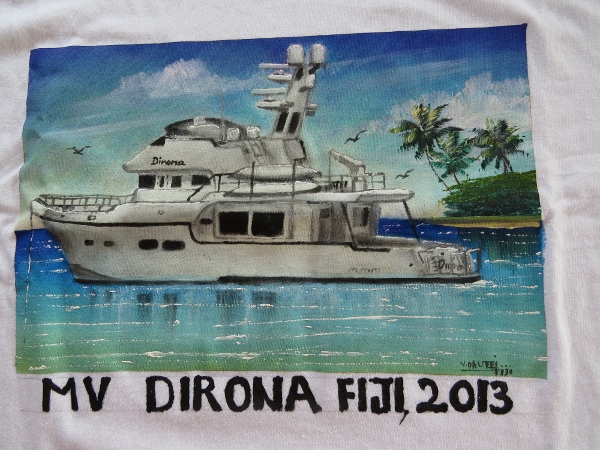 After two weeks in Tonga's Vava'u Group, we continued 540 miles west to Fiji. We landed at Lautoka, on the western side of Fiji's largest island Vitu Levu. Most boaters land farther north at Savusavu on Vanua Levu, but James had a flight out from Nadi a few days after we arrived, and this was the closer point of entry for the airport.
Our first purchase in Lautoka was cellular data SIMs. The data prices in Fiji were excellent: a SIM with 1Gig of data was about $15USD from Vodafone. Additional data was about $5-$8 per gig, depending on the quantity purchased. We bought a USB modem stick from Vodafone, and a MicroSIM for James' Nexus 4 from Digicell. Their coverage areas differ, but between the two, we were able to get connectivity throughout most of Fiji. The only notable exception was at Yadua Island, where we couldn't connect to either.
Vodafone mentioned they had a cutter to make a MicroSIM from a standard SIM and we assumed it was an automated cutter, but perhaps not. The second photo below shows Digicell's MicroSIM cutter in action: a skilled technician with scissors.
Lautoka has an excellent market, where we stocked up on fresh fruit and vegetables.
And, of course, we found an opportunity to sample the local beer, Fiji Bitter, at at Fins restuarant in the Tanoa Waterfront Hotel. Dirona is visible as a small spec beyond us, between the blue car and the street sign.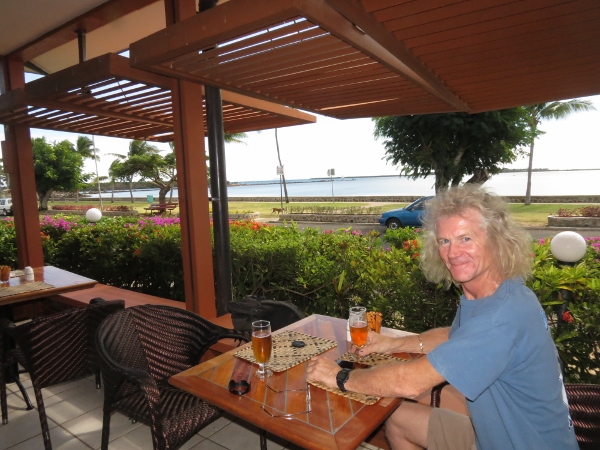 We enjoyed Lautoka: the city was larger than we expected, almost on the scale of Papeete, and the streets were busy with traffic and pedestrians–we liked the bustle and the activity. And the people there were incredibly friendly–we got a hearty "Bula!" (hello) from pretty much everyone who passed. The only downside was the soot from Lautoka's sugar mills, which covered the boat by the time we left.
After two nights at Lautoka, we moved south to the Nadi area, where we moored for three weeks while James flew back to Seattle. We stayed at the Port Denarau Marina, part of the expansive Port Denarau resort complex. The facility was excellent with several good restaurants dockside–we had a great time there.
While James was away, Jennifer did some more extensive provisioning. Beer, wind and bread was available right at the marina complex, along with a small grocery store. And she also made several bicycle trips into Nadi, about twenty minutes from the marina, for fresh fruit and vegetables from the extensive Nadi market, and fresh meat from South Pacific Butchering Company. She also found a local artist in Nadi to make the two custom T-shirts shown at the top and bottom of this post as a present for James, who had a birthday shortly after returning back to Fiji.
We also had the boat waxed and the stainless polished. Classic Yacht Detailers did high-quality work for great value.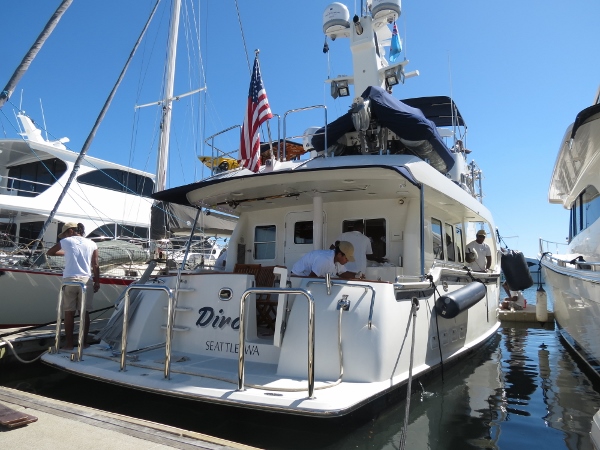 James returned from Seattle with three boxes of spares and parts as luggage. In order to bring the parts in duty-free, Fiji Customs must personally place the boxes on the boat. The second picture below shows the box contents ready to stow–James had packed densely. The parts included four Lenovo monitors, two generator/aux engine remote control panels, hydraulics parts, a pilothouse and a handheld radio, engine room fans, a raw water washdown pump, dinghy fuel filters, tank level monitor parts, tie-down straps, three Coolibar hats, a camera, and a tablet keyboard. We'd replaced a pilothouse radio and monitor since leaving Hawaii, but most were just additional spares we'd decided we needed. TSA had meticulously inspected even the tiniest package–everything was repacked with "TSA-inspected" white tape. Fortunately they had repacked the boxes well.
| | |
| --- | --- |
| | |
Click on the image at left for a live map-based version of our complete trip log through Fiji.

On the live-map page, clicking on a camera or text icon will display a picture and/or log entry for that location, and clicking on the smaller icons along the route will display latitude, longitude and other navigation data for that location. And a live map of our current route and most recent log entries always is available at http://www.mvdirona.com/maps/LocationCurrent.html.