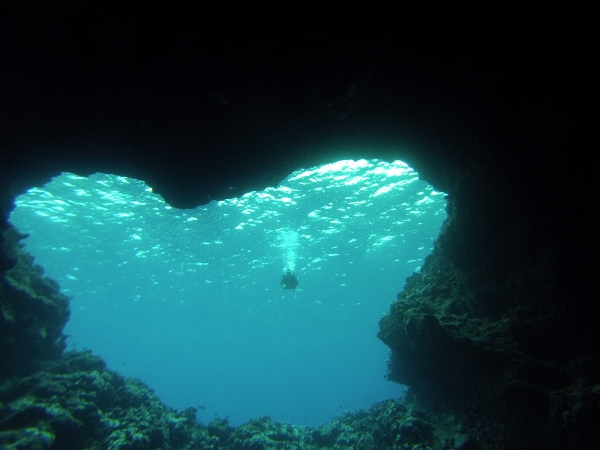 From Beveridge Reef, we ran three nights to reach Tonga and spent two weeks there touring the Vava'u Group. We enjoyed the more relaxed pace in Tonga, where the anchorages are only an hour or two's run apart, and we're not going to sea every time we move the boat. The real standout for us, however, were the caves that could be explored both above and below the water.
The picture at the top of the page is Mariner's Cave, a well-known snorkelling site near the northwest tip of Nuapapu Island. The cave is not visible from the surface–the entrance is underwater–snorkelers dive down and under the lip to come up inside. The swim through the entry tunnel isn't very far–perhaps 10-12 feet–before we surfaced inside the cave. It would be an easy free dive, that apparently lots of people make. But it would feel pretty uncomfortable without scuba gear, heading into the unknown like that with an overhead obstruction.
Anchoring the dinghy there is a little challenging, as only a narrow shelf of anchorable depths extends offshore, then the bottom drops steeply to over 100 feet. We anchored just at the cliff edge, with room to swing towards shore, then dove the anchor and wrapped the chain around a rock to keep it from swinging off the shelf. The photos below were taken entering and inside Mariner's Cave.
We also dove Swallows Cave, and another nearby, on the northwest tip of Kapa Island. Here we anchored the dinghy inside Swallows Cave, dropped down to 40′ and explored the inside of the cave. Then swam up to the lip at the cave entrance, out of the cave, and down the sheer wall face that runs to the sea floor about 80-100′ below and around to the other cave.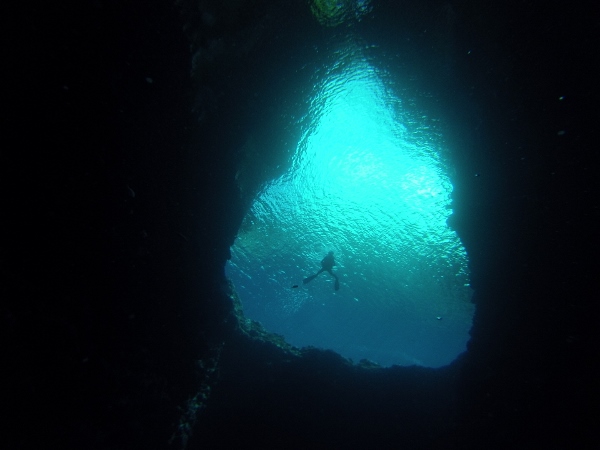 We explored the Kapa Island caves by dinghy as well. Swallows Cave is the larger of the two–several dinghys easily could fit inside.
The second cave was smaller, but no less dramatic. The ceilings of both caves had eroded through, allowing a view to the trees above. The video after the pictures below gives a 360 view of the cave and ceiling.
Click on the image at left for a live map-based version of our complete trip log through Tonga.

On the live-map page, clicking on a camera or text icon will display a picture and/or log entry for that location, and clicking on the smaller icons along the route will display latitude, longitude and other navigation data for that location. And a live map of our current route and most recent log entries always is available at http://www.mvdirona.com/maps/LocationCurrent.html.