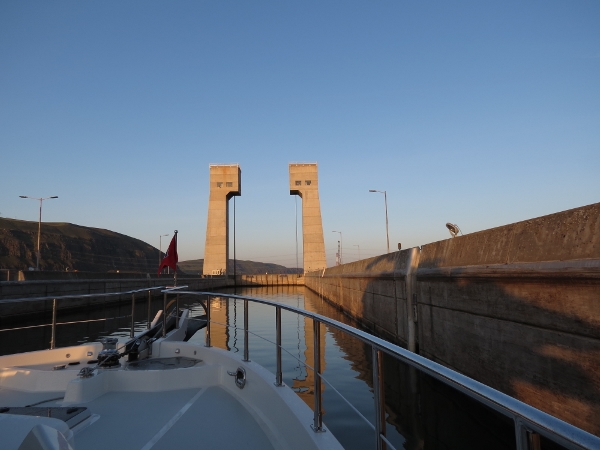 Over the next three days, we ran from the Tri-Cities at the confluence of the Snake and Columbia Rivers, to Hood River, passing through the McNary, John Day and The Dalles locks. At The Dalles, we visited the excellent Columbia Gorge Discovery Center,, and were lucky to arrive in time for their live raptor program. We spent the third day in the windsurfing mecca of Hood River, a well-maintained town with many excellent brewpubs and restaurants. The winds were calm, so we didn't see any windsurfers, but we enjoyed fabulous clear weather.
One of the advantages of the time of year we did the trip, apart from the empty docks and anchorages, was that the summer recreational lockage schedule was not yet in effect. We could pass through pretty much anytime during daylight. From May 15th through September 15th, however, recreational craft only can lock through on three-hour intervals between about 9am and 9pm. We often arrived at a dam well before 9am, and mostly were able to lock through without delay no matter the time.
Here's our log from the Tri-Cities to Hood River. You also can display these on the map view.