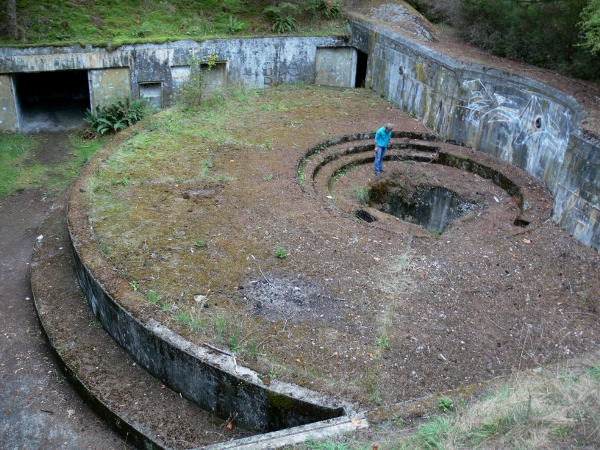 At the turn of the 19th century, the US government built six forts to protect the Puget Sound and the naval shipyard at Bremerton from water-based attack. All have since been decommissioned and sold to the State of Washington, and five are now state parks. The three heavy batteries at the entrance to Admiralty Inlet are perhaps the most well-known: Fort Worden near Port Townsend, Fort Flagler on Marrowstone Island and Fort Casey, midway along the west shore of Whidbey Island. Middle Point (now Manchester State Park) and Fort Ward, also popular destinations on opposite sides of Rich Passage, provided extra protection for the naval shipyard. (Map of area).
The sixth fortification, Fort Whitman on Goat Island in Skagit Bay, guarded the entrance to Puget Sound through Deception Pass and along the east shore of Whidbey Island. Goat Island is part of the Skagit Wildlife Area rather than a state park, and further differs from the others in being accessible only by water. The fort also is relatively unknown, despite the thousands of boaters that pass close by each year en route through Swinomish Channel. Fort Whitman, like many batteries of the period, is completely invisible from the water. Even though we've been ashore there, when we passed Goat Island on our way to and from TrawlerFest in Anacortes last weekend, we could see no evidence of the fort. The only clue to its existence is the decaying dock along the north side of the island.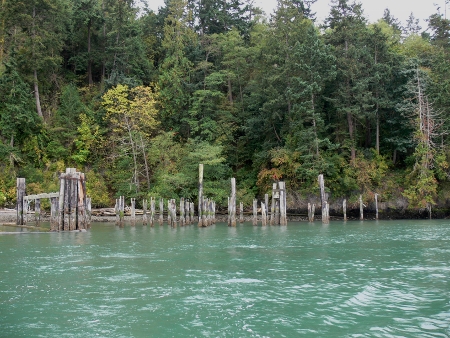 The Battery Harrison gun emplacement, with mounts for four six-inch disappearing guns and supporting buildings, form the majority of the fort. When we last visited in 2007, the battery was in good condition, with relatively little graffiti compared to some others we've seen. Even though we were expecting the battery, it's a bit of a shock to find such huge infrastructure tucked away in the woods out of sight.
The remains of a mine field control and observation post are down the road beyond the battery, on the western tip of the island. They were more overgrown than the battery.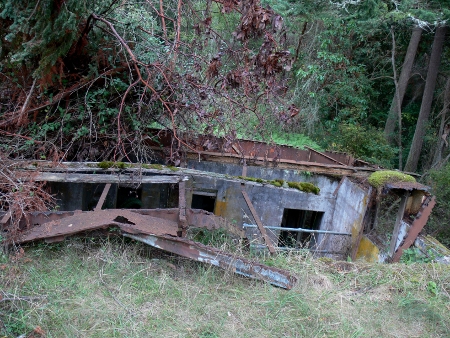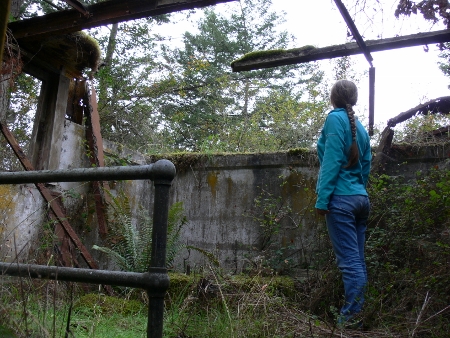 If you go: It's an easy dinghy ride or paddle from the Deception Pass area to visit Fort Whitman. The trail to the fort starts along the north shore, behind and about halfway along the dock. The trail head is difficult to spot from the water, but was reasonably obvious once we were ashore. When we were last there, a log was strapped straight up onto another one at the trail head. The going is steep for a short distance, then becomes wide and easy when the trail joins the road to the fort.