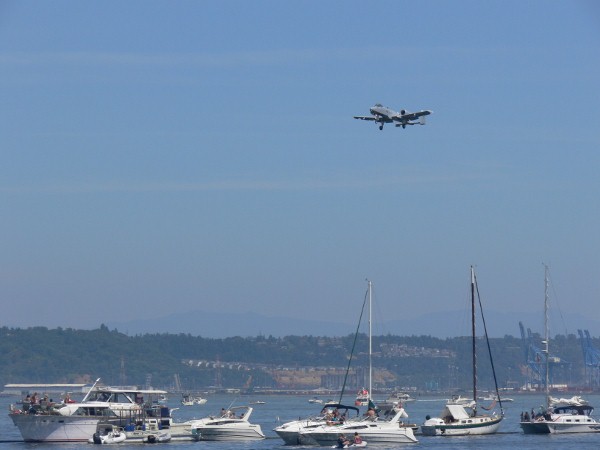 We spent July 4th this year at the Tacoma Freedom Fair. This was the first time we'd attended–it was a huge affair. The fair extended over two miles along the waterfront adjacent to Ruston Way with all kinds of booths and exhibits along the way.
We landed the dinghy and climbed ashore at the Fantasy World Hobbies track. Scale model cars whipped around a small track. The drivers controlled their cars via radio from the top of an adjacent school bus. Surrounding the track were pit areas where the drivers worked on their cars, making adjustments and fixing any broken parts. The cars themselves were complex, some electric and some gasoline powered, and used surprisingly similar technology as real race cars. They had fully adjustable anti-roll bars, shock absorbers and suspensions, and people were applying traction compounds to the tires. All the same chassis tuning rules apply as would to a full-sized race car. We spent quite a while watching the races and talking to various enthusiasts. Most were hobbyists, but at least one was a professional who was paid to drive.
| | |
| --- | --- |
| | |
One of the reasons we'd come to the fair was to watch the air show. We lucked out and selected a great spot to watch from that was right where the planed flew the lowest. Navy planes included an F/A-18C Hornet, an AV-8 Harrier, a lumbering C-17 and A/OA-10 Thunderbolt II. We particularly enjoyed the acrobatics of Tim Weber in the GEICO Extra 300 S.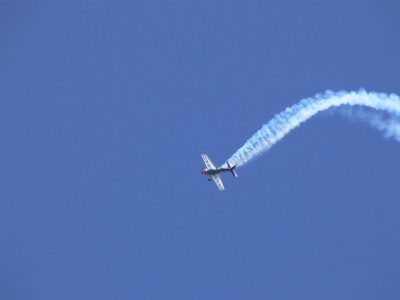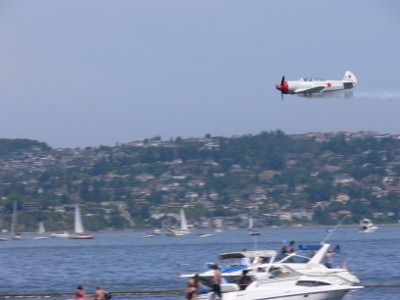 Vendors, exhibits and various bands were setup all along the waterway, including a high-jump exhibit. Big groups had come for the day, equipped with full-sized barbecues and tents. The crowds were thick along the shore–the organizers claim 150,000 attend, but because the road was closed to traffic, moving around was easy.
We had anchored off Neill Point on the south end of Vashon Island and brought the dinghy over, but there was plenty of room on the log boom during the day, although lots of boats were anchored off inside the boom. It seemed to have less of the party atmosphere than we were expecting, except for one large tug. Those big black boxes mounted on deck in the right hand picture below are speakers.
The grand final of the day was the an impressive fireworks display. We watched on deck from Neill Point, and got a bonus display from Quartermaster Harbor. Quartermaster Harbor used to have a big display, but it had stopped a few years back. It would seem they've started up again.
We'd originally been planning to spend July 4th at Penrose Point Marine Park, as we'd done last year. There aren't any major displays there, but all of Case Inlet is part of unincorporated Pierce County. Fireworks seem not only allowed there, but encouraged. Everyone was setting them off and we had a great time lying on the bow and watching fireworks in every direction. This year, a few private displays were set off on Vashon Island near our anchorage, but mostly the two big public displays at Tacoma and Quartermaster. Next year, we might anchor inside Quartermaster and enjoy their display up close.