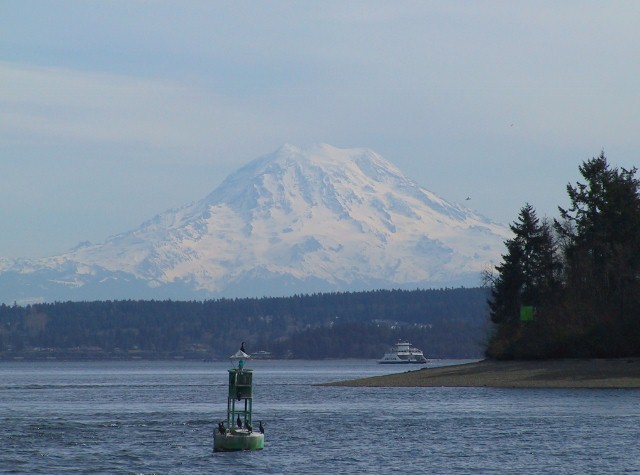 Eagle Island Marine State Park has long been one of our South Sound favorites. The park has everything we look for in a destination—solitude, wildlife, interesting dinghy territory, and dramatic views. The island—tucked between McNeil and Anderson islands in Balch Passage off the southeast tip of Key Peninsula—is accessible only by boat and is day-use ashore. Except for a handful of boats moored overnight, few people are about by dusk.
Evenings, however, are not always quiet. Seals frequent the area in large numbers, and snort, splash, and cavort well after sunset. During the day when the tide is low, they often congregate ashore to warm themselves in the sun.
Eagle Island itself is tiny, barely 300 yards long and 150 yards wide. The island practically doubles and halves in size on large exchanges as the wide sandy beach that surrounds it appears and disappears. The beach is ideal for lazy walking, and overgrown trails also cross the island. Along one trail is an old shelter, perhaps from some long past caretaker or squatter.
| | |
| --- | --- |
| | |
Nearby Anderson Island is easy to circumnavigate in a motorized dinghy. Or take a kayak along the west shore. Several lagoons are accessible at high tide in shallow-draft craft. The two lagoons directly southwest of Otso Pt. are Higgins Cove and Miller Cove. A collapsed 1940s-era boathouse is on the spit at secluded Higgins Cove, where on very high tides the waterway extends a fair distance inshore. Miller Cove is larger, with a house or two, and a narrow foot bridge that joins the island to the spit. Amsterdam Bay is interesting to tour by small craft, and might be deep enough for anchoring with care, but is heavily populated and not very private. The charted lagoon south of Treble Pt. is freshwater Carlson Bay, part of Andrew Anderson Marine Park (also known as Andy's Marine Park.) The beautiful sand beach that borders the lagoon provides the only public saltwater shore access on the island.
Despite its other attractions, what first drew us to Eagle Island, and what brings us back, are its amazing mountain views. The west side faces the Olympic Mountains for fabulous sunsets, and Mt. Rainier dominates the skyline to the east. If we're in luck, we'll snag the single eastern buoy and have that side all to ourselves. Well, to ourselves and the seals.
Thanks to Elizabeth Galentine, author of Images of America Anderson Island (Arcadia Publishing, 2006), Sarah Garmire and Donna Golden for help with Anderson Island names and lore.