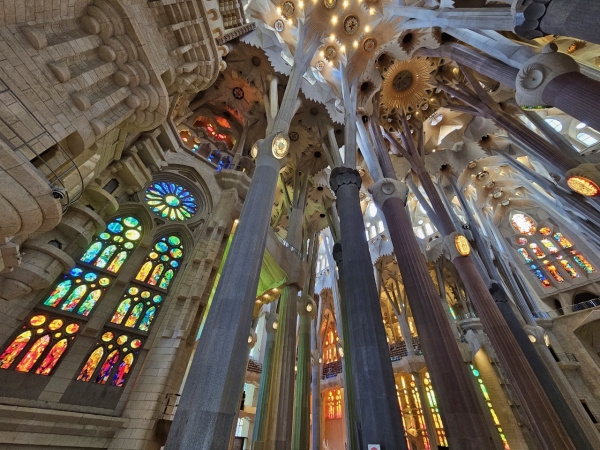 Catalonian architect Antoni Gaudi is famous for his unique and fantastical designs inspired from nature. The majority of his creations are in Barcelona, with seven comprising the UNESCO World Heritage Site, "Works of Antoni Gaudi", including his masterpiece, the Sagrada Familia.
At 412 ft (125m) high, the Sagrada Familia dominates the Barcelona skyline and is the city's most popular attraction, drawing five million visitors annually. Started in 1882 and less than one quarter complete at the time of Gaudi's death in 1926, the building has been perpetually under construction ever since, and is the largest unfinished Catholic church in the world.
The day after touring Barcelona's Gothic quarter, we visited two of the World Heritage Site buildings, the Sagrada Familia and Casa Batlo (our track). Timed-entry tickets to the popular venues sell quickly. We bought ours a several weeks in advance and several slots already were sold out.
First on the list was the Sagrada Familia, following a delicious tapas lunch street-side at the nearby Sagradas Tapas. Barcelona restaurants are amazingly good value—our meal and four glasses of wine cost only €27,35.
Even at a distance, the Sagrada Familia's unique architecture is obvious. But up close the level of detail is astounding. The exterior is encrusted with carefully-arranged sculptures, particularly in the elaborate Nativity Facade and the severe Passion Facade.
The church interior is even more amazing. The colorful central nave soars 148 ft (45m) high, supported by columns designed to resemble trees and branches.
Gaudi took over as architect in 1883, after the original architect resigned due to disagreements with the project funders. The original design was quite traditional in the Neo-Gothic style, with buttresses and flying buttresses to support the heavy structure. We viewed with interest a series of models showing how the design evolved during Gaudi's tenure.
Visitors can also go up one of two towers, on either the Passion Facade or the Nativity Facade, via an elevator up and 300 stairs down. We opted for the Nativity Facade, and enjoyed the different perspective and closer views to the exterior detail.
Caso Batlo, considered one of Gaudi's masterpieces, is a house in Barcelona that he remodeled in 1904. The house is now a museum that draws one million visitors a year, and includes several immersive experiences that explore the architect's inspiration as a dreaming child in the Gaudi Dome, and an adult in the Gaudi Cube.
The house itself is a fantastic creation, with vibrant colors and natural light, and rarely a straight line in sight. After our tour, we finished the day with another excellent tapas meal street-side at Cerveseria Catalana.