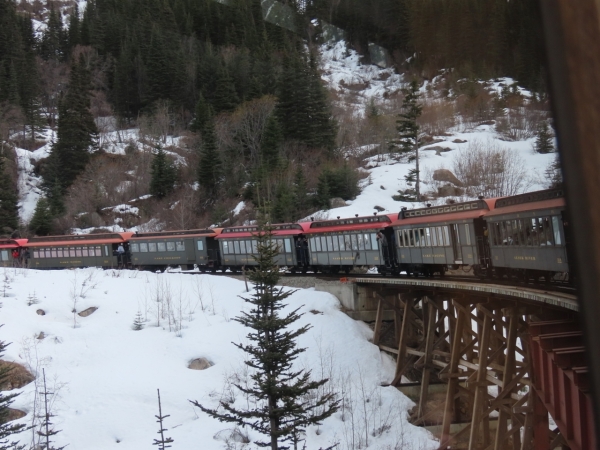 During the Klondike Gold Rush of 1896 through 1899, roughly 100,000 prospectors poured into the Yukon in northwestern Canada, in the hopes of striking it rich. The main routes to the Yukon gold fields were from the southeast Alaska towns of Skagway or Dyea, across White Pass or Chilkoot Pass respectively. No roads or railways existed back then, so the prospectors had to cross on foot and Canadian authorities required they carry a year's worth of food to enter the country. The stores weighed roughly a ton and took several trips to transport it all.
In 1898, construction began on a narrow-gauge railway to reach the gold fields that became the main route when completed in 1900. The railway continued to operate until 1982, mainly transporting ore from Canadian mines. Six years later, with cruise ship tourism increasing, the railway was re-opened as a heritage tourist route, the White Pass Scenic Railway.
The train climbs from sea level right at the cruise ship dock to the summit of White Pass at elevation 2,864 ft (873 m). It's a fabulous trip, with spectacular mountain scenery and across historic wooden trestles. On our early-season trip from the Norwegian Jewel, White Pass was still covered in deep snow, as were the mountains, making the scenery even more striking.
A sobering point was passing Dead Horse Gulch, so-named because over 3,000 horses died there due to starvation, abuse and overwork as prospectors hurried to reach the gold field. The animal's bleached bones are still visible to hikers who climb the pass. The steel cantilever bridge that crosses the gulch, now partially collapsed, was the highest bridge of its kind when completed in 1901.
At the summit is a cabin, nearly buried in snow, where the Northwest Mounted Police (NWMP) verified that each prospector had their year's worth of food before they could enter Canada.
After the train trip, we had a great lunch at the Skagway Brewing Company, and spent some time exploring the town. With three cruise ships on the docks, the town was busy, but not as overrun as we expected. Likely many passengers were out on the train trips running throughout the day.
Returning to our stateroom on the Jewel, we found our steward had created another impressive towel animal, this one a frog. We enjoyed the views to Skagway from the deck 13 Spinnaker Lounge for a bit, then stopped by the Bridge Viewing Room. Besides a great view to the bridge, the room is filled with plaques commemorating cities the Jewel has visited, and also displays some of the ship's instrumentation.
The ship was pretty quiet as we walked through the empty pool deck for a great meal at Italian restaurant La Cucina with a view to the Skagway docks. The evening, we devised a way to enjoy the view forward while the ship was underway by bringing our patio furniture inside.