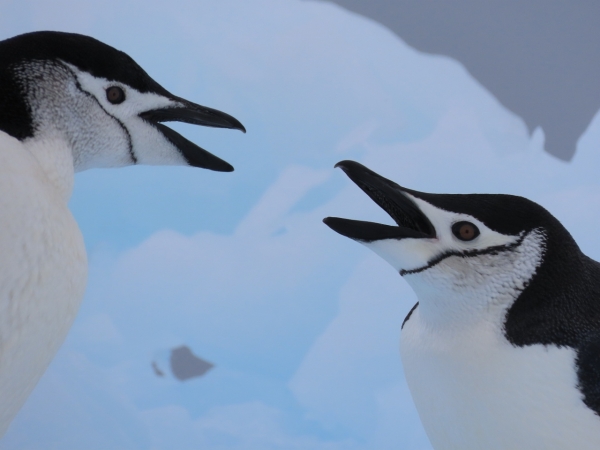 Christmas Day in Antarctica was a big day for wildlife sightings, including an Emperor Penguin, Chinstrap penguins, crabeater and Weddell seals, humpback whales and Orcas. We were lucky to see an Emperor Penguin, rare this time of year. After navigating into ice-filled Barlas Channel, we set out for a tour in the zodiacs and found Chinstrap penguins on beautiful blue cliffs of ice. And in the afternoon we encountered the whales, first a small pod of Orcas and later a pair of humpbacks.
We loved the wildlife, but for us the passage through the Gullet was the real highlight of the day. The Gullet is a narrow, ice-choked channel beneath steep, snow-covered cliffs along the eastern side of Adelaide Island. As we passed through, the National Geographic Endurance pushed aside huge sheets of ice and came surprisingly close to massive ice bergs. The scenery was spectacular and the experience exhilarating, but it was definitely no place for Dirona. We were glad to be aboard the Endurance with it's Polar Class 5 hull.
Below are highlights from December 25th, 2022. Click any image for a larger view.
Left: The two-year-old British icebreaker Sir David Attenborough stopped for Christmas at the UK's Rothera Research Station. Right: We made good use of the Endurance's excellent coffee machines.
Beautiful scenery as we cruise north towards Barlas Channel.
An Emperor Penguin, rare for this time of year, brought everyone out on deck Christmas morning.
The captain and bridge crew navigating around large icebergs through Barlas Channel.
At least two staff members were always on the bridge looking for wildlife.
Out in the zodiacs for a tour of ice-filled Barlas Channel.
Striking Chinstrap penguins with a backdrop of blue ice.
The Gullet, underlined in red at left, and the plotted route we'll follow through it.
Left: Russian charts in use on the bridge. Right: The Antarctic cruise ships share their routes and this display shows them overlaid on the chartplotter.
Entering the dramatic Gullet. Due to the narrowness of the channel, the ship had to run close to some very large icebergs.
Staying warm with a ship-supplied blanket as we pass through the Gullet with the wind on our bow.
The Endurance has a large library of books covering a wide variety of topics. The red books at right are a 17-volume set, Handbooks of the Birds of the World.
We were thrilled to see a pod of Orcas later in the afternoon.
Not long after sighting the Orcas, a pair of humpback whales put on a great show.