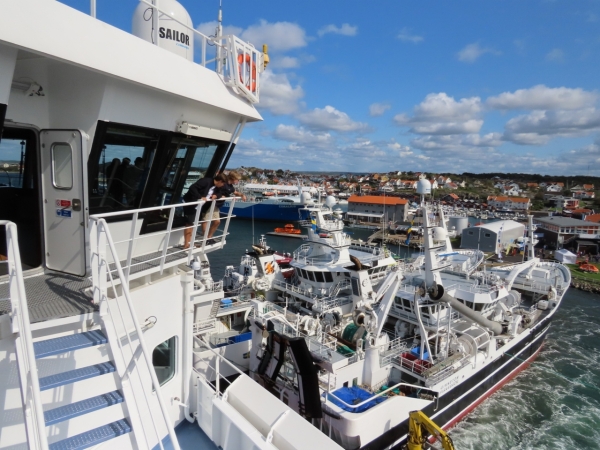 Donso, a small Swedish island about 13 miles west of Gothenburg, has a long history in the shipping industry, particularly the tanker business. Sten A. Olsson, the founder of the Stena business group, was born there and a dozen shipping companies currently are located at or owned by people living on Donso. The biennial Donso Shipping Meet draws 1,200 attendees and 100 companies from around the world and is Sweden's biggest shipping event.
As part of the 2019 Donso Shipping Meet, a number of commercial boats were available for public tours at the recently completed Donso Deep Water Harbour, including rescue boats, pelagic fishing trawlers and oil tankers. How could we resist?
Below are trip highlights from Sept 2, 2019 in Donso, Sweden. Click any image for a larger view, or click the position to view the location on a map. And a live map of our current route and most recent log entries always is available at mvdirona.com/maps.
Alvsborg Bridge

Passing under the Alvsborg Bridge on our way out of Gothenburg.
Moscow Maersk

The Moscow Maersk is the 23rd member of the Maersk Triple E class, all produced at the Daewoo Shipbuilding and Marine Engineering facilities in South Korea. When the first member of the Triple E class was delivered in 2013 it was the world largest container ship at 18,270 TEU (Twenty Foot Equivalent Units). These vessels are capable of 25 kts and are powered by twin MAN 8S80ME-C9.2 producing a combined 79,656 hp (29.7MW each) at a rated speed of only 74RPM. The first order for 10 ships was USD$1.9B and the 31st member of the class has now entered service.
Freezer Won't Cool

This was a hard one to chase down. The freezer would cool down to just below freezing but wouldn't go lower. We've seen this before when it's overfilled and the airflow is impaired but, after adjusting the load several times, it still wouldn't cool below the mid-20s.

What we found was the evaporator was dirty, the fan was dirty, and the primary problem was the fan speed is now much slower than its design speed due to failing bearings. The fan needs to be replaced but we don't have a spare. However, just cleaning the cooling systems increases efficiency enough that a poorly operating fan is more than sufficient.

The freezer is now operating at -6.7F (-14C) and as reliable as ever. And, of course, we have a new fan on order but it's no rush. We think the system will run reliably like this for many months, if not years.

This has to be the 5th or 6th time the temperature alarm has warned us that we have a freezer problem. This allows us to make the correction without putting hundreds of dollars in frozen foods at risk. The freezer temp alarm set to a low value has saved us many times. We show yellow alerts on slight increases in freezer temps and at 20F (-6C) we will signal red alert and send email to both of us.
Oil Tanker Tour

It's getting increasingly difficult for the general public to see the details behind large commercial ships and even harder to tour chemical and oil tankers. Partly the crews are busy at work and partly there are safety and security concerns, but the net result is limited ability to see the details behind how these advanced ships work and the design trade-offs they chose to make, and to learn more about how they actually work. So when we had a chance to tour two modern 491ft (150m) oil tankers and one 203ft (62m) commercial fishing trawler, we jumped at the opportunity.
Dirona

Dirona at anchor, viewed from the bridge of the oil tanker

Fure Ven

on a

tour of the vessel

. Visible in the distance are ships waiting for space at the Port of Gothenburg.
Noretti Pizzeria

Dinner with a view to the harbor at Noretti Pizzeria on the island of Donso.
Click the travel log icon on the left to see these locations on a map, with the complete log of our cruise.

On the map page, clicking on a camera or text icon will display a picture and/or log entry for that location, and clicking on the smaller icons along the route will display latitude, longitude and other navigation data for that location. And a live map of our current route and most recent log entries always is available at mvdirona.com/maps.