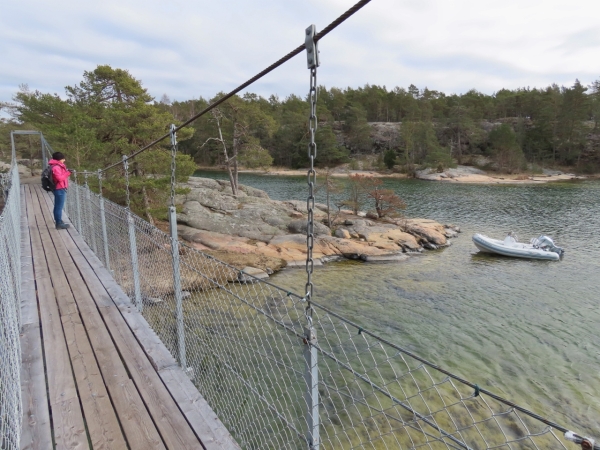 Stendorren Nature Reserve is part of EU's Natura 2000, the largest coordinated network of protected areas in the world comprising over 18% of the EU's land area. Stendorren includes 185 hectares of land with marked hiking trails throughout and suspension bridges connecting several of the offlying islands to the mainland. It's a popular place, with 200,000 visitors annually.
Not a visitor was in sight in early April while we were there. We spent three peaceful nights at anchor, taking in the scenery from the anchorage, walking the trails and bridges ashore and, on our final day, enjoying a light dusting of snow.
Below are trip highlights from April 8th-10th, 2019 at Stendorren Nature Reserve, Sweden. Click any image for a larger view, or click the position to view the location on a map. And a live map of our current route and most recent log entries always is available at mvdirona.com/maps
4/8/2019
Femore Battery

Femore Battery was built in the 1960s as part of a series of 30 forts built in Sweden to defend against a Cold War Soviet attack. You can't see much from this side, but the facility is 36,000 sq ft (3,300 sq m) in size with a 1,480 ft (450 m) tunnel running from one end to the other. The armament included three 75 mm turret gun capable of firing 7.6 miles (12.2km).
Shandong Fu Ren

Shandong Fu Ren unloading coal from China at SSAB's Oxelosund steelworks.
Oxelosund Steel Works

View to part of SSAB's massive Oxelosund steelworks facility. The plant was established in 1913 and today is the leading producer of high-strength steel in the Nordic countries with 2,500 employees.
Dock

This substantial dock and a well-built road on what appeared to be an otherwise deserted small island, Lilla Runnskar, must have been for military purposes. Nobody else would invest that much.
Evening Sun

The evening sun lighting up the anchorage at Stendorren Nature Reserve.
4/9/2019
Suspension Bridge

Stendorren Nature Reserve encompasses most of the land around our anchorage. The reserve has trails throughout with suspension bridges connecting the smaller islets to the mainland.
Stendorren Nature Reserve

Our tender moored at Stendorren Nature Reserve with one of the reserves many bridges on the right.
Stora Krokholmen

Walking the suspension bridge to the island Stora Krokholmen, that we passed under earlier in the tender.
At Anchor

Our beautiful anchorage at Stendorren Nature Reserve, viewed from the trail around Stora Krokholmen
Picnic Area

One of several substantial picnic areas we passed in Stendorren Nature Reserve, complete with cooking barbecue.
Bridge

Jennifer enjoying the view from a bridge connecting one of the small islets in Stendorren Nature Reserve to the mainland.
Frozen

The temperature is about 35°F (1.5°C) and the water in this ditch is still frozen.
Fence Building

The fences in the area look built in a very traditional way, with the boards set at an angle to the poles and attached with fir branches wound around them. Two people were carefully attaching one as we passed.
SXK Buoy

The Swedish Cruising Club maintains a number of buoys throughout the Swedish coast. This is one of three at Stendorren Nature Reserve.
Askpar

Northwest of our anchorage are a series of three suspension bridges connecting Askpar to the mainland.
Bridges

Looking south from the mainland across the first two of the three suspension bridges that connect Askpar to the mainland. Our tender is moored out of site by the third bridge, also not visible. What a fabulous park—we had a great time exploring it on foot and by tender.
Tupperware

When we were last out of the water, there was some corrosion on the prop shaft, so we replaced it. Unfortunately, the replacement shaft is not quite within specs and the runout causes the PSS seal to leak. To work around this, the PSS bellows were set way too tight, leading to excessive PSS seal wear. It still leaked but the water that leaks through has carbon in it. We

loosened off the PSS

seal which reduces wear, but it leaks slightly more. The right answer is to put a new prop shaft in but, until that is done, we think we're better off with the PSS set correctly and leaking a bit more. We believe a dry bilge makes it easier to see other leaks quickly so James cut a Tupperware container to fit under the PSS and collect the drips that get through due to prop shaft runout.
PSS

The Tupperware container that James

cut to fit

under the prop shaft. The new prop shaft is only slightly beyond spec but just barely enough that the PSS shaft seal does drip a bit. It's still lets in less water than a conventional shaft seal but it's far from dripless. We use this solution to keep the bilge dry so we can see leaks from any other locations quickly and easily.
4/10/2019
Snow

We awoke this morning to 34°F (1.1°C) weather and a light dusting of snow on deck.
Spitfire

Spitfire was out exploring on deck with a light snow still falling. You can see it caught in his fur just before he shook it all off.
Click the travel log icon on the left to see these locations on a map, with the complete log of our cruise.

On the map page, clicking on a camera or text icon will display a picture and/or log entry for that location, and clicking on the smaller icons along the route will display latitude, longitude and other navigation data for that location. And a live map of our current route and most recent log entries always is available at mvdirona.com/maps.