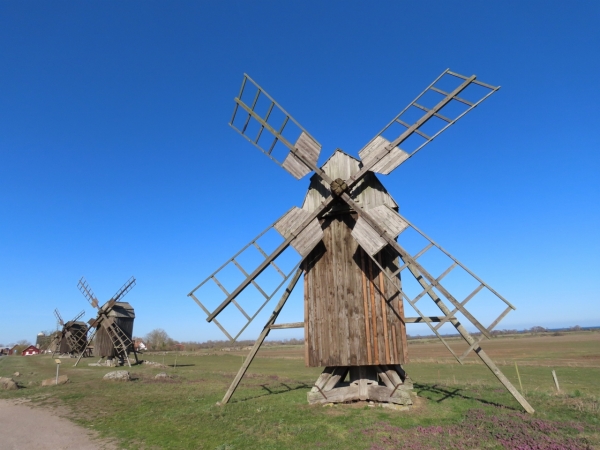 Oland is the second largest island in Sweden and has a history of settlement dating back to at least 8000 BC. The island is famous for it's beaches—one guide lists 55 around the island—and Swedes flock there in the summer. But Oland also has a wide array of other attractions including Iron Age ring forts, a 10th-century runestone, limestone quarries, sea stacks, historic churches, lighthouses, a pine forest and the extensive ruins of a 13th-century castle. Oland also is full of 18th-century windmills. About 400 remain of the 2,000 that once stood on the island as status symbols for their owners.
While moored in nearby Kalmar, we rented a car to tour Oland. The island is so large, with so many things to see, that even in a full day we only barely covered half.
Below are trip highlights from April 2nd, 2019 on Oland, SE. Click any image for a larger view, or click the position to view the location on a map. And a live map of our current route and most recent log entries always is available at mvdirona.com/maps
Kalla Gamla Kyrka

The Gamla Kyrka (old church) in Kalla in northern Oland dates from the 13th century.
Trollskogen

Walking through pine trees the extensive and beautiful Trollskogen (the enchanted forest) at the northern top of Oland.
Beach

Oland is famous for it's beaches—one guide lists 55 around the island. Swedes flock there in the summer.
Oak Tree

Interspersed with the pine trees at Trollskogen are centuries-old oak trees.
Wood Mould Box

A wood mould box, filled with sawdust and leaves, provides a habitat for wood-living insects.
Lange Erik

A light has stood at Oland's norther tip since the 17th century. The current light, built of limestone, was completed in 1845.
Byrums Raukar

Sea stacks and weather-shaped rocks along the northwest coast of Oland.
Limestone Quarry

Quarries old and new are along along Oland's western coast. Limestone has been quarried on Oland since the 13th century, used domestically and also exported to Denmark, Poland and Germany. Production was particularly high during medieval times because a large number of churches were being built in Northern Europe.
Gillberga Quarry

Looking down into the huge Gillberga Quarry with its 55ft-high (17m) walls. A portion of the quarry in the far right corner is used as an amphitheater for live concerts.
Slabs

Thousands of limestone slabs stood off the road just south of Sandvik.
Sandvik

This Dutch-style windmill in Sandvik is one of the largest in the world.
Rock Piles

Hundreds and hundreds of rock piles stretched alongside the road just south of Sandvik.
Gamla Televerket

Only one indoor table was left at popular Gamla Televerket when we arrived for lunch. It was a tiny menu, but quite good.
Queen Victoria

Memorial to Sweden's Queen Victoria, who built nearby Solliden Palace where the Swedish Royal Family spend a large part of their summer holidays.
Borgholm Castle

Massive Borgholm Castle dates from the 13th century and can be seen for miles on Oland.
Entry

Looking between the inner and outer castle walls just inside the entry. A fire destroyed the castle in 1806 after a century of disuse.
Tower

Inside one of the four tower's in Borgholm Castle. The building is absolutely vast, and was fun to wander through.
Museum

An excellent museum is built into the castle ruins, detailing the 900-year history of the building.
Complete Model

A model inside the museum showing what Borgholm Castle looked like when completed.
Well

A source of freshwater is critical for a castle, in order to withstand a siege. Borgholm Castle's well is estimated to be 177 ft (54m) deep, with the base about 45ft (14m) below sea level.
View to Borgholm

The sweeping view to Borgholm from the upper floor of the castle.
Courtyard

Looking down into the courtyard of Borgholm Castle. A number of major bands such as ABBA, Bob Dylan and Roxette have played concerts here.
Ismanstorps Borg

Ismanstorps Borg is the most well-preserved of Oland's 20 ancient ring forts, dating from 300-600AD. The foundation is 416ft (127 m) in diameter and 8.2ft (2.5m) high. Inside the foundations of 95 houses still are intact.
Windmills

2,000 windmills once stood on Oland—almost every farm had one. Today about 350 remain all over the island.
Graborg

Graborg is the largest Iron Age ring fort in the country, with the walls measuring 2,100ft (640m) around.
Karlevi Runestone

The Karlevi Runestone is estimated to date from the 10th century and is the only example of a complete Skaldic (Norse poet) stanza preserved on a runestone.
Farjestaden

Farjestaden is the largest town on Oland. Its many seaside restaurants still were closed for the winter.
Oland Bridge

The Oland Bridge viewed from Farjestaden. The 19,921 ft (6,072 m) bridge was the longest in Europe when completed in 1972.
Kalmarsund VIII

The Kalmarsund VIII operated between Oland and Kalmar before the bridge was built.
Aristotelis Agrotis

Aristotelis Agrotis dropped by Dirona last night and invited us to visit him at his restaurant, Krogers. Here he and James stand in front of the beautiful bar he had shipped from the UK. Aristotelis is interested in Nordhavns and we enjoyed a great meal with him discussing topics ranging from boat ownership to exotic cars to why he migrated from Cyprus to Kalmar.
Click the travel log icon on the left to see these locations on a map, with the complete log of our cruise.

On the map page, clicking on a camera or text icon will display a picture and/or log entry for that location, and clicking on the smaller icons along the route will display latitude, longitude and other navigation data for that location. And a live map of our current route and most recent log entries always is available at mvdirona.com/maps.