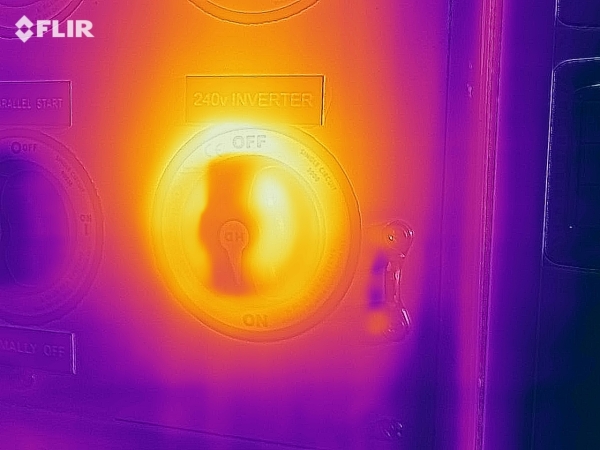 Years ago I was working in the lazarette on a hot day when I glanced up and saw a red LED illuminated on the DC panel. Normally, the Mastervolt DC distribution units have only green LEDs. I could still see the green LEDs on as usual but we also had a red light. I stopped to investigate and found that the "red LED" was actually a bolt that connects the two bus bars together. It was a full turn loose and so hot it was glowing red. The picture below shows what it looked like once it had cooled down. The bolt, circled in red, was so hot it had burned off the galvanization.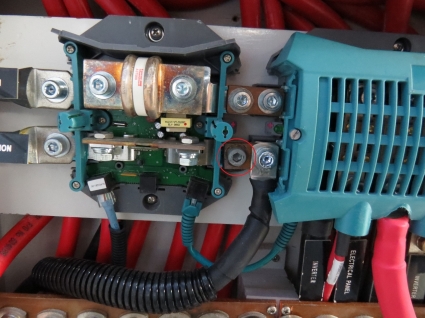 After shore power connection problems, this sort of fault is the most common cause of boat fires. High-current electrical systems can draw a lot of amperage at 24V (and twice as much on 12V boats). In this case, the air conditioning system was running, so the electrical consumption was on the high side, so the current was high, and the heat from this loose connection was dangerously high.
The lesson here was one I already knew from my working life but had failed to apply at home: new electrical systems need a re-torque after 1 to 2 years. In fact, it's good practice to check high-current connections periodically to make sure they are still properly torqued. Mobile systems can vibrate loose, and some electrical components vibrate and this can loosen fasteners as well. It's an easy problem to check for and an easy one to avoid.
As a further safety step, I use a FLIR One Thermal Imaging Camera to spot bad connections. Every six months, we walk through the boat shooting the DC Panel, the breaker panel, the shore connections and breakers, and any other electrical connections. If any high temperature connections are found by the FLIR, open up the panel or equipment and investigate more thoroughly.
Below is an example of the DC panel on Dirona where all the manual transfer switches are in their normal position and running at fairly low loads except the 6kw, 240V inverter which is running at very near full load.
Note how clear and easy to see the increased temperature around the Blue Sea System manual transfer switch for the 240V inverter. In this case it's flowing at just over 200A on a part rated for 600A continuous and 900A short duration. Incidentally, that's why that one rotary switch is gray whereas the rest are red. Those red parts are only rated at 350A continuous and, to have engineering safety margin, we went with a higher rating for the 240V inverter.
The FLIR can also show unusual heat on shore power connections. Another common failure point that we have seen on Dirona are power sockets that make less positive connections over time. We also shoot wall connections under load with the FLIR to find any unusually warm sockets. Here's an example of a 120V appliance socket that has failed due to excess resistance at the connection (low tension in the spring connectors):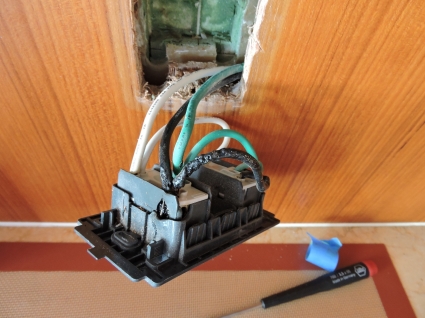 The FLIR is also excellent at finding lights left on in cabinets, poorly insulated hot water pipes, and air leaks to the outside. It's a super useful and fairly inexpensive (<$200) addition to any household that will help eliminate the risk of fire due to high current electrical connections with poorly torqued or aging connections. It's low-cost insurance.
Because the current flows are high on both shore power connections and low voltage inverter feed wires, I recommend checking them frequently. And, if you have never re-torqued your DC electrical panel, it's worth doing it right away. High currents can be dangerous if the electrical system is not properly maintained.