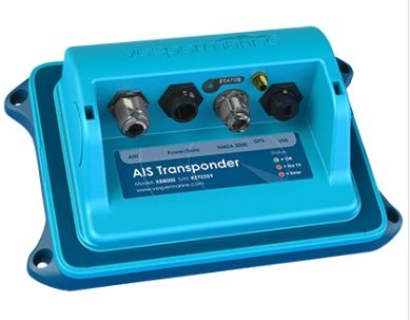 The Marine Automatic Identification System is a simple yet effective means of reducing the risk of collision at sea. These systems work on a reserved VHF frequency and each boat using the system has an AIS transceiver on board that transmits the vessel's position, speed, and course, and other data including the vessel size and its destination. This data is typically displayed as an overlay on a chart plotter. The chart plotter shows your boat's position and land masses and navigational features in the area. The AIS overlay shows all boats transmitting AIS in the immediate area (up to 20 nautical miles). It's incredibly useful to see the location, course, and speed for commercial boats in the area. Some chart plotters will also extend the course line forward in time from each target and show how close they will be at the closest point of approach. (An example from our chartplotter TimeZero, taken in the busy English Channel, is shown below). In addition, all these commercial boats will have access to the same data.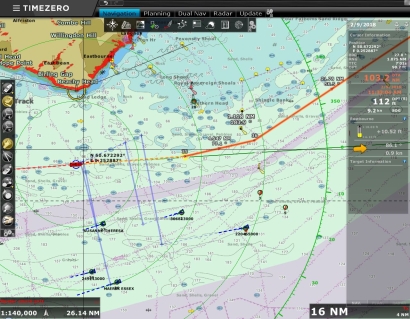 AIS systems are available at different price points where the Class A transceivers required in larger commercial boats are the most expensive, the Class B transceivers often used in recreational boats or small commercial boats where Class A systems are not required in some jurisdictions are considerably less expensive now coming in considerably less than $1,000. The least expensive choice is a receive-only AIS that will display the locations of the boats around you but doesn't transmit your position to other boats. These latter units are quite inexpensive often down below $200.
On Dirona, we like to see the larger commercial traffic in our area but, even more importantly, we want them to see us, so we have AIS transceiver installed. We view the AIS system as the single most important piece of navigational safety equipment after RADAR, so chose to install a Furuno FA150 Class A AIS. This is a good-quality commercially-certified transceiver and it's a common choice in large commercial shipping. For example, when touring the bridge of the Holland America Westerdam, we noticed they also use a FA150 AIS system. The FA150 is a good reliable AIS system but, unsurprisingly given it's a common choice on nearly $500M passenger ships, it's also fairly expensive.
Being big fans of Maretron NMEA 2000 equipment, shortly after getting our tender we decided to equip it with Maretron gear (Tender NMEA2000 Equipment). We love knowing precisely how much fuel is on board, our current fuel burn rate, how far we have gone, current speed, location, engine temperature, RPM, and to see any fault codes. It ended up being a fairly simple installation and the more we use the equipment, the more we like it.
Equipping our tender with Maretron NMEA was a bit of an experiment but we're really finding it useful. Over the winter, we decided to make some additions. Since we often operate our tender over long distances in and around commercial shipping traffic, we decided to add an inexpensive Class B AIS system. For this experiment, we chose to add a Vesper Marine XB8000 and a Uniden UM380 VHF radio. The VHF radio means we don't always have to remember to take a portable radio along and having it hardwired makes it more likely it'll be on and we'll hear it if we are hailed.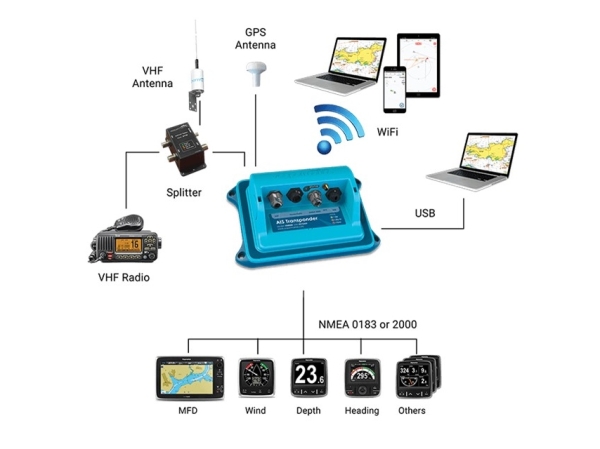 The AIS is easy to install out of the way inside the tender console. The AIS comes with a GPS antenna but also needs a small VHF antenna. We chose to use a Shakespeare 5215 antenna. To ease installation and to avoid having to find locations for both the VHF antenna and the GPS antenna, we mounted both inside the console. This is an unusual installation location and clearly will reduce range somewhat but in experimenting with the AIS antenna, the thin layer of fiberglass appears to make close to no difference and this makes for a very clean and rapid installation.
The AIS installation required mounting the Vesper XB8000, attaching the GPS and VHF antennas, and then attaching power and ground. It's that easy. Since it requires only connecting two wires from the AIS (NMEA 0183 output) to two wires from the VHF (NMEA 0183 Input), I made this connection as well. This allows the radio to automatically broadcast position if the emergency distress button is pressed and it also allows the radio to show boat latitude and longitude.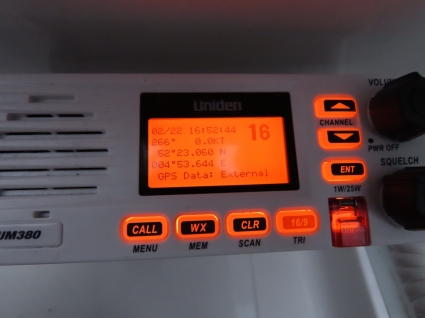 I connected the radio and AIS power to the ignition accessory power so, when the engine is started, both turn on and both turn off automatically when the boat is shut down. This keeps boat operation simple and avoids making a mistake and draining a battery by leaving equipment on when the boat is unattended. A nice standard feature of the XB8000 AIS is what I call stealth mode. If you chose to wire this up, a flipped switch shuts down AIS transmissions.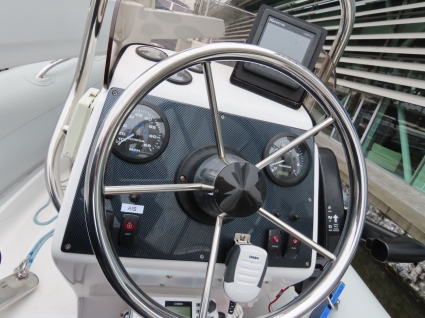 The XB8000 AIS comes with free support for a mobile application that can be used to easily access the many different XB8000 configurations.
It's a well written and easy to use application but when I needed to change the NMEA 0183 output speed from the default 38,200 bps to the 4,800 bps required by the Uniden radio, I didn't find the configuration option but perhaps it was a good test of the Vesper customer support responsiveness. In minutes I was told the options is under "My Watchmate" and everything was working.
As well as supporting configuration of the AIS system, the Watchmate application also displays current AIS information in a variety of screens. In the first screen below you can see that where we are in downtown Amsterdam is a very busy area. All nearby AIS targets are shown in orange. If any of the targets adjust course to be on a collision course with your boat, this display will show that boat in red. In the second screen below, Toon Hermans is on a collision course with our tender.
Other displays show all targets sorted by closest point of approach, time of closest point of approach, or current range: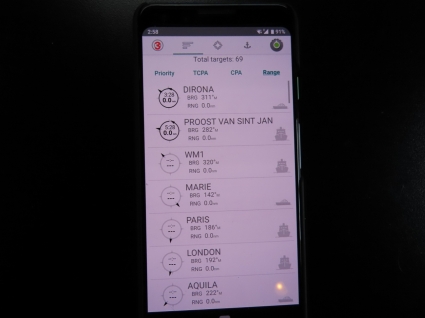 There is also a screen showing boat speed and location, and an anchor watch that we don't use on the tender:
Both the XB800 AIS and the UM380 are inexpensive and easy to install. We'll know more after they have been in use for a couple of months but having done a couple of trips so far, I'm pretty impressed by both. Let's see how they do this summer in Finland and Sweden.
More on our Tender electronics: