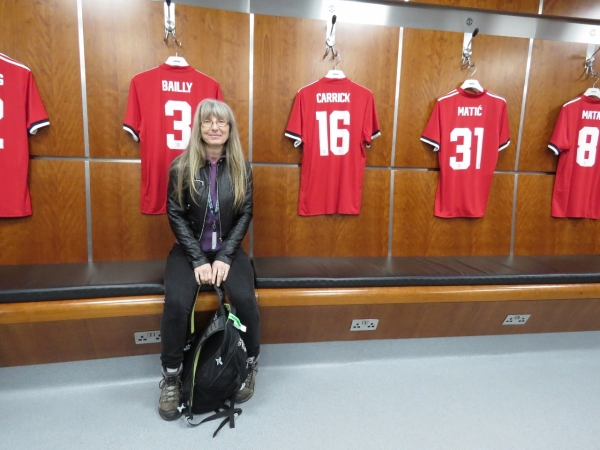 Manchester has been a major manufacturing center since the Industrial Revolution. Many things were made there, including Jennifer. She was born in Manchester on October 31st and we made an overnight trip there from Liverpool on Halloween to celebrate her birthday.
The trip highlight was tickets at the famous O2 Apollo theater for Kaleo, a band we've recently started to really enjoy. We also visited beautiful Manchester Cathedral, the information-packed National Football Museum, the excellent Museum of Science and Industry, and took a tour of renowned Old Trafford Stadium, home of Manchester United Football Club.
Below are trip highlights from October 31st and November 1st, 2017 in Manchester, UK. Click any image for a larger view, or click the position to view the location on a map. And a live map of our current route and most recent log entries always is available at http://mvdirona.com/maps
10/31/2017
Lime Street Station




At Liverpool Lime Street Station for a one-night trip to Manchester.
TransPennine Express




We'd booked tickets on the TransPennine express that would bring us to Manchester from Liverpool in a half-hour. While waiting to board, we spoke with the conductor who let us take a picture of the cab.
First Class




The TransPennine Express conductor we were talking to asked if we had reserved seats and we replied "Yes, in coach A right behind the cab." He looked at our tickets and said "Not today you don't". Uh-oh. We both figured we must have got our tickets for the wrong day. But the conductor instead directed us to the First Class cabin for a free upgrade. Nice!
Tram Station




It felt like the train had barely left Liverpool before we were arriving into Manchester. This is the modern intra-city tram station next to the train station.
National Football Museum




The Manchester train station is right next to the National Football Museum, on our list of places to visit later this afternoon.
Manchester Cathedral




Manchester Cathedral is also close to the train station, so we stopped in for a look before lunch. The initial construction of the church began in 1421, with additions and upgrades made until 1882.
Choir Stalls




The finely-carved Choir Stalls at Manchester Cathedral date from the 15th century.
Organ




Manchester Cathedral and its old organ were damaged when a bomb struck during the 1940 Manchester Blitz during World War II. Various stop-gap measures kept the organ running for another 75 years and it recently was replaced in 2016. The new organ has 4,800 pipes ranging from 6 inches to 32 feet high.
Patio




It's such a warm day on October 31st in Manchester that people are sitting outside all over the city. This is the patio at the Old Wellington Inn, built in 1552. The building on the right is the old corn exchange, built between 1897 and 1903.
Royal Exchange




The Manchester Royal Exchange traded in spun yarn and finished goods for the Lancashire cotton industry from this building constructed in 1809. It has since has been converted into a mall.
New Cathedral Street




Looking down New Cathedral Street. Manchester is full of pedestrian malls like this one.
Arndale Shopping Center




Many of the indoor malls we've visited in the UK seem to be thriving despite the widely-reported "death of the mall". The large Arndale Shopping Center was packed with little, if any, empty retail space.
The Old Wellington




After a bit of walking around, we returned to

The Old Wellington

for lunch. It turns out that since Manchester United is playing that day, they're not serving food outside (no, we have no idea why one follows from the other). So we had a pint on the patio and moved on.
Printworks




The Printworks building was completed in 1873 for newspaper owner Edward Hulton and is now an urban entertainment venue. Manchester has done a fabulous job of revamping its downtown core while keeping its heritage buildings. We loved it.
Waxy O'Conners




An excellent lunch at Waxy O'Conners Irish pub in the Printworks.
Football Stars




After lunch, we visited the National Football Museum, a multi-floor venue covering the history of British and world football (soccer to those who would draw a football with two pointed ends).
Bradford Fire




One of the more sobering displays at the National Football Museum covered the many deaths and injuries that have occurred over the decades at football stadiums in the UK and attempts to make the game safer for fans. In the 1985 Bradford City stadium fire, a small fire broke out in litter beneath the wooden grandstands that engulfed the stands above within four minutes. 56 people died and over 256 were injured, many in trying to escape through exit gates and turnstiles that were locked.
Pele




A large exhibit at the museum was devoted to Pele, a Brazilian footballer considered by many to the best player of all time.
Benfica




Benfica was playing Manchester United tonight at Old Trafford stadium just outside the city center. These Benfica fans were cheering outside the old

Corn Exchange building

while Manchester fans looked on from The Old Wellington. We kept a safe distance while police kept a sharp eye on both groups.
Town Hall




Manchester's striking Town Hall building was completed in 1877.
Bridgewater Hall




Manchester has some beautiful new buildings as well. This is Bridgewater Hall, an international concert venue that opened in 1996 and cost about £42M.
Barbirolli Square




The Barbirolli Square office complex was completed in 2001.
Rain Bar




The Rain Bar on Great Bridgewater St. looked most appealing, but we had already made plans for dinner.
Picadilly Gardens




Adults and children alike were playing in the fountain at Picadilly Gardens.
El Capo




Manchester has been a major manufacturing center since the Industrial Revolution. Many things were made there, including Jennifer. She was born in Manchester on October 31st and this is her first time back since leaving at aged two. We had an excellent birthday celebration dinner at El Capo.
O2 Apollo




The highlight of our birthday celebration for Jennifer was tickets at the famous O2 Apollo theater for Kaleo, a band we've recently started to really enjoy. The wall behind the bar lists the history of the theatre including many of the famous bands that have played here such as the Beatles, the Rolling Stones, the Who, Bruce Springsteen and Oasis.
Judah & the Lion




The backup band for Kaleo, Judah & the Lion, had an incredibly energetic lead singer and put on an unusally good performace for a backup band.
Kaleo




The sound quality at O2 Apollo is excellent and Kaleo played an astoundingly good show. It seemed to be upgrade day for us—we had purchased balcony seats about three rows from the front and to the right of center, but when we arrived to pick them up the person at the box office said they'd upgraded us and we had center, front-row balcony seat. We're pretty sure these are the best two seats in the house.
Iceland




Kaleo is from Iceland, and recently relocated to the US. But they retain strong Icelandic roots and their stage set features several images of the outline of Iceland. We had a fabulous evening and really enjoyed the show.
11/1/2017
Baby




Manchester has an excellent Museum of Science and Industry. A real highlight for us was a working replica of Baby, a tube-based computer developed at Manchester University that in 1948 was the first computer to store and run a program. We spent ages talking with the knowledgeable volunteers who were demonstrating it. Between 1947 and 1977, Manchester University pioneered a number of computer developments including the world's first transistorised computer. The program has personal relevance for us—Jennifer's father Stan Clark earned a PhD in Computer Science while working on the Manchester Atlas computer that in 1962 was the fastest in the world.
Power Hall




Power Hall at the Manchester Museum of Science and Industry houses one of the largest collections of working steam engines in the world, most made in Manchester and many still working.
Oxnoble




After spending most of the morning at the Manchester Museum of Science and Industry, we stopped off at nearby Oxnoble for a delicious lunch.
Air and Space Hall




After lunch, we toured the Manchester Museum of Science and Industry's Air and Space Hall, featuring road and air transportation craft pioneered in Manchester. Exhibits included the work of Manchester-born inventor Alliot Verdon Roe, who in 1910 founded A V Roe and Company (known as Avro) that became a leading British aircraft design company.
Mills




19th-century Manchester supported a booming textile industry. We watched a working demonstration on historic mill machinery showing how cotton was transformed from raw material to calico cloth. The machines are impressively loud and dangerous.
Old Trafford




Manchester United is among the most popular football clubs in the world with the second highest average attendance of all European football clubs after German team Borussia Dortmund. We took an excellent tour of their famous stadium, Old Trafford and learned much about the history of this esteemed club.
Locker Room




The Old Trafford stadium tour took us into the Manchester United locker room, which was surprisingly small and spartan compared to what we've seen of US NFL locker rooms.
Grow Lights




The sun had set by the time we finished our tour, highlighting the grow lights on the field at Old Trafford. Even though the stadium is open-air, Manchester just doesn't get enough sunshine for the grass to grow well.
Australasia




An excellent meal at Australasia in the Spinningfields District before returning to Liverpool that evening. The Spinningfields District is a relatively new pedestrian mall full of retail stores, offices and restaurants.
Greengate Square




The fountain at Greengate Square near the Manchester train station. Manchester is a beautiful city and we had a wonderful visit.
Click the travel log icon on the left to see these locations on a map, with the complete log of our cruise.

On the map page, clicking on a camera or text icon will display a picture and/or log entry for that location, and clicking on the smaller icons along the route will display latitude, longitude and other navigation data for that location. And a live map of our current route and most recent log entries always is available at http://mvdirona.com/maps.