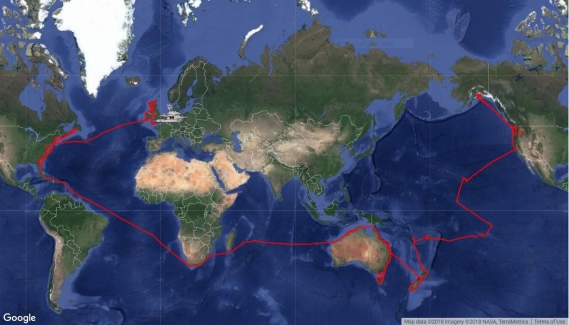 When we bought our first boat back in 1999, a coastal cruiser that we named Dirona, the salesperson asked how many hours a year we expected to put on. "Fifty, maybe a hundred" we replied. We both worked in busy software jobs in Seattle and weren't expecting to be able to boat that frequently.
We sold Dirona ten years later with 4,100 hours on it, after circumnavigating Vancouver Island and travelling throughout the northern British Columbia Coast including winter trips to Desolation Sound, Princess Louisa Inlet and the Broughton Archipelago. We wrote numerous magazine articles and a cruising guide on the region. We loved that boat, but pushed it way beyond its design point. Friends who had moved from a similar boat to a Nordhavn 57 encouraged us to get a safer and stronger vessel. We concurred, and wanted more range. 220 gallons of diesel won't take a powerboat far offshore.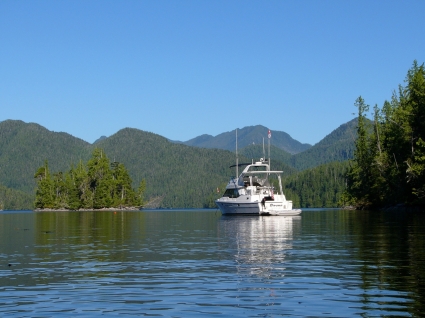 Ocean Passage with "Training Wheels"
In February of 2010, we took delivery of our second boat, a Nordhavn 52. We didn't buy this boat with a goal of travelling around the world but we did hope to cross oceans.
By late 2011, we'd made two major offshore passages. The first was a 900-mile, 5-day run from Seattle to Southeast Alaska in the summer of 2010. We travelled non-stop offshore rather than the conventional Inside Passage route.  The following summer, we made a 1,200-mile 7-day run from Seattle to Prince William Sound. The direct route on this trip took us 125 miles offshore.
We referred to these two trips in jest as "ocean passages with training wheels". We were simulating multi-day ocean passages as a learning experience, but if anything went wrong or we found ourselves uncomfortable running 24×7 at sea for multiple days at a time, we could just turn right. These trips gave us the confidence that we could safely and comfortably cross oceans with only two people on the boat.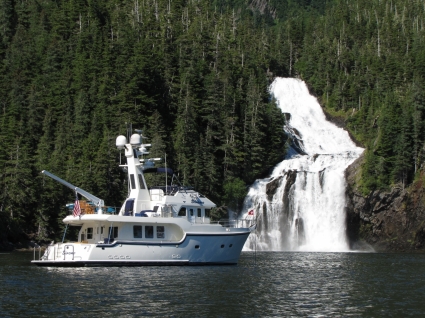 A Quick Blast Around the World
One evening in the fall of 2011, while enjoying a glass of wine in our cockpit with the lights of downtown Seattle behind, James suggested a "quick blast around the world". On this plan we'd take some time off work, do a quick circumnavigation and return back to work in Seattle. Jennifer loved the idea and put together an itinerary that would take us around the world and back to Seattle in about eighteen months.
We both had great jobs at the time, so taking a year and a half off just about guaranteed that the jobs we returned to wouldn't be as good. But we knew it was important to take the trip then rather than waiting for retirement. Long trips at sea get harder as you get older, and our health might not be good enough once retirement time came. We figured we could always work from our wheelchairs, but it would be harder to travel the world by boat that way.
We did go around the world, but the actual trip was quite different from the one we'd planned. We took 42 months instead of 18, didn't return to work in Seattle, and James never did take time off and continues to work full-time.
In a series of three articles published in PassageMaker magazine, we describe the trip and how we planned for and managed it. These articles are now available on our website: