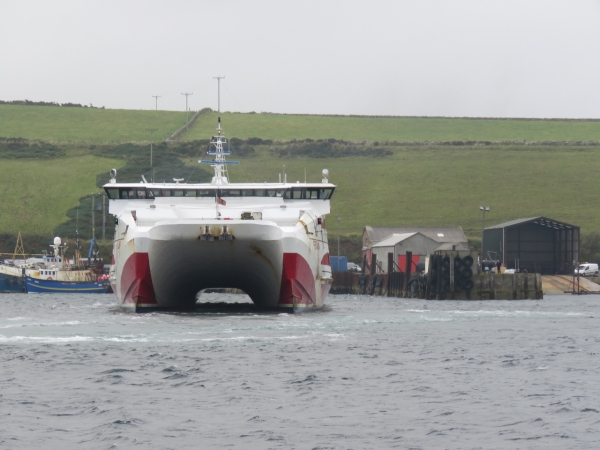 St. Margaret's Hope is the terminus for the fast ferry Pentalina between mainland Scotland and the Orkney Islands. The bay also is an excellent anchorage, with plenty of swing room, good wind protection and convenient bus access to the towns of Kirkwall and Stromness. We very much enjoyed the anchorage, especially after the ordeal of ensarling our anchor at Widewall Bay. Cellular connectivity was excellent, we comfortably rode out several storm systems, and it was a good base for exploring more of the Orkney Islands by land.
Below are trip highlights from Sept 24th through October 5th in the Orkney Islands, Scotland. Click any image for a larger view, or click the position to view the location on a map. And a live map of our current route and most recent log entries always is available at http://mvdirona.com/maps
9/24/2017
Pentalina




The fast ferry Pentalina en route from St. Margaret's Hope on South Ronaldsay to Gills Bay on the north coast of mainland Scotland.
Hoxa Head




Extensive World War II fortifications on Hoxa Head on the western tip of South Ronaldsay Island overlooking Hoxa Sound.
Damaged Wire




While anchored at Widewall Bay, we found out why our KVH V7-IP satellite system was not getting heading data: the wire was broken. Looks like a tight pull on install had torn the insulation and broken the wire inside.
9/26/2017
Anchor Ensnarled




We had come to Widewall Bay as a jumping off point to round the west coasts of Hoy and Mainland and explore the northern Orkney Islands. But when we tried to raise the anchor we found it was caught on something.

Read more …
St. Margaret's Hope




Currents are swift around the Orkney Islands, so we need to time our passages for the appropriate tide. By the time we'd freed our anchor, we'd missed our window to reach the northern islands. So instead we ran east to a nice anchorage at St. Margaret's Hope.

The ferry Pentalina arrived shortly after we did. We had anchored in a designated anchorage area according to the charts, but the master asked us if we could move farther into the bay as he would need more room to maneuver in the big winds that were predicted for the next few days. It isn't that big a deal for us to move, so we did.
9/27/2017
Wind




This is a windy place. The winds have been blowing steady in the 20-30-kt range for the past four days and they've not really gotten started yet.
Connectivity




We've not had much luck with cellular data connectivity in Scotland, but it's excellent in St. Margaret's Hope. The signal is very directional though—we believe it is coming from the Flotta Island oil terminal rather than the village. Either way, it's good enough to watch a game on

NFL Game Pass

.
9/28/2017
Spitfire




Spitfire is enjoying the anchorage at St. Margaret's Hope as much as we are.
9/29/2017
Wind




Winds continue to blow 20-30kts with the barometer at 1006. We'll get a bit of a respite tomorrow though, before a deep low-pressure system comes through.
9/30/2017
Neolithic Orkney




The Heart of Neolithic Orkney UNESCO World Heritage Site consists of four prehistoric monuments dating to some 5,000 years ago. Today we made a day trip to tour the neolithic sites and visit Kirkwall, the largest town in the Orkney Islands.

Read more …
10/1/2017
Major Storm




A major low-pressure system will be passing through the area today and tomorrow, bringing winds as high as Force 10 (48-55 knots). The system arrived about six hours ago. Winds jumped from less than 15 knots to steadily in the 30s with frequent gusts into the 40s. The barometer has fallen from 998mb to 985mb. 2mb an hour is a pretty rapid descent.
10/2/2017
Arduino




We use three Raspberry Pis on board to implement 12 channels of digital output (ability to turn devices off and on) and around 30 channels of digital input (ability of know if a device is on or off). Another form of input that can be useful is analog input, the ability to read a continuouis variable like voltage. Two common choices are current from 4mA to 20mA and voltage from 0 to 5V. We have examples of both on

Dirona

.

Raspberry Pis do well measuring digital signals but don't have much support for reading analog signals so I picked up a $10 Arduino some time back to see if I could get it to easily read analog signals. It turns out the Arduino is super easy to program. It comes with a nice little cross-development environment that runs on Windows and allows you to write in C which which is compiled and downloaded to run on the Arduino. This program will now run whenever the Arduino is powered up or reset. I first got it reading 0 to 5v signals using the built in analog to digital converter than yields integers from 0 to 1023. Super simple. Here I've moved on to reading a 4 key keypad. This just required 4 channels of digital input with a pullup resister both of which are built into the Arduino (this is easy on the Pi as well).
Reading Matrix Keyboard




Since the analog input problem was so simple with the

Arduino

, I still had a couple of hours to spare. I decided to get the Arduino reading a 4×4 matrix keyboard. This keyboard has 4 row lines and 4 column lines. When a key is pressed, say the top left hand corner key, then the row 1 line is connected to the column 1 line. The output I want is the digit that was just pressed. So if column 1 is connected to row 1, I want the Arduino to return "1". It's slightly more complex in that the keys have to be debounced as well but that's basically all there is to it. I spent a few minutes thinking of how to do this on an Arduino and decided to have a quick look to see what others have done. I found that Arduino has a library to do this, installed the library, and it was running in 5 min. Remarkably easy.

One of the primary problems when reading buttons is having the button responsive. If the program is busy doing something else for a few 10s of milliseconds, a key press can be missed. The Arduino is so inexpensive that you could chose to dedicate the Arduino to button processing alone and have the real work done elsewhere.
Waves




The winds have continued to blow strongly from the south. This is looking north towards Scapa Flow over the bar at the entrance to St. Margaret's Hope. Conditions don't look very appealling out there.
Swing Arc




It's rare that our boat cuts such a perfect track but the winds have really been blowing and rarely below 30 kts to 35kts with gusts to as high as 52 kts. The bottom here is thick mud here so you can see from the nearly perfect circle cut by the boat track at anchor that the anchor has dug in nearly instantly and hasn't shift at all with the changing wind directions and with gusts of over 50 kts. The near perfect circle shows the anchor is not shifting at all.

Another surprising tidbit you can get from that GPS track trace is the anchor chain isn't fully pulled back in the 35 kts of steady wind we have been seeing. The winds sit at 30 to 35 kts pretty steadily and it's this consistent wind speed that is cutting the near perfect circle above. The big gusts force the boat back outside of the perfect circle and form solar flare-like patterns. You can tell the anchor isn't slipping since the boat returns to the 30 to 35 kt circle shortly after the gust dissipates. We only have 125′ of rode and I would have guessed that much more than 20 to 25 kts would pull it up from the bottom but you can see here that even 35 kts doesn't fully lift the chain.
Storm Continues




By the afternoon of the storm's second day, the baromter has been bottomed out at 981 for hours and the winds have been steady in the high 30s with frequent gusts into the 40s and 50s.
10/3/2017
Swing Area




We're always surprised at the size of our swing area. The width of the anchorage here seems large at just over 400 yards. But we've only got 125 feet out and are taking up a fair bit of space. We often have more than 200ft out and that would swing us through a substantial portion of the entire anchorage.
Anchor Ball




When at anchor, we display an

anchor ball

from the bow. It's been under so much stress in the winds that the line has nearly parted.
Pentalina




Many of the Orkney Island ferry services are cancelled today due to the big storm. Pentalina stayed at dock for two runs.
Pressure Rising




The winds settled down a bit yesterday, but are ramping back up as the barometer has soared from 980 to 1007 in 24 hours. We expect conditions to settle a bit over the next couple of days and then we should have a good weather window for the run to Inverness to pass through the Caledonian Canal.
Squall




The occasional squall has passed through, bringing 40-knot winds and heavy for a few minutes.
10/4/2017
Boat Motion




The anchorage at St. Margaret's Hope is well-protected, but the wind waves have been growing in the storms and you can see Dirona is both pitching and rolling a bit.
Stromness




Stromness, on Mainland in the Orkney Islands, was once a major provisioning stop for Hudson's Bay Company (HBC) ships heading to and from Canada. The town has real character, with quirky alleys that wind up and down the hills between the houses and a narrow main street looks little changed since the HBC days. From St. Margaret's Hope, we took an hour-long bus direct to Stromness and spent the day exploring the town and taking in the view across Hoy Sound.

Read more …
10/5/2017
Wind




The winds still are blowing 25-30 kts, but are expected to settle down overnight to 20 knots by early morning and less than 10 by noon.
Hydraulic Hoses




Sometimes a minor thing leads to a bigger job. The tender cover had come loose because the bungee cord securing it had parted. We keep a bulk bungee kit in the bilge under the guest stateroom head and when we retrieved it, noticed a bit of oil on the bag. We found some oil on a couple of the hydrualic hoses, but it wasn't clear where the oil was coming from. So we tightened all fittings in the area and cleaned off the oil. And we'll check them again soon to see if there's still a leak and from where.
Click the travel log icon on the left to see these locations on a map, with the complete log of our cruise.

On the map page, clicking on a camera or text icon will display a picture and/or log entry for that location, and clicking on the smaller icons along the route will display latitude, longitude and other navigation data for that location. And a live map of our current route and most recent log entries always is available at http://mvdirona.com/maps.