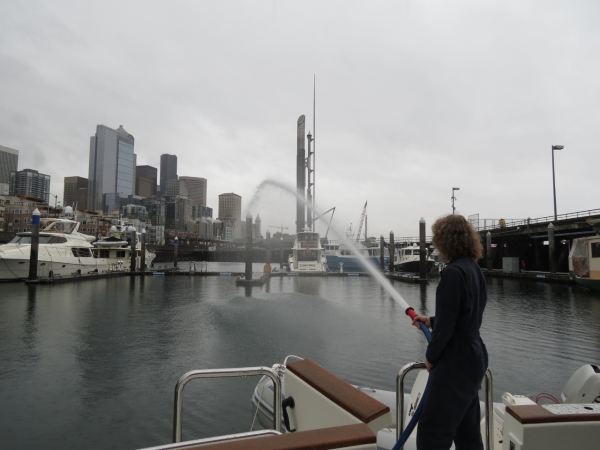 Besides a fire at sea, few things are more frightening for an ocean-crossing vessel than uncontrolled, and potentially undetected, water ingress. Safety Digest, published by the Marine Accident Investigation Branch (MAIB) of the British Department of Transport (www.maib.gov.uk), often contains reports of small boats sinking in minutes. Many might have been saved had their captains realized water was rising in the bilge. These stories prompted us years ago to install a high-water bilge alarm in our previous boat for early detection of excessive bilge water.
In building and rigging our current boat, we focused on high volume pumps, reliable switches, and the provision to manually engage with lots of backups, including alarms and even backup alarms. For pumps, we have a lot of protection and we like having a lot:
Jabsco 34600-0010 pump with an Ultra Safety Systems UltraSwitch Senior Float Type Level Switch model UPS-01-24V. The Jabsco pump is the first level of protection in the main bilge. It will self-prime at 7.8ft and move 10.8 gallons/minute at zero feet of head. This doesn't sound like much, but unlike many pumps, it actually will produce its spec. The valves need periodic replacement but we forgive it for that because we haven't seen anything else on the market that we would be willing to replace it with.
Alarm if the Jabsco primary falls behind (ear-splitting).
Backup alarm if the Jabsco falls behind and the primary alarm fails (also impossible to sleep through).
Flashing blue strobe light high up on the outside exhaust stack to let others know the boat is in trouble if we aren't around.
Rule 3700 pump above the Jabsco, with its own UltraSwitch. This Rule pump will move 60 gallons/minute into zero head.
Pacer SE2IBL bilge pump turned on manually and driven by hydraulics. The Pacer is rated at a prodigious 180 gallons/minute and, having watched it, the pump really delivers the goods.
Honda WH15X portable crash pump. The Honda can pump 98 gallons/minute and is similar to what the US Coast Guard drops in to help save sinking boats. The pump we chose has 30% less capacity than the pump used by the Coast Guard, but it can also be used to deliver a pressure blast to fight fires. Even 100 gallons/minute is an incredible sight. The picture at the top of this post shows the pump spraying water a distance of over 100ft. Saltwater is not ideal inside a boat, but it is effective, and there is lots of it at sea. We would only do this if our lives were on the line and the boat was about to be lost.
Edson model 638AL manual pump. The Edson pump can move one gallon/stroke with volumes up to 30 gallons/minute, has a dry-start suction lift to 12ft, and can pump up to 50% solids.
PAE installed the UltraSwitches on the main bilge. These are fairly dated switches—they have been around forever—and may not be better than the current-generation semiconductor switches, but they have for years been the Cadillac of float-switches. They are super simple, reliable, and battle-proven. We've never had an issue and they always works when tested. We like them but are not against the newer systems—we just don't know them as well.
We annually test the Honda portable crash pump, ensure it's running well and pumping at full-volume, and change the oil and fuel. It's always ready to go with new, stabilized gasoline and a fresh oil change. When we tested the hydraulic bilge pump, we discovered two things quickly: 1) the pump will not pump without a prime, and 2) when it does have a prime, it'll move a prodigious amount of water. When testing it, we filled the main bilge to just below the oil pan and the pump cleared it all in under 60 seconds and shot a 2-inch stream of water out the side of the boat for more than a slip's width.
The hydraulic bilge pump must be mounted below the water-line to self-prime. And if the boat is heeled over, even if the pump was mounted below the waterline, it might not be when it comes time to need it. Therefore, it must be kept full of water and ready to go. Keeping it full of water is difficult though. Engine rooms are hot and water quickly will evaporate, so it needs to be filled frequently. We instead fill the pump with RV anti-freeze which doesn't evaporate and keeps the prime indefinitely. Another approach is to tee the pump into a guaranteed source of pressure water to fill it when needed. We prefer the RV anti-freeze solution because it's simple and doesn't require any manual interaction.
We had an "opportunity" to test most of these systems in a real-life water-ingress situation where we rolled 69.1 degrees while crossing an ocean bar in Australia. As the boat was knocked over on its side, a breaking wave from above forced enough water through one of the cockpit air intakes to fill the engine room bilge six inches above the floor to within two inches of the engine base. All the high-water bilge alarms activated, and the pumps had been running continuously since the knock-down. But when we checked the engine-room, it was still fairly deep. The hungry hydraulic bilge pump was able to drain the entire bilge in seconds.
We strongly recommend the Pacer pump and some form of high-volume crash pump both be part of a multi-tiered defence against water ingress. The Pacer pump also is available in an electric version for non-hydraulic boats.
2017.06.10 Update
In crossing the North Atlantic in the spring of 2017 we saw some of the most difficult conditions we have encountered thus far in our world-rounding trip (North Atlantic Gales). The conditions were not actually bad enough to be frightening except for a couple of mechanical problems, one of which allowed considerable water to enter the boat (Alarms at 1:15am).
In spending a half day fighting the water ingress, we learned several important things about our bilge dewatering systems. The first is the primary bilge pump is not that reliable and doesn't pump that much volume. The second lesson is the high-water bilge pump, although it produces excellent volume, is mounted way too high in the bilge to serve as a primary high-volume dewatering system. The third lesson is a confirmation that the hydraulic bilge pump moves absolutely prodigious amounts of water, but ends up being a two-person job to operate. It pumps so fast it can easily run dry and/or lose prime so someone needs to be down in the engine room to monitor it while a second person operates the off/on switch in the pilot house.
These are the changes we plan:
Don't count on the low-volume and low-reliability Jabsco 34600-0010 for anything more than bilge drying.
Install a Rule 4000 pump just above the main bilge-drying pump. This will be the new high-water bilge pump (primary bilge dewatering system). We will leave the Rule 3700 in place as the backup high-water bilge pump.
Install an off/on switch for the hydraulic bilge pump in the engine room at the pump to allow single-person operation. We'll leave the pilot house switch in place as well.
Install a third high-water bilge alarm. We had no faults, but this experience underlined that catching these problems early could be the difference between success and failure so we want triple redundancy.