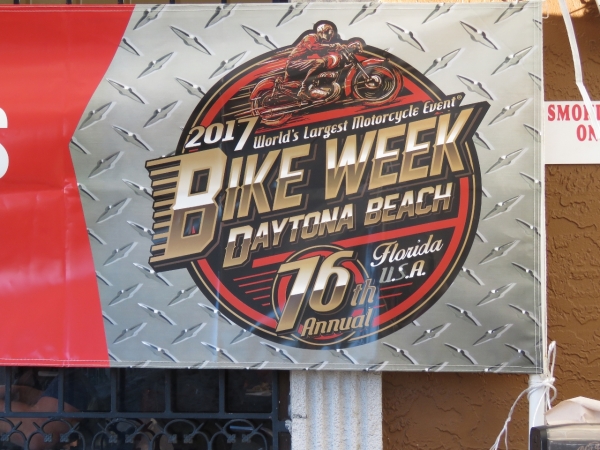 Barely have the Daytona 500 crowds dissipated when Daytona Beach hosts the 76th annual Bike Week. The 10-day motorcycle event originated in 1937 and draws an estimated 500,000 people. From the marina we'd been hearing motorcycles pass all week, and after a morning of running errands with a rental car, we spent the rest of the day at Bike Week.
Trip highlights from March 17th, 2017 follow. Click any image for a larger view, or click the position to view the location on a map. And a live map of our current route and most recent log entries always is available at http://mvdirona.com/maps
Bike Traffic




This was pretty much the view all day on every road we drove on: dozens and dozens of motorcycles.
Renegade




If you want to buy something motorcycle-related, this is the place to be. Vendors selling everything from leather doggie vests to highly-custom bikes pack the streets. Here Jennifer is checking out a

Renegade Trikes

custom hardtop trike. It's powered by an automative V8, automatic transmission and automotive rear-axle.
Choppers




Beautiful paint jobs and lots of chrome on these these choppers.
Kawasaki




A field of Kawasakis for sale. Harley Davidsons were the dominant bike, but pretty much every other manufacturer was represented.
Parking




The streets were jammed with parked motorcycles. The city had put out signs down much of Beach Street restricting parking to motorcycles only.
Wide




Custom everything on this chopper, from the paint job to the design, but still with Harley Davidson power at the core.
V8




We were amazed to see a few "regular" motorcycles with V8 engines. This is a

Boss Hoss

, the only globally-approved V8 motorcycle manufacturer.
Can-Am




Motor trikes are very popular, both with single front wheel and single rear wheel designs. The stable platform and extra space likely appeal to the aging biker population.
Ford F650




The Ford F650 is a beast. It's about as big as you can get on a pickup chassis.
Toy Hauler




Optimum RV

had a number of toy haulers on display. We were impressed with the layout and quality of this

Forest River

model with a large galley, slide-out seating area, and two fold-down decks. The area behind the photo had space for two large motorcycles and converts to a deck and seating area when not in use.
Trike




This trike is an incredible work of art, by far the top of the trikes we saw.
BMW




Most of the heavily-customized bikes were Harley Davidson-powered, but this one sports a BMW engine.
Click the travel log icon on the left to see these locations on a map, with the complete log of our cruise.

On the map page, clicking on a camera or text icon will display a picture and/or log entry for that location, and clicking on the smaller icons along the route will display latitude, longitude and other navigation data for that location. And a live map of our current route and most recent log entries always is available at http://mvdirona.com/maps.