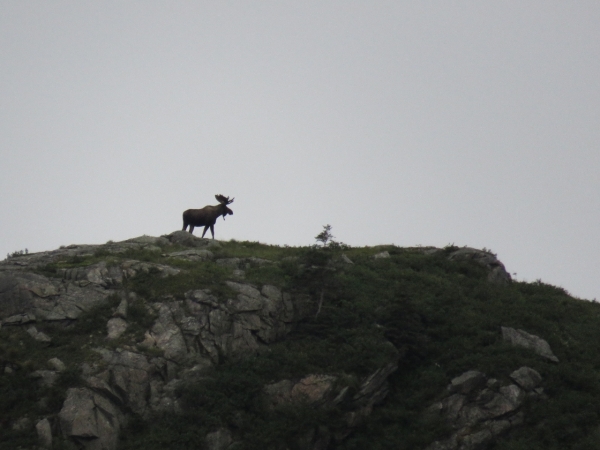 We'd been told that we couldn't really say we'd been to Newfoundland without sighting a moose, but we'd not seen one yet. We'd seen moose dropping and moose tracks, but no moose. We have been up on the highest points in the area where we can see for miles in all directions with unbroken hills rolling off to the limits we can see, and yet, no moose. If we couldn't see any under those circumstances, we weren't sure where we would. It was looking like there was a good chance we would leave Newfoundland without having seen one. Then, as we were sitting outside in the cockpit after dinner at Hare Bay, Jennifer yelled "Moose!" and dove for the binoculars. It was true. Way up on the top of the cliffs looming straight above us were clearly a set of massive horns in outline, back-lit against the late evening sky. Our visit to Newfoundland now is official.
The moose spent quite a while looking down on us so, if there is any credit for mutual sightings, we got that too :-). Moose dialog by Timothy Daleo: "I bet I am not going to see a Nordhavn this year…… look, a N52 down there!!! Is that a cat on deck?"
Trip highlights from August 19th and 20th at Hare Bay follow. Click any image for a larger view, or click the position to view the location on a map. And a live map of our current route and most recent log entries always is available at http://mvdirona.com/maps
8/19/2016
Hare Bay




Even on an overcast and rainy day, the Newfoundland scenery is outstanding. This is the view from the pilot house as we head north through Hare Bay.
Aquaculture




A major aquaculture operation in Hare Bay below the cliffs opposite Mare Cove. In addition to the pens, they had several large barges and landing craft, a number of smaller runabouts, and a two-story floating building.
Latch




Justin at Nordhavn parts has a brand new latch waiting for us when we are back in a location where we can receive shipments. A couple of weeks ago James

temporarily attached

the old broken latch using 5-minute epoxy. It just refractured but since it really is nice having a boarding door latch so we decided to do an improved temporary repair. On this approach, the two parts are mechanically connected with a high quality hose clamp and then coated with two layers of 5 min epoxy. It's nice to have it back working again and this one looks pretty strong.
Breaker




Our electrical system, like most 60hz Nordhavns, gets it's 110V power by stepping down 240V rather than the more common split phase approach used in North American homes and most boats in this region. The Nordhavn design has the advantage of being inherently phase balanced but has the disadvantage of some efficiency loss through the step-down transformer. Another nice feature of this design is the boat can be powered by a 30A@110V cable and it will use the transformer to step up the 110V to get 240v. Because the transformer runs fairly warm, the breaker beside it has started to release early, so today we replaced it with a shiny new ABB S202 breaker.
Moose!




As we were sitting outside in the cockpit after dinner tonight, we saw our first Newfoundland moose. We'd been told that we couldn't really say we'd been to Newfoundland without sighting a moose, so our visit now is official.
8/20/2016
Waterfall




We could see the waterfall at the head of Morgan Arm from our anchorage, but when we got up close in the dinghy we found the flow was much more active than we'd realized.
Top of Falls




Reaching the top of the falls was relatively easy over the smooth rock beside. The view from here already is pretty impressive.
Morgan River




We worked north a bit to work around the steeper cliffs alongshore and got a fabulous view to the Morgan River as it winds and cascades down the valley and drains into the sea through the falls we climbed beside.
Morgan Arm




We've been looking forward to visiting Morgan Arm since seeing a photo similar to this in our cruising guide over a month ago. We weren't disappointed. This is looking six miles down Morgan Arm to the Atlantic Ocean.
Lunch




We continued hiking south inland, hoping to reach a vantage over the Northwest Arm of Hare Bay. But it was farther than we felt like going, so we worked back toward shore and found an awesome view perch 750ft up for lunch. In the panorama, the waterfall we climbed is to the right of James, Dirona is the white speck slightly left of center, and Southeast Bight at the junction of Northwest and Morgan arms is at the far right. (Click image for a larger view.)
Raven




Raven, of Noank, CT anchored behind Sandy Point in Northwest Arm. This is the first cruising pleasure craft we've seen since arriving in Newfoundland over two weeks ago. Later that night we saw a second pleasure craft arrive from sea and head up Northwest Arm, presumably to the same anchorage.
Northwest Arm




Beautiful scenery at the head of Northwest Arm. A substantial waterfall, not visible, spills down a cliff and cascades into the northwest corner of the basin.
Click the travel log icon on the left to see these locations on a map, with the complete log of our cruise.

On the map page, clicking on a camera or text icon will display a picture and/or log entry for that location, and clicking on the smaller icons along the route will display latitude, longitude and other navigation data for that location. And a live map of our current route and most recent log entries always is available at http://mvdirona.com/maps.