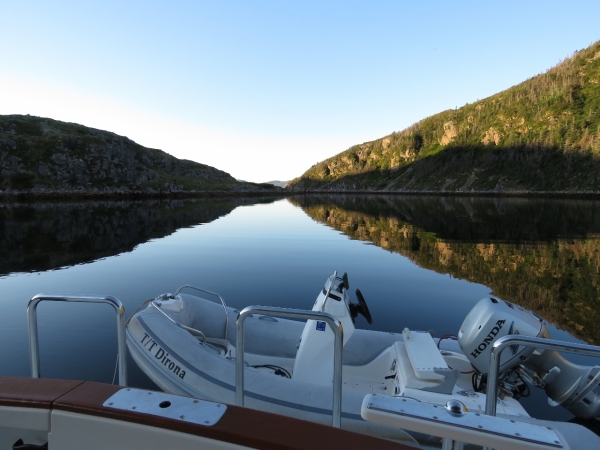 We weren't planning to visit Round Harbour on the south side of Long Island as the entrance looked tight and the charts showed aquaculture filling the small basin inside. But we decided to at least check it out on our way past and are glad we did. The entrance wasn't difficult and the bay inside was sheltered with steep hills all around. We hiked ashore through the ruins of the settlement there and into the hills beyond for sweeping ocean and anchorage views.
We're loving being back out cruising again and Newfoundland, with an abundance of hikes to incredible views, is exactly our kind of destination.
Trip highlights from August 9th and 10th follow. Click any image for a larger view, or click the position to view the location on a map. And a live map of our current route and most recent log entries always is available at http://mvdirona.com/maps
8/9/2016
Cliffs




Looking east towards the outer cliffs as we exit Sam Hitches Harbour. The weather can change quickly here, but it looks like we'll get another clear and sunny day.
Entry




Approaching the narrow entry to Round Harbour. The entrance is about 200ft wide and relatively easy. We saw a least depth of 24ft on a 3.2ft tide at Hermitage, with no obvious current.
Lobster traps




Several sets of lobster traps were stored along shore inside the harbour.
Anchorage




The view to the anchorage from ashore. We anchored in about 45′ with room to swing in moderate holding over rock.
Graveyard




The small community at Round Harbour relocated in the 1960s. This graveyard and some house foundations are about the only remaining evidence of their presence.
Hermitage Bay




Taking in the view south across Hermitage Bay from the hills above Round Harbour.
Pond




By pushing through several clumps of thick brush, we found a way to the hilltop east of anchorage. From there we could see several lakes in the distance to the northeast and a nice pond with water lilies below us.
Lunch




We worked east for a picnic spot with a better anchorage view.
View




The view to Hermitage Harbour on the left and Round Harbour on the right from our lunch spot.
8/10/2016
Morning calm




A beautiful clear and calm morning, looking south to the Round Harbour entrance.
Kelp




Our anchor came up wrapped in a huge ball of kelp. A serrated knife attachment on our boat hook easily cuts it away.
Click the travel log icon on the left to see these locations on a map, with the complete log of our cruise.

On the map page, clicking on a camera or text icon will display a picture and/or log entry for that location, and clicking on the smaller icons along the route will display latitude, longitude and other navigation data for that location. And a live map of our current route and most recent log entries always is available at http://mvdirona.com/maps.