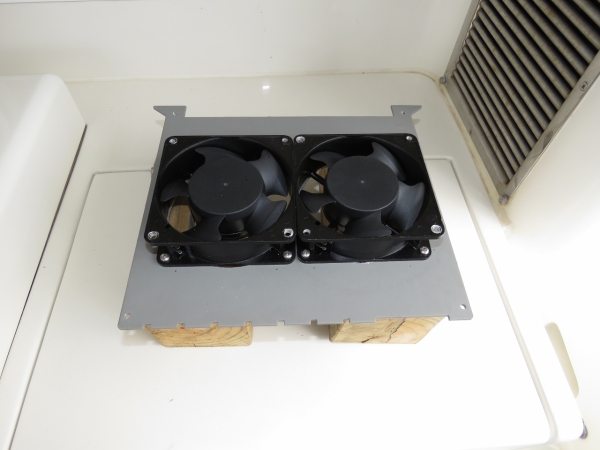 Our Mastervolt MassCombi 24/4000-100 120V inverter works well and we generally like it but it has always seemed to go into thermal shutdown earlier than it should. The inverter is particularly vulnerable to thermal cut out when it's more than 80F outside and the sun is shinning directly on the stern. The early thermal cutout on the Mastervolt system is more noticeable underway when we have higher 120V load.
Technically the Mastervolt specification is that the system can produce 3.6kw at 104F (30A@120V) and the Laz is rarely over 100F but, like many specs used to sell product, the spec appears to be optimistic or difficult to achieve in real world applications. This early cut out can be annoying both because it's unpredictable when it will happen and because the system goes down for more than a minute when it does shutdown.
Mastervolt generally makes an excellent product but we find they can be a bit parental when "protecting the equipment." As an example of an engineering approach we prefer, consider our two Victron Pheonix 3000/120V inverters that are wired in split phase to produce 6kw at 240V. This pair is rated at 6KW at 240V and yet it'll produced well over 7KW for surprisingly long periods of time. It'll start incredibly difficult loads like the SCUBA compressor where the inrush current can briefly exceed 40A at 240V. In fact, it will run any load on the boat. The Victron strategy appears to be to run until it simply can't whereas the Mastervolt approach is to shutdown when the engineering team thinks it might put equipment longevity at risk.
I think the Mastervolt and Victron inverters are both well-made and well-designed. I just find the Mastervolt protection mechanisms a bit on the conservative side, and perhaps a bit too quick to drop the load. The Victrons run in the same environmental conditions and exceed their specs, while the Mastervolts don't quite achieve them.
I thought the Mastervolt inverter early shutdown might be caused by dirty air intakes, dirty electronics, or a faulty fan. To a great extent, I was hoping to find a problem that could be fixed since I really would like to get a reliable 30A in a 100F operating environment (well inside the Mastervolt specification).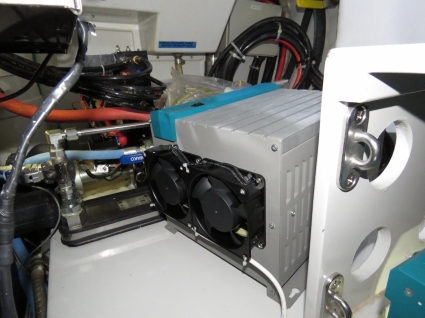 On Dirona, the inverter is both difficult to get to and a real chore to take down but I felt like I needed to do something. Unfortunately, I found all four internal cooling fans were operating correctly and the system was clean and flowing air freely. All was found to be as it should be so there really was nothing to "fix".
I gave some thought to the design challenges facing an inverter designer in a marine environment. The design needs to reject water splashes while at the same time providing adequate cooling. Likely because of these design goal conflicts, the air flow on the Mastervolt inverter is pulled through small downward facing vents in the side and pushed out the bottom. Unfortunately the designers decided to fight nature and flow the hot air down. But the bulk of the problem is caused by the circuitous air path and fairly small openings to protect against water intrusion.
Since we operate in a dry environment where water intrusion at the inverter location is not even remotely likely, I decided to essentially hot rod the unit by opening up two 4″ holes in the inverter top to provide a much less flow-resistant air path. This alone makes a big difference and is now the normal operating mode. In addition, when the laz temperature is approaching 100F, we have 2 55CFM fans that blow down into the inverter case from the top. This dramatically increases the air flow when needed and it really seems to work. We tested the system for more than 5 minutes at a steady 30A to 31A and the system held the load without issue. Much nicer.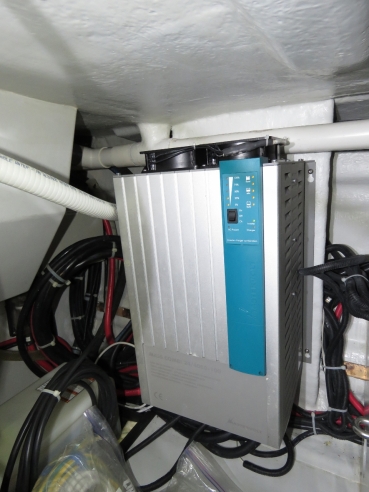 We feel like the inverter output problem is largely solved. The final step might be to automate the cooling fan control but it's working pretty well at this point. A related problem where I don't yet have a solution is the low voltage derating on the Mastvolt Chargmaster 24/100-3. As the voltage drops down to the 195V range, the chargers derate to about 75% of rated capacity. This charger derating is mostly not a problem and we have run these chargers all over the world on an incredible variety of voltages and currents without a failure.
Arguably it's unlikely that a 240V system will ever drop down to 195V but some locations like South Africa are actually 220V nominal rather than 240V. The combination of South Africa using 220V as nominal and the high load on the grid means they frequently drop down below 200V, where Mastervolt begins to derate the charger making less output available. A related problem is many countries that use 120V end up supply 208V at the dock. This is common in nany parts of Canada, the US, and it is what we currently have in Barbados. 208V will often drop down below 195V as the electrical grid loads go up.
Overall, I like reliable equipment as much as the next person and there is no question that Mastervolt achieves respectable reliability. But I would really prefer that reliability be achieved with a wider environmental operating range prior to derating or shutting down.
P.S. An offer that is always open to all manufacturers of equipment installed on Dirona: If you want detailed data on environmental operating conditions and results at five-second resolution, we already store everything in a relational database and would be happy to share it with you. It costs us nothing, might improve your equipment, and it'll certainly improve our experience with it.