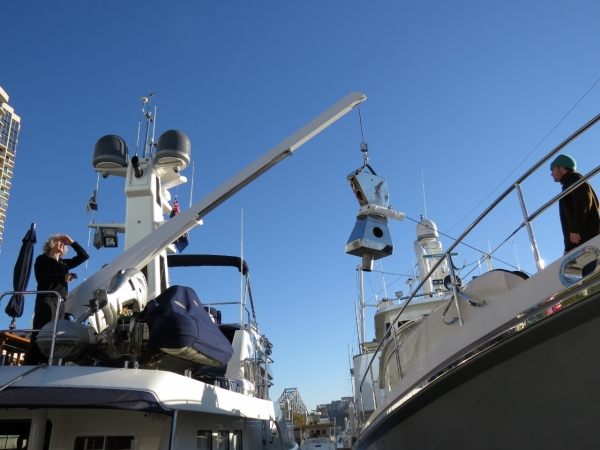 Our next-door neighbors, Mark Mohler and Christine Guo of Nordhavn 62 Gray Matter, recently upgraded their davit to support hydraulic power-rotation. The base came off in two pieces, but is much easier to put back together at the shop. The downside is a heavy assembly: the upgraded base, with the power rotation transmission and motor, weighed just under 500 pounds. They'd need a crane to install their crane.
Our davit easily can lift the equipment, but doesn't have enough reach across the finger pier between the two boats. Luckily, the slip on the other side of Gray Matter was empty, so we backed Dirona around to put our stern adjacent to their bow with no finger pier in between.
With our davit fully extended, we were still a little short of reaching the mounting point on the centerline of Gray Matter's bow.
With some extra fenders in place, Mark carefully released his bow lines to inch the boats closer together.
Success!