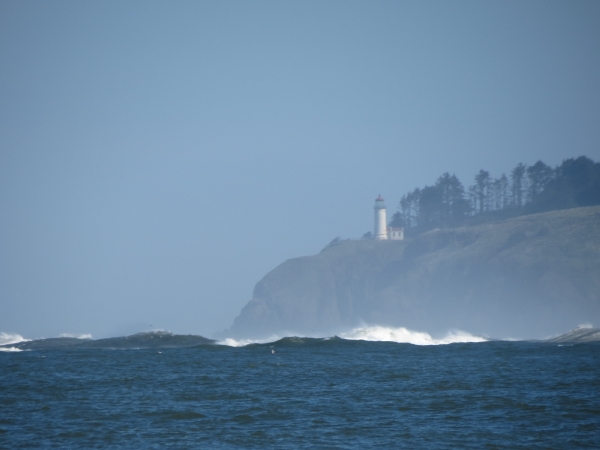 We left Seattle on Thursday evening and crossed the Columbia River Bar Saturday morning. Conditions were rough, as they always seem to be, in the Strait of Juan de Fuca, but otherwise we've had reasonable weather the whole run. Saturday morning prior to 9am, the Coast Guard has closed the bar to all pleasure craft. When we arrived near slack around 9:30, only pleasure craft greater than 45′ were allowed to cross. So we were expecting a beating. As we proceeded, we kept expecting conditions to become at least a little difficult, but they never did. The seas were moderate the whole way across–we would have been comfortable crossing the bar in the previous boat. In fact we would have been comfortable going through in the dinghy.
We're now cruising up-river. We're going to cover a a fair distance each day by getting up early, but stopping in time for a good meal and a relaxing evening. And then on the way back down the river, we'll allocate our time to the best spots we saw on the way up.
Here's our log from Seattle to our first anchorage for the night off Fir Island. We'll be making daily live updates to the map view as we go.