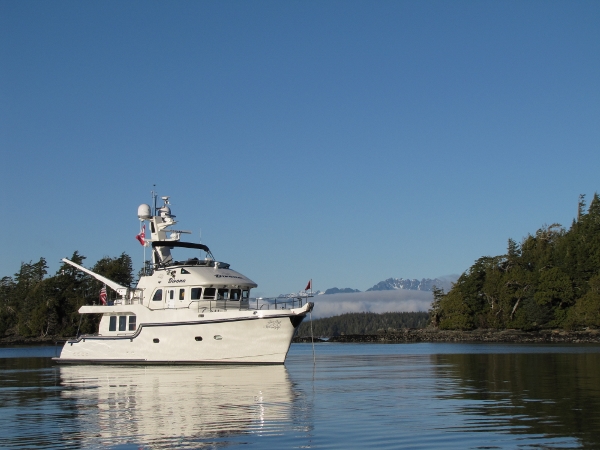 We first planned a Christmas cruise to Barkley Sound in the fall of 2003. That November, however, we attended a presentation by Cliff Mass on the difficulties of forecasting northwest weather. Mass gave several examples of major storms that had, with little warning, swept up the Pacific Coast and pounded Barkley Sound with storm and hurricane force winds. We went to the Broughtons that winter instead.
Several times since we've considered a winter cruise to Barkley Sound, but each time we've remembered that presentation and those storms. This year we finally made the trip. After passing Barkley Sound en-route between Seattle and Alaska this summer and the last, we really wanted to return. And, we realized, it's just not that far. The longest leg, 70 miles between Sooke Harbor and the sound, is only a ten-hour journey. We just needed to be patient and wait for a good weather window.
Here's our log from Seattle to our first Barkley Sound stop, in Effingham Bay. We'll be making live updates to the map view as we go.
12/16/11: Skunk Bay
We're finally underway on our Christmas trip. We debated whether to take it easy and stop the first night, or run straight through all night to get there. Easy won. We initially were thinking of stopping in either Port Ludlow or Mats Mats Bay, but en route there Skunk Bay looked appealing with houses lit up high above us on the cliffs and a sweeping view of Admiralty Inlet. We'll probably get hit with a wake or two, but don't expect much traffic.
12/17/11, 6:50am: Approaching Oak Bay
We woke up at 1:30am last night and decided to get underway. While anchored at Skunk Bay, one ship went past in the early evening and rocked the boat a bit, but not uncomfortably so. And if any others went past, we didn't notice. Conditions are wonderfully calm. That's a nice change–it seems every time we've headed out into the Strait of Juan de Fuca recently it's been blowing a gale.
12/17/11, 10:20am: Off Sooke Inlet

Two tired travellers. James had the helm for six hours between Skunk Bay and Oak Bay, and

Spitfire

, well, he just sleeps a lot.
12/17/11, 2:30pm: Off Port San Juan
We're into some ocean swell now, perhaps ten feet. We're bobbing a bit, but not uncomfortably so. While we may get through the Strait of Juan de Fuca without a gale, that probably won't hold all the way to Barkley Sound. The earlier forecast of 10-15-knot winds in the west entrance has now changed to 20-25, and a gale warning is in effect for the southwest coast of Vancouver Island. Hopefully we'll get in before the worst of it hits.
12/17/11, 7:10pm: Effingham Bay
The barometer has fallen 20mb in 24 hours–from 1026 last night to 1011 now. We've definitely got some weather coming. Environment Canada issued a special 6:30pm forecast with a gale warning still in effect for the southwest coast of Vancouver Island. The winds are now gusting into the 20s and the seas outside Barkley Sound were starting to kick up as we came through. We picked our way into Effingham Bay in pitch blackness, with fog and heavy rain. The floodlight mounted high on the mast was invaluable for lighting up the shore–our handheld spotlight couldn't pick out a thing, mostly due to backscatter. Now we're safely tucked away at anchor, enjoying the rain lit up by the deck and underwater lights.
12/18/11, 9:00am: Effingham Bay

The storm is past, the barometer is back on the rise and the sun is shining. This is the view looking north from the anchorage. We slept so soundly last night that we didn't wake when the generator auto-started early this morning.
12/18/11, 1:15pm: Effingham Bay

With sunshine, 49F and a little help from the diesel furnace (we have an outlet plumbed outside under the teak table), we just had to eat outside. The Seahawks game will have to wait.
12/18/11, 2:30pm: Effingham Bay

Sea arch on the southwest side of Effingham Island. We circumnaviged the island by dinghy, partly retracing our route in last night. Although the seas have calmed considerably since yesterday, breaking waves still surge and gush through the passage. We actually went through the arch a few years ago, but conditions were too rough today.