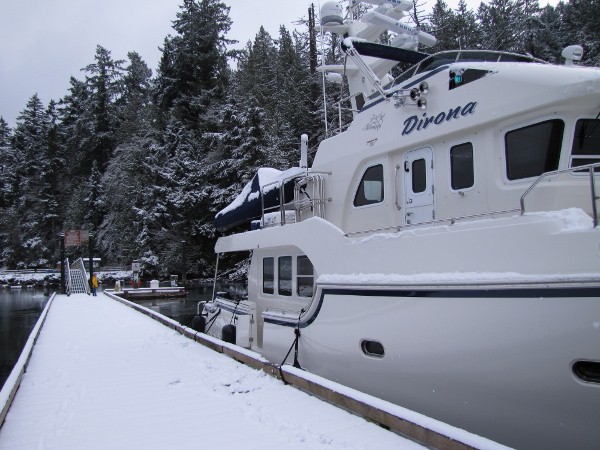 Nope–these pictures were taken in the south Puget Sound earlier today. We're out on a Thanksgiving cruise, and were anchored last night in the cove behind Raft Island (map of area). Temperatures were slightly above freezing yesterday, with a light snowfall. This morning we woke to a layer of snow on deck and a temperature of 29F. By the time we raised anchor, a good 4 inches had accumulated. Freezing temperatures in November are rare in the Puget Sound. According to SeaTac airport records, the high has been 32F or less in November only 14 days since 1945.
We cruised south to tie off at Penrose Park Marine park and walk ashore in the snow. A layer of ice covered the surface there and pushed against us as we moved towards the dock.
The park looked beautiful in the snow. No other footprints marked the surface–we apparently were the first ones there that day.
We couldn't stay the night, as the water level at the dock was 9′ and the tide was going to drop in 11′ to -2.1′ that night. As we prepared to leave, a pair of ducks cut a path through the ice, perhaps to show us how easy it was.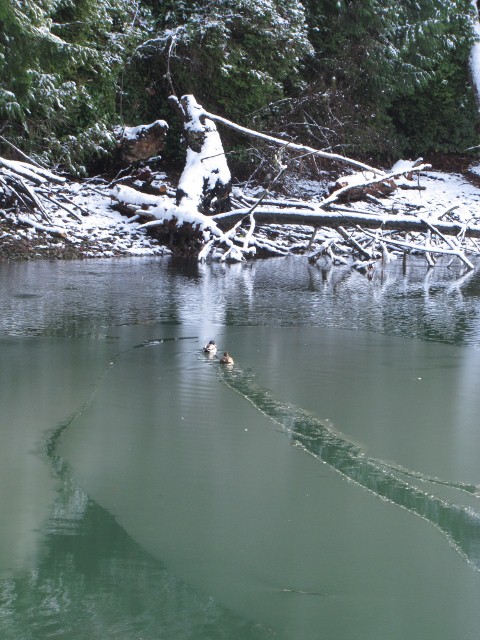 We're now anchored in Filucy Bay as a major storm system is moving through. The temperature at 27F and falling, and we've seen wind gusts to 35 so far as the storm approaches. The system apparently is much stronger than the models predicted, and likely will bring more snow. It will be interesting to see what we wake up to tomorrow.