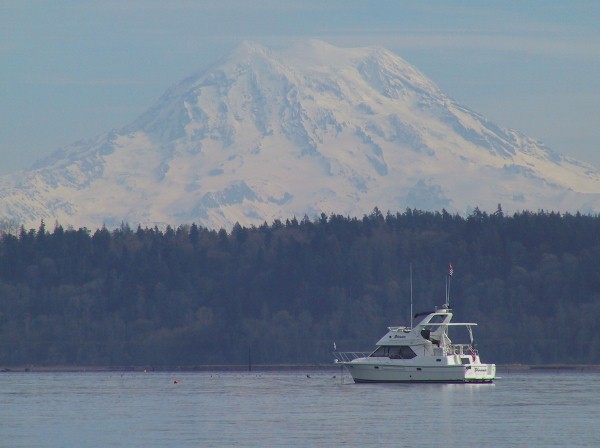 Nisqually Flats is an Unusual Puget Sound Anchorage along the south shore of Nisqually Reach, halfway between Tolmie Marine State Park and Nisqually Head (map of area). We first stopped there on a clear, calm spring day because we couldn't decide which mountain view we preferred, Mount Rainier or the Olympics, and this anchorage gave us both. At night, water slapped gently against the hull and reflected the lights from the nearby hillside community of Beachcrest. Our log for that stop reads "This is what it's all about."
We've returned several times, and have found plenty to do. The deteriorating wreck of the Tsar, a WWII-era wooden tug, lies off tiny Beachcrest marina, accessible only on higher tides.
Boats frequently are underway to and from an active oyster farm southwest of the anchorage.
The Nisqually Reach Nature Center at Nisqually Head is effectively a small museum that described the history, ecology and biology of the Nisqually Delta.
McAllister Creek and Nisqually River form the Nisqually Delta, which is protected as the Nisqually National Wildlife Refuge. The waterways are excellent dinghy territory, and popular with kayakers and canoeists. The channels are peaceful and protected, with quite a different feel from the more open outside saltwater. Waterfowl abound, and bits of the old dike and old buildings are along shore. We've travelled south through both waterways well beyond I-5.
The anchorage also is a short dinghy ride away from Andrew Anderson Marine Park and Tolmie Marine State Park. Perhaps the most delightful aspect of this anchorage, however, is the piper. She has walked the beach every morning we've visited, sending the mournful notes of her bagpipe far across the sea.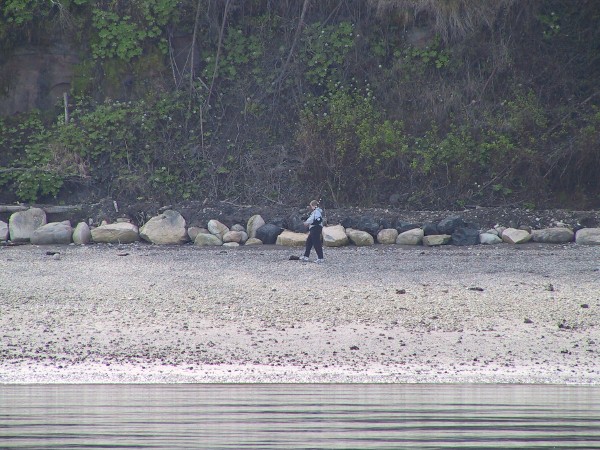 Anchoring and other notes:

Anchor in the 3-fathom finger southeast of buoy G "3" on Chart 18448.
Chart 18448 has good detail of the delta area. A marked channel (not charted) leads to the Luhr Beach boat ramp at Nisqually Head and the mouth of McAllister Creek. The entrance to the Nisqually River is almost directly south of /font> buoy G1 on chart 18448 or 18445 and can be reached by following the shoreline from the McAllister Creek mouth. CCaution: Southerly or westerly winds can generate significant chop at the mouths of the Nisqually River in particular.
Motorized boats are permitted in the Nisqually Wildlife Refuge, but cannot exceed 5mph. Boat are not allowed inside the Brown Farm Dike (map of refuge). No landing or shore access is permitted anywhere in the refuge. The refuge is undergoing extensive renovations; which might impact where boats can enter in the future.