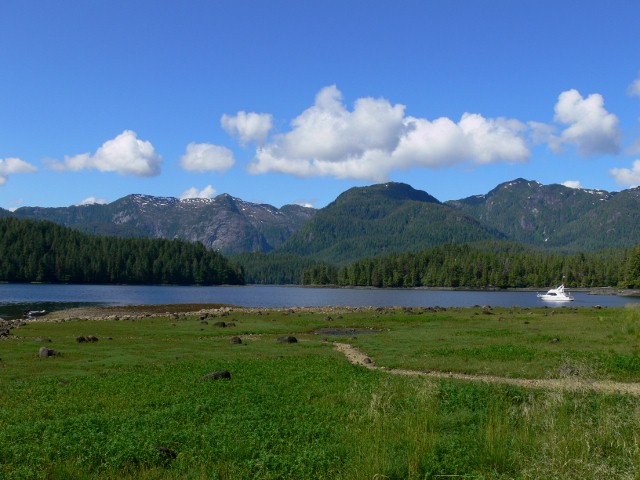 Laredo Inlet extends deep into Princess Royal Island through two and three thousand-foot mountain ranges. The scenery, particularly on a clear day, is spectacular. After anchoring overnight in Weld Cove one summer, we cruised to the head the next morning to see what we could find. The morning started foggy, but lifted to a deep blue sky. The head was especially dramatic, with snow-dabbled mountains all around.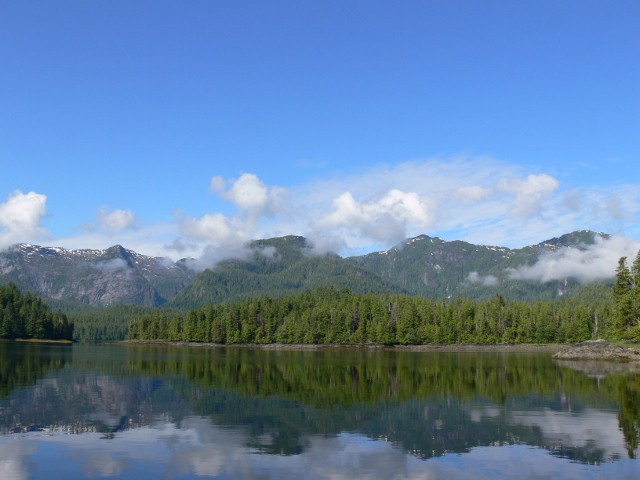 We wanted to anchor for breakfast at least, and perhaps a dinghy tour. But this was a typical inlet head, where the depths fell from 100 to 10 feet almost in a boat's length. We eventually found temporary anchorage with reasonable holding. We couldn't get very far up Buie Creek in the dinghy, but far enough to see a waterfall in the distance, so we landed to check it out. Princess Royal Island is famous for its bear population, particularly the rare white Kermode bear, and this felt like prime bear territory. While we would have loved to see a Kermode, we didn't want to see one while walking ashore, so we put our bear avoidance techniques into full gear.
| | |
| --- | --- |
| | |
It turned out that there wasn't just one waterfall—there were three. The one we could see from the boat was just the lower falls. As we neared, we could see another falls higher up behind, and a third one beside it. The higher two spilled perhaps 40 feet into a deep pool that emptied through the lower falls. What a find. While we never did see a bear while we were in Laredo Inlet, the falls almost made up for it.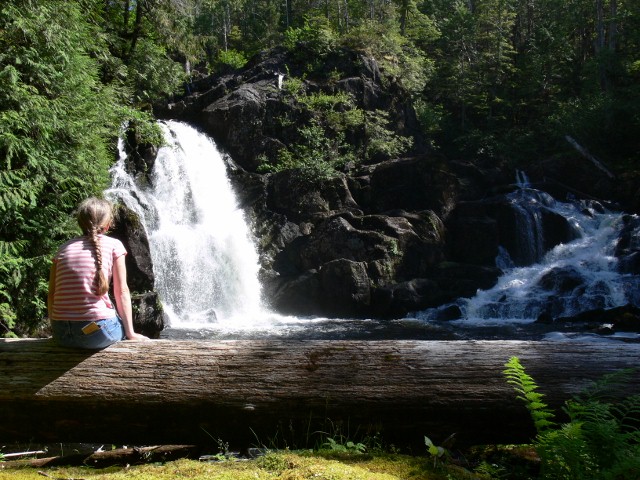 Anchoring notes: We anchored northeast of Brew Island at 52°58.128'N/ 128°39.763'W in 100 feet, moderate holding.